Teens are honestly among the hardest to buy gifts for. They have outgrown many toys, and most of them aren't into household items like cooking supplies and home decor items, yet. But with these easy holiday gift ideas for teens, you can do all your shopping from the comfort of your own home.
After all, it is fun to spoil them a little over the holidays and see their inner child come to life. They are still kids and should enjoy that magical feeling as long as they can.
We receive small amounts of compensation from purchases made through these links which helps us to pay our writers.  Thanks! 
Christmas Gift Ideas for Teens
A plush blanket to add to the foot of the bed or use on the couch when watching TV with you (!) makes a great holiday gift for teens.  This comes in more than a dozen colors – great for guys and girls.
Teens love anything that makes their phone usage easier and these grips, that suction onto a phone or tablet, come in a variety of colors to suit any personality.
These trendy bracelets are made by artisans all over the world. Through sales of their charity collection, Pura Vida has donated over $1.5 million to 174 non-profits.
Is your son a heavy sleeper who snoozes through the alarm clock on his phone? Here's one that will get him up and out the door so he never misses the bus, again. Loud sound, flashing lights and bed shaking capability is the ULTIMATE way to get him moving in the morning.
No one wants a dead phone and this mini-charger can help your teens keep their phones with full charges regardless of how busy they are. Lightweight and can be thrown into a backpack, ready to power up a phone so your teen can call home – no excuses!
We do not know of a cuter bluetooth speaker than this one. Incredibly compact, this one comes in four different finishes and is just the sort of thing your teen will throw in a backpack to sue whenever they need better sound than their phone can produce. Very well priced!
Keeping a phone fully charged while on the go all day (and night) can be a challenge. We love this car charger that has room to plug in five devices so your teen and their friends can get the batteries on their phones charged up, super fast, all at the same time.

Spike Ball 3 Ball Kit
This is a game that has taken college campuses by storm.  Super fun and a great workout.

Snuggle Lounger
There is nothing like putting on a comfy outfit and spending quality time on the couch. Maybe you should get one of these super soft velour loungers that come in three sizes and three colors, too, so you can snuggle together while within your favorite show together.

Harry's will send your son a razor, shave gel and replacement blades at a frequency that matches how often he shaves. Harry's now has face wash, body wash, lotion and some cute accessories to consider as stocking stuffers for the holidays. Let Harry be the reminder about good grooming, not you.
These are simply the best winter socks on the planet. They are indestructible and guaranteed by the company for LIFE. The colors are eye-popping and the thinner ones are great for everyday with boots and the thicker ones are perfect for hiking. We have walked countless miles in these great socks with warm cozy feet.
Let them sing in the shower with Water Resistant Bluetooth Waterproof Shower Speaker. It has an extra strong suction cup and great sound, so it can literally go anywhere. It's perfect to take along to the beach, or when you put them to work watering your perennial gardens.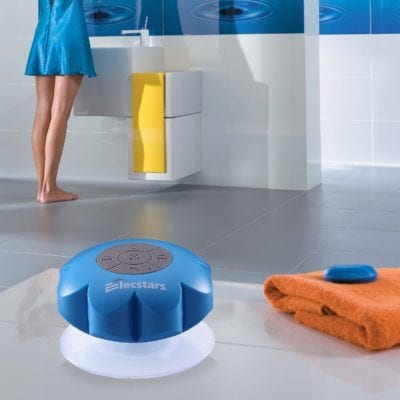 Herschel makes excellent backpacks, toiletry kits and wallets. These card cases are what some teens prefer to use to hold IDs and a credit card.  No need for anything bulky.
Bike Wheel Lights
Lights not only make your kids safer as they are riding around the neighborhood, but they are super cool. These lights can go from "constant on" to "flashing mode" and are easy to install. They fit 12″ toddler bikes up to 29″ adult bikes.
This lamp has a dimmer, bluetooth speaker, and turns on simply by being touched. And the best part is, it actually comes with a long-lasting battery that can be recharged.
I love these cuff bracelets with empowering messages. My daughter wants a few of them to stack on her wrist. They come in a variety of metals and are a classic piece that will never go out of style – perfect stocking stuffers.
You earn major points by picking up these nifty glasses as a gift for your high school son or daughter. And protip: it's goggles, not glasses.