Welcome, everyone!" our college tour guide gushes as she walks backwards at breakneck speed.
"A little bit about myself: I'm a sophomore, triple majoring in Kinesiology, Elizabethan English, and Aerospace Engineering. I'm part of the eco sustainability club, the ski team and I perform every Friday night with an improv group. Okay, everybody ready?!"
My daughter Beya nudges me which means, Way too perky. Not applying here. I nudge her back right in her tickle spot.
My daughter and I are touring colleges
So far she hasn't been so thrilled with any of the schools we've visited, but we keep plugging along, college list in hand, zigzagging from state to state. As for me, I savor every ounce of these trips — the car time, hotel time, the laughing in between. Of course, I want her to find the right school, but I'm also laser-focused on just being with her. Not only soaking up these last months before she leaves but squeezing out every single drop.
As our guide gathers us in front of the newly renovated wellness building, I gaze up at the canopy of reds, oranges, and yellows merging like a blurred watercolor. Back when I was Beya's age, my mom took me on a whirlwind college trip to the Midwest, of which I remember little except for the cute blonde guy on campus who winked at me. That and my mom gripping the steering wheel, telling me how lucky I was to have a mother who would even entertain a college trip.
"So, just to recap," the guide says. "This is where you'll go when it's been raining for fifty days in a row and you're totally homesick because trust me, you will get homesick." She laughs lightly like homesickness was so freshman year.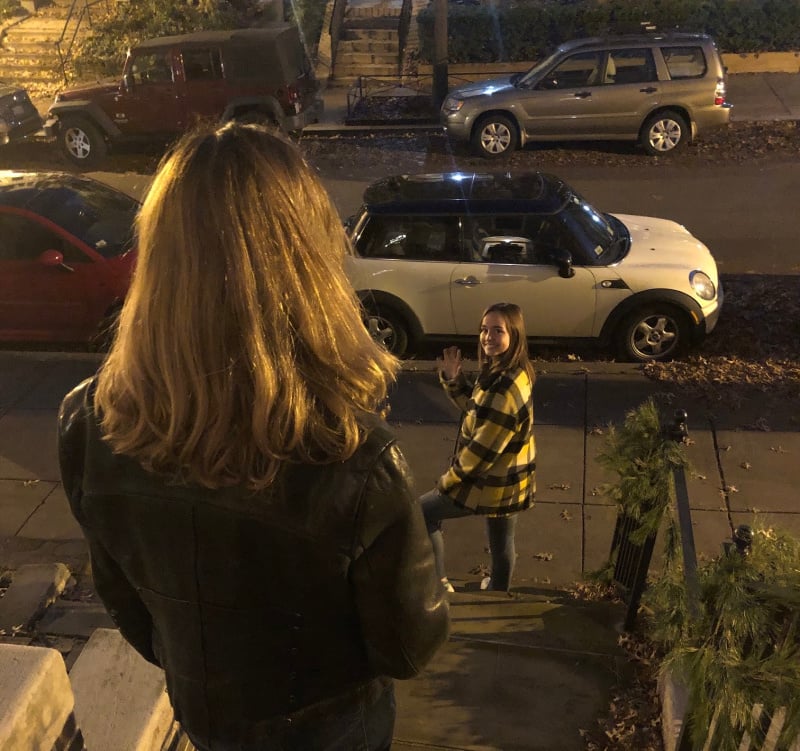 What if my daughter gets homesick?
Beya and I lock eyes. She's my kid who refused summer camp, the one who wouldn't let me go out at night without a quick spray of my perfume on Puddles, her stuffed puppy. The one who, up until sophomore year, said she couldn't imagine ever leaving home.
When I try to envision her, say, strolling through the main quad in her Blundstones and the big lumberjack-y coat she recently scored from my husband's old trunk, I can't make out even the blurriest image. Or maybe I don't want to.
"The professors here are ah-mazing," the guide tells us after we follow her through the busy halls of one of the main academic buildings. Once outside, as the tall willowy grasses all around us sway with the autumn wind, she continues her backward stroll, assuring us that they "really, really care and they're totally accessible."
Under her breath, Beya says, "How can every teacher always be available? Don't they have lives?"
"Everyone here's super friendly," our cheerful guide declares, then waves to a passerby. "Oh hey, Mia!"
The one dad in the group, wearing a Patagonia fleece and an easy smile, asks what kids do on the weekends and, without hesitation, she rattles off a list of last Saturday's activities: Improv show, 80s dance night, bake sale for the Outdoors Club, Zumba class, brunch with friends. And oh — homework!
I glance at Beya, who's nodding politely. Normally a tour guide's exhaustive list of a day's activities would be fodder for more nudging, but nope. Not this time.
"Okay! Onto the dorms!" our guide calls with a theatrical wave of both arms.
Is it my imagination or is she speeding through this tour? Seems like we were just at the information session and now we're already onto the dorms, which means the tour is drawing to a close, right? Wait. What time is it? I rummage in my purse for my phone.
"Mom."
Beya, at the tail end of the group, waves me over. A pinkness has blossomed on her cheeks, most likely from the crisp fall air. Her posture seems a little different, too—a bit straighter? And did the temperature drop or is that my hormones?
"Are you okay?" she whispers.
I nod a few too many times. At the same time, my hand digs into my purse and, as if for proof, comes up with a crumpled pack of original Trident. Like lack of gum is what slowed me down in the first place, not the dread of imagining her and all of her belongings in a far-away college dorm room.
"Should we just meet back at Admissions?" she says. "Maybe you need to sit down?"
"Oh God no." I flick the air in a disgusting way. "Let's go."
Single file, we totter through the stuffy, narrow hallways and take turns peeking into the one dorm room reserved for our viewing. This one has three tall beds propped up on concrete blocks. Under each bed are stacked plastic containers, jam-packed with clothes, shoes, and whatever else. In one I make out the smushed white face of a stuffed polar bear, eyes askew.
Turning away, I remind myself that when my oldest daughter, Sasha, left for college three years ago, I didn't fall apart as expected. Okay, I did, but it was brief. Back then, what softened the blow was that we still had Beya for three more years. But now her time is almost up and pretty soon she'll be packing up her things and I'll be like the mom in "Toy Story 3" who waltzes into her child's bedroom only to be blindsided by the emptiness. I too will likely gasp at the pounding silence.
My daughter began to see herself at this college
"That's so cool," Beya says after we leave the dorms and make our way through the main quad where students rush from here to there.
"What is?" I turn to her, realizing how little information I'm actually absorbing.
"The singles," she says. "The fact that freshmen can have them." Her eyes are bright and focused as if already she's mapping out which posters she'll tack on the wall.
"You wouldn't want a roommate?" I ask. "Won't that be lonely?" And what about Puddles? Will he go to college with her? Or maybe he too will be shoved in a box and kept under her bed.
She shakes her head. "I'll be fine." Next, she turns to the girl next to her, says something, and the girl nods and laughs. They start the "Where are you from?" conversation and I step off the path, letting the new girl slide into my spot.
As the group hobbles along, I pull out my phone and text my husband. Hey.
Hey! he writes. How's it going?
My finger poised over the keyboard, I don't know whether to type "great" or "crappy." This entire past year has been all about college preparation — ACTs, school visits, essays — yet why am I startled by the fact that she's actually leaving?
Will text later I type, then I catch up to the group just in time to hear the guide ask who's interested in studying abroad.
My daughter's arm shoots up to the white sky and just like that, the rope untethers and the boat leaves the dock.
Our tour guide heads straight for a spot under the weeping willow, waiting for everyone to gather before saying, "Okay, so why this school?"
We parents draw closer as if we're about to hear the key to life. Or the cure for wrinkles.
"Cross-disciplinary academics," she starts. "Access to awesome professors. Access to the city. Small classes. Amazing friendships."
A cruel gust of wind whips up everyone's hair and scarves. Overhead branches sway, red and yellow leaves fluttering all around us.
"Yeah, you'll get used to that," she says, laughing.
As I tuck my scarf inside my coat, Beya comes up behind me and links her arm through mine. She rests her sweet head on my shoulder. I breathe in her hair, her warm perfume. I wrap my arm around her, pull her in nice and tight.
"But my all-time favorite thing?" the girl says. "Like what I literally crave?"
"Hot chocolate?" Beya whispers to me.
"During the whole week of finals?" the girls say. "When everyone's totally stressed and like freaking out?"
Finals? Where's she going with this?
An audible awwwww sweeps through the group.
"No, I mean, a lot of puppies. Like you can literally lie down and they'll be crawling all over you. It's so awesome."
For me all those years ago, my decision was based on a cute blonde guy. For my daughter, it's the promise of a quiet single room.
And puppies.
I should have known. It's always been about the puppies.
You Might Also Want to Read:
19 Important Things You Will Hear on Every College Campus Tour