Now is a great time to firm up high school seniors' college lists, start filling out the boring contact information and data entry portions of apps, and work on personal essays. But as a college counselor and a mom of two college students, one of my favorite pieces of advice to help families — especially students — have a better, less emotionally stressful year is to have at least one "Early Win" on the list.
What is an 'Early Win?'
A senior's college list might include Early Application or Early Decision application deadlines in October or November and Regular Decision deadlines in January or February. Sometimes, it's easy to put off applying to Rolling Admissions colleges or universities — those that do not have a set application deadline or decision release date —because they have no sense of urgency.
But universities with Rolling Admissions can be a great gift to high school seniors, regardless of their academic profile or college aspirations. They allow students to apply early, with no commitment if accepted, and many will send acceptances just weeks after receiving a complete application. Depending on the colleges they apply to, applicants can receive an acceptance to college as early as June before their senior year.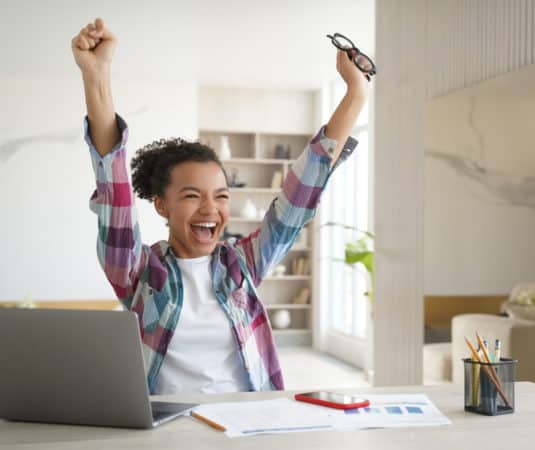 Why is an 'Early Win' important to high school seniors?
When a student opens their first college acceptance, it is a special moment, whether the acceptance comes from their first choice or their fifth: THEY. ARE. GOING. TO. COLLEGE. Their shoulders drop visibly, and their faces break out in huge smiles.
An acceptance to college early in their senior year — and with it, the knowledge that they can go somewhere, that they are in somewhere — allows seniors some respite from the pressure of the college admissions process and some mental and emotional freedom to enjoy their last year as kids.
Where can a college applicant get an 'Early Win?'
Look for colleges and universities with Rolling Admissions. However, most will open their applications after August 1, and some open as early as June. But take note: Before August 1, students will need to use the institutional applications available on individual college websites to apply, as the Common App does not open until August 1 every year.
A few great options: Brevard College in beautiful Western North Carolina opens its application in June. Applying is free and fast, and students can email an unofficial copy of their high school transcripts if their high school counselors are unavailable to send official copies.
The college mails acceptance letters within 72 hours of receiving a complete application and transcript, so a rising senior can be accepted to Brevard College before July. Brevard also offers generous merit scholarships!
The University of North Florida in Jacksonville, Florida, opens its application in June each summer and offers the Apply in July program, which invites prospective students to programs around the state of Florida in July. There, students may receive offers of acceptance in person! Suppose students apply through the university's website. In that case, they can expect decisions in about 4-6 weeks after they submit a full application, including SAT or ACT scores, which are required for state universities in Florida.
Arizona State University's application opens each summer, allowing students to self-report their grades and courses to receive a faster admissions decision. Test scores are optional; students can apply for the university's renowned Barrett Honors College later if admitted. No essay necessary!
Montana State University in Bozeman, Montana, does not require an essay or test scores. The application opens in the summer and may result in a quick response just weeks later!
One thing to know when going for an 'Early Win' acceptance…
High schools and high school counselors all operate on different timelines. Some high school counselors work all 12 months of the year; others are 10-month employees. Summer is a time of turnover and staffing changes, and sometimes, a school counseling department is not ready to produce high school transcripts or recommendation letters before September.
If that is the case with your student's school, please don't take it as a sign that 1) the school doesn't care about your child, 2) the counselor doesn't care about your child, or 3) your child's college chances will be hurt because their school is taking too long to send documents to colleges.
If your child's school is not ready to send documents, go ahead and encourage your child to get their part done and into the university. Then, request the documents from the school and just let the counselor know the student has submitted their initial application. That's the best course of action to complete the student's file as soon as possible, and the university will understand. Students can always reach out to admissions offices, explain that their school counseling office is unavailable during the summer, and ask if there is a way to get unofficial documents to the university. 
Good luck, seniors and families! You've got this!
More Great Reading: