Between that trek from a dorm room to the shared shower to the sheer desire to keep feet protected from athlete's foot, shower shoes for college are a dorm must-have. Not all of them are created equal, however: while some are built for serving as a simple barrier between feet and the shower tiles, others feature more helpful elements like drainage holes, traction-heavy soles for a non-slip showering experience, and ankle straps for extra support.
We used our own dorm living expertise to decide the best shower shoes you can buy. We also scanned the web for the most sought-after shower shoes with high ratings and reviews to craft this comprehensive list worth consulting before move-in day.
Our Top Picks:
Reviews of the Best Shower Shoes for College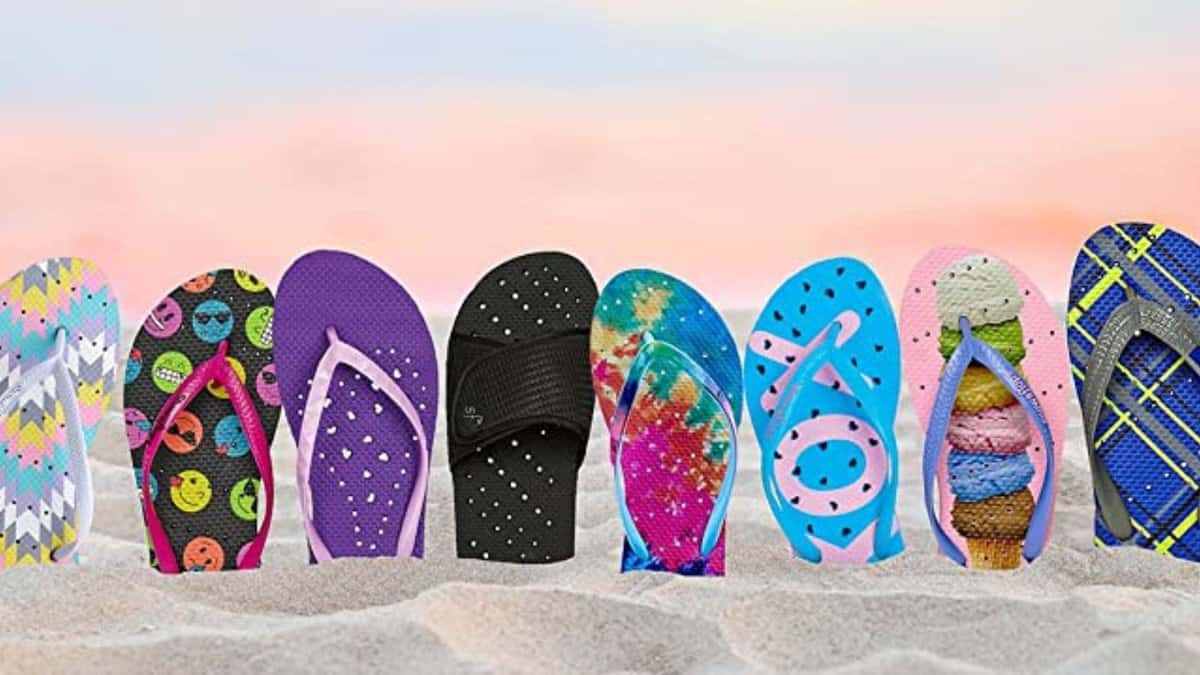 These lightweight shower shoes, which we consider a top dorm must-have, feature everything a college student needs for a comfortable trip to the shower. They feature water drainage holes to prevent water accumulation and quick drying times. They are completely water-resistant, include a strap at the instep to customize the fit, and feature an easy on-and-off slide silhouette.
Their blend of EVA foam and rubber keeps them both lightweight and non-slip, as well as they're antimicrobial, which is always a bonus when it comes to warding off bacteria and fungus.
The Specs:
Material EVA rubber and foam
Style: Slip-on
Sizes: 7 to 14
Adjustable strap
Drainage holes
The Pros:
Lightweight
Non-slip
Unisex
The Cons:
Not particularly trendy
Strap is too tight for high in-steps
What Others are Saying:
Travel+Leisure named the Showaflops the best overall shower shoes.
Buy the Showaflops Slip-Resistant Lightweight Sandal:
Anyone who's ever had the pleasure of sinking their feet into a pair of Crocs knows how convenient they can be around any body of water — college dorm showers included. They're beloved for their water drainage holes, waterproof material, slip-on construction with an optional ankle strap, and a wide-toe box for extra coverage around the whole foot. They come in dozens of exciting colors and patterns, meaning there's a design to please everyone. For extra personality points, jazz them up with some Jibbitz charms.
The Specs:
Material: EVA rubber and nylon
Style: Closed toe
Sizes: 4 to 19
Quick-drying
Ankle strap included
The Pros:
Comfortable
Drainage holes
Buoyant
Easy to clean
The Cons:
Feet might slip within the roomy interior
What Others are Saying:
Crocs have a 4.8-star rating and more than 520,000 Amazon reviews. The Strategist named them as the best closed-toe shower shoe, and Travel+Leisure says them the most versatile shower shoe.
Buy the Crocs Unisex-Adult Classic Clogs:
Whether they're looking for something lightweight to throw into a gym bag for a post-workout rinse-off or need a pair of shower shoes for the dorm, these sporty Merrell slides are a great option. The trendy streetwear-inspired slides feature dramatic drainage holes to prevent moisture build-up. They are made of bouncy EVA rubber injected with algae biomass midsole for a sustainable choice.
They also feature a contoured arch for several hours of comfortable wear, whether in a public shower or hanging by the pool. Some users say they run large, so you may want to size down.
The Specs:
Material:
Style: Slip-on
Sizes: 5 to 11
Water-resistant
Drainage holes
The Pros:
Sustainable
Cushiony feeling
Lightweight
Arch support
The Cons:
The aesthetic isn't for everyone
Need to size down
What Others are Saying:
These shower shoes have an average 4.5-star Amazon rating. Travel+Leisure and Teen Vogue also recommend the closed-toe Hydro Moc version of these slides for their versatility in and out of the shower.
Buy the Merrell Women's Hydro Slide Sport Sandal:
For a comfortable pair of shower shoes worn in and out of the restroom, opt for these pillowy slippers that are perfect for all-day everyday wear. They feature the super on-trend cloud-like silhouette popular on Tik Tok, making them as easy to style with their favorite matching set as they are with, say, a birthday suit or shower robe. They feature a foam footbed, non-slip bottoms, and a deep heel cup to cradle the wearer's foot and provide stability in moist conditions.
The Specs:
Material: EVA rubber
Style: Slippers
Sizes: 4 to 16
17 colors
Thick 1.7-inch heel
The Pros:
Extremely comfortable
Non-slip
Waterproof
Easy to clean
The Cons:
What Others are Saying:
These cloud-like sandals have a 4.3-star Amazon rating and nearly 28,000 reviews.
Buy the Joomra Pillow Slippers: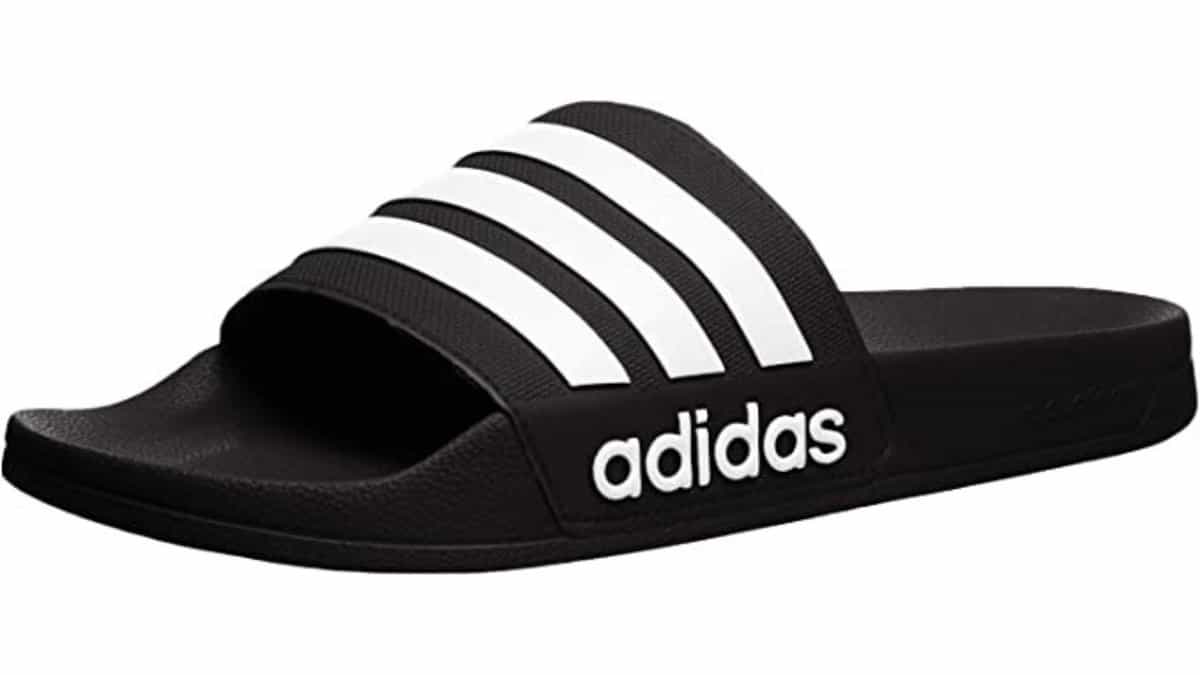 It's no secret why the Adidas Adilette Aqua slides are some of the most stylish shower shoes on the market. They feature the brand's signature three-striped design, a sporty slip-on silhouette, and every color imaginable. What makes them shower-friendly is their non-slip grip, comfy arch support, and plush Cloudfoam footbed for extended wear, as well as their waterproof polyurethane sole and quick-drying upper.
The Specs:
Material: EVA rubber and Polyurethane
Style: Slides
Sizes: 4 to 14
37 colors
The Pros:
Waterproof
Arch support
Lightweight
Stylish
The Cons:
No drainage holes
May require a break-in period
What Others are Saying:
These Adidas shower slides have a 4.5-star Amazon rating and more than 30,000 reviews. High Snobiety calls them the best Adidas sandals for summer, Bustle says they're one of the most comfortable shoes for summer, and Condé Nast Traveler says they're one of the best lightweight portable sandals.
Buy the Adidas Women's Adilette Aqua Slide Sandal:
Other Shower Shoes for College to Consider
These popular slides were made for the shower thanks to their multiple drain holes at the strap and sole, quick-drying EVA material, and non-slip grip. Due to the pronounced non-slip bumps, however, these shoes might feel uncomfortable after a short while. The Ranberone Shower Shoes are available at Amazon for $15.99.
Thanks to their perforated soles for extra ventilation and drainage and their non-slip cushioned sole, these shower shoes make a wise addition to any dorm shopping list. Keep in mind the thong between-the-toe design might feel irritating for some. The Shower Shoez are available at Amazon for $14.99.
These shower shoes are an excellent investment, with plenty of drainage holes at the sole and strap and a lightweight and quick-drying EVA rubber body. While the anti-slip bumps at the bottom of the sole will help prevent slips and fall in the shower, the bumps atop the sole that make contact with the feet might feel irritating against sensitive skin. The Xomiiboe Shower Shoes are available at Amazon from $15.98.
These trendy slides make a wise purchase since they can be worn to the beach, pool, or dorm shower. However, the padded strap at the instep can take a while to dry, and the slides themselves do not include drainage holes, making them slow drying. They also run pretty narrowly, making them unsuitable for wide feet. The Nike Victori One is available at Nike for $35.
Why You Can Trust Us
I'm Marissa Miller, a shopping writer and editor with several years of experience testing and researching the best products. I'm a contributing editor at CNN Underscored, CNN's product review department. I've written about products for numerous outlets, including USA Today's Reviewed, Good Housekeeping, Teen Vogue, Vogue, Women's Health, and more. I cut through the marketing buzz to source tried-and-true products that readers — including yourself! — can genuinely benefit from.
When selecting the top shower shoes for college, I relied on Grown and Flown's shopping expertise to identify top brands in the college living space, what to look for in shower shoes for college, my own experience keeping my feet protected in shared shower spaces, and reviews from verified shoppers. Once I nailed down specific brands, I looked at features shoppers should look for in shower shoes, from materials to overall quality and unique features like drainage holes, non-slip traction, and straps for added stability.
Everything to Know Before Buying Shower Shows for College
What to Consider Before Buying Shower Shows for College
Before buying shower shoes, it's important to remember a few things.
Materials: Look for closed-foam materials like EVA rubber, which will prevent water absorption, help the shower sandals dry quickly, and provide a comfortable bounce when walking.
Drainage holes: Prioritize drainage holes at the instep strap or the sole (bonus for both!). This will help prevent water accumulation and allow them to dry more quickly.
Grip: A wet environment can increase the chance of slips and falls, so non-slip grip is another crucial factor. This will either come in grooves or bumps at the sole.
Straps: Ankle straps can also enhance the wearability of shower shoes in and out of the shower. Those with sensitive feet may prefer a shower slide to a thong-style sandal.
Do You Need Shower Shoes for College?
For college students using a shared bathroom, be it Jack and Jill or hall-style, shower shoes are definitely to minimize their chances of picking up any fungus, bacteria, or viruses from areas that undergo (quite literally) lots of foot traffic. Students blessed with a suite-style bathroom that's only shared with one other dormmate can likely safely forego shower shoes — unless they prefer to wear them.
Are Crocs Good Shower Shoes for College?
Crocs, as noted above, make for a stellar shower shoe option thanks to their drainage holes to promote quick drying, their pivoting ankle strap for added stability, and their closed toe for extra coverage. They also come in limitless colors allowing students to style them according to preference. They also work double-duty as the perfect everyday shoe for taking care of household chores or gallivanting around campus in a casual loungewear outfit. However, they do run wide, which may cause slipping, especially when wet in the shower.
How to Dry Shower Shoes?
Ideally, any shower shoes should be quick-drying. If a pair of shower shoes isn't drying off quickly enough, speed up the process by absorbing excess water with a dry towel. Then, place them on a drying rack and give them room to breathe before storing them again. Students with access to the outdoors can enlist Mother Nature's help by using the wind as a natural blow dryer and the ultraviolet rays from the sun to help kill bacteria.) If you don't want to wear them from the wet shower to your dorm, bring a plastic bag to temporarily store them and a change of shoes you can wear for your trip back.
Where to Buy Shower Shoes?
You can buy shower shoes virtually anywhere you buy apparel, dorm stuff, and shower gear, including but not limited to Amazon, Walmart, Target, REI, Dick's Sporting Goods, Old Navy, Gap, and more.
Prices were accurate at the time of publication.