Your college student is nearly done packing. There is a pile of their belongings growing higher every day in the corner of their bedroom and the college packing list is largely checked off. Before you load up the car, make sure you have not forgotten these much-needed items. We have included a few just for fun!
Note: We receive compensation from purchases made through some of the links on this page but the opinions are our own.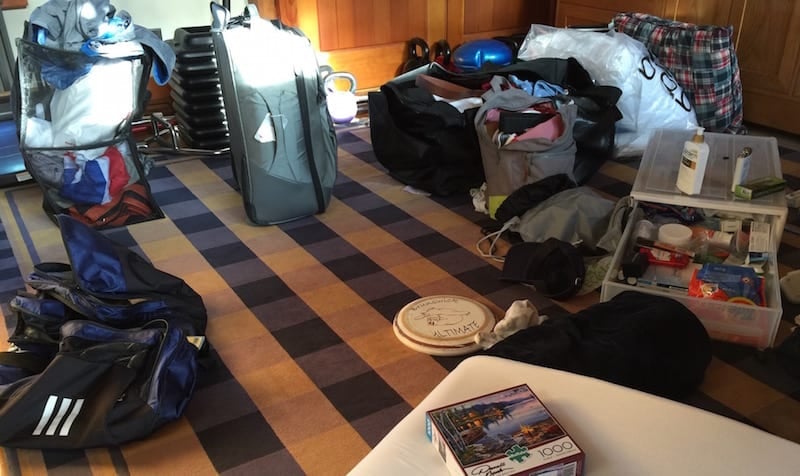 10 Last-Minute Things to Remember for Your Kid's College Packing List
1. Watertight Packable Rain Jacket
For years my kids ran from the school bus or car into their middle school and high school and never once wore a rain jacket. At some point, except maybe in CA, your kid will need to walk across campus in a deluge. Make sure they are prepared.
2.Digital Thermometer
Since they were babies, we have functioned as a human thermometer laying our hand on a hot forehead; now it is time for a real one. Freshmen get sick. A lot. And when your kid calls you and says they feel hot, it is nice to know if we are talking 99.1 or 101.5. To a parent, those numbers mean everything.
3. Shout Color Catcher Dye Trapping Sheets
Yes, we have coached our kids on why they have to wash whites and darks separately but sometimes that just won't work. With these ingenious sheets, they will never have to worry about that red t-shirt making all their white t-shirts pink.
4. 6 Foot phone charging cord
Kids want their phones by their beds and, as they use them for all communication and as an alarm clock, it has become a necessity. An extra long charging cord means that the phone can be safely set on a bedside table (instead of being left to charge on the floor!) or reach a top bunk.
5. Health insurance card information.
When they get sick (see above) this is one of the first questions you will get. I had my kids take a picture of our cards to keep in their phones so that they have the information when they need it.
6. Sewing Kit
Your teen may have not any idea how to sew, but that is what YouTube is for. When they pop that first button, it's nice to be able to grab a needle and thread and put it right. Full disclosure: my kids wait and bring things home, but I live in hope.
One of my kids showed up with chess and suddenly there was a crowd. Board games, card games, frisbee and, yes, video games are all great ice breakers at the beginning of the school year.
8. Scissors
It is amazing how often we use them and how few students have them at school.
9. Water Bottle
Kids walk all day on campus, from class to dorm to dining hall to gym, and more. With their own bottles, they can fill up at stations designed for bottles while saving money and minimizing plastic waste, too.
10. Command Strips
Blank dorm walls are dreary. Bring a banner, a poster, or pictures of the family dog, any of which can go up in an instant with command strips.
A small gift, something from the heart, that will make your child smile after you have given them that last hug goodbye and you are on your way back home.
12. If you forget some of these things, as we did, have your student check the campus store which is often stocked with useful items. Amazon Student Prime (FREE) is another option for the first semester. Amazon offers students a free trial period for 6 months, with no cost at all, and it includes free two-day shipping.
New! Check out all our top picks for dorm shopping, grad gifts, and other great ideas from the Grown and Flown community here.
Related:
4 Crucial Additions to the College Dorm List
How to Stay Close as Your Family Grows Apart
Go Ahead, Call Your College Freshman
Note:We make a small percentage from some of the links in this post.
SaveSave
SaveSave
SaveSave