When we begin our search for the right college we consider all the obvious things: big, small, private, public, urban, rural, a preponderance of Greek life or very little, great food options or mediocre ones? Or sometimes when it comes to choosing a school, we feel like we'll know the right place when we see it and we let our emotions take over.
But given the enormity of the investment, there are things that we should focus on that we sometimes gloss over. We asked the 200,000 members of Grown and Flown Parents what they DID NOT consider when looking at colleges but wish they had?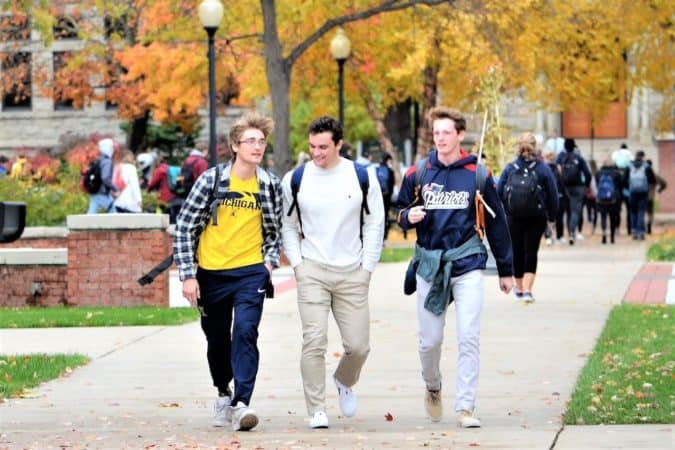 18 questions parents wished they had asked of colleges
What percent of students live on campus? Is the school you're looking at a "suitcase school" meaning that it has a lot of local students who leave campus on the weekends. This can be an important gauge of how robust on-campus life is. If your student is not going to be a commuter, they might prefer a campus that is more engaged seven days a week.
What percent of students graduate in 4 years? Do most students graduate in 4, 5 or 6 years? Graduation rates are measured nationally at 6 years but schools record their 4 and 5 year graduation rates. That statistic speaks to the final price tag of a degree so it's crucial. And sometimes merit aid does not extend into a fifth year of school. That is something parents will want to know beforehand.
What is the school's retention rate? Schools should be able to provide you with their retention rates, that is how many undergraduate students return to the school the following fall. If retention rates are very low, that may be a red flag and something you want to explore further.
What is the school's grading system? Some schools have grade inflation, some deflation. Some give an A plus a grade point average (GPA) bump and some don't. Some schools require that a student write a thesis in order to get Latin honors (cum laude, magna, summa cum laude) no matter what a student's GPA is, some do not. These details may not weigh heavily on your ultimate decision, but are definitely important to know going in. If your student plans to go on to grad school, grading and the way it affects their final GPA may matter.
How tight is campus security? How seriously does the school you're looking at take the safety of its student body? Do students feel safe on campus?
What was the school's pandemic response? Obviously no one could foresee a worldwide pandemic, but schools responded very differently to the events as they unfolded. Some made a herculean effort to have kids back on campus and some not so much. Schools responses ran the gamut from completely virtual to completely in person. A specific response might speak to how well a school handles emergency situations going forward.
What will it cost me to travel to the school and how difficult is the trip? Your student is going to do a lot of back and forth from home to school and vice-versa. That's a trip that will take time and cost money. Consider the ease of getting to campus and back home. Is the campus near a major airport? Are there direct flights? In addition to travel expenses what is the need/cost for a storage unit during summers? If your student has a car and will be driving, is there easily available parking on campus? How much does that cost?
What is the housing situation over all four years? Is housing guaranteed and for how many years? If on-campus housing is only guaranteed through freshman or sophomore years, what is the availability and cost of off-campus housing? Many families focus exclusively on the dorms but it's good to know how hard it is to get off-campus housing when the time comes and how much living off campus costs.
How easy is it to switch majors? Kids may enter college with a fixed notion of what they want to study but then veer off in a completely different direction. How hard is it to change course at the school you're considering? How easy is it to switch majors?
Where can I take summer classes and earn credit toward my degree? Schools are more liberal or conservative with the places from which their students can transfer credits. So, if your student is thinking of taking summer classes at a local college between semesters, you want to find out if the school at which they are matriculating gives course credit for classes from that particular school.
Tell me about health services? This is a big factor for many. How easily accessible are both physical and mental health care? How responsive is the school to the physical and emotional health care needs of its students?
How competitive are the academics? This is a question about the difficulty of the course-load as in how many classes student's need to take each semester. But it is also about the student body and whether the atmosphere is more collaborative or competitive. Some kids are driven by competition and some are not. You need to know what works for your student.
What are the school's degree requirements? Some colleges require more core classes (unrelated to the major). Some colleges require more math or a foreign language. Some schools make it easier to double major than others.
What are your study-abroad options? Students assume they can study abroad in the country of their choice, but it's important to look into what exactly your college's study abroad options are. Does the school accept credits from study-abroad programs from other universities? If there is a particular place your student is determined to get to–does that work for the university they are considering?
How hard is it to get into the classes you need? How does the school handle course registrations? Signing up for classes can be a stressful process, but at some places it is more fraught than others. It's good to know beforehand how the system works and how challenging it is to get into certain classes.
What percentage of professors have a terminal degree in their discipline? Are graduate students teaching? Are more tenured professors teaching?
What is the graduate school acceptance rate? If your student is planning to be pre-professional (business, law, medicine, doctoral or masters programs) and will ultimately be continuing on to graduate schools, how well does the school you're considering do with graduate program acceptances in their chosen field?
How are internships and career placement handled? Of course, at the end of this process students who are not continuing their studies hope to be gainfully employed. Some schools offer more support in getting students' summer internships and future employment. Ask about the career placement office and find out what they offer.
The answers to any one of these questions may not make or break a deal, but they will provide useful information. It's always better to know something beforehand than to matriculate at a school and get an unpleasant surprise.
More to Read:
Ten Things a Teen Needs to Think About Before They Choose a College