Looking at college websites, you will see beautiful pictures of the campus, happy students, small class sizes, and lots of fun opportunities. Presented online, colleges seem like the idyllic way to spend your young adult years. But a lot of things you see online are not actually the experience you end up getting.
Most of the time, colleges will publicize only the good things about their school. Often, they do not disclose certain aspects of campus life. How can we determine what is real and what is fiction? And how can we prevent our expectations from being shattered?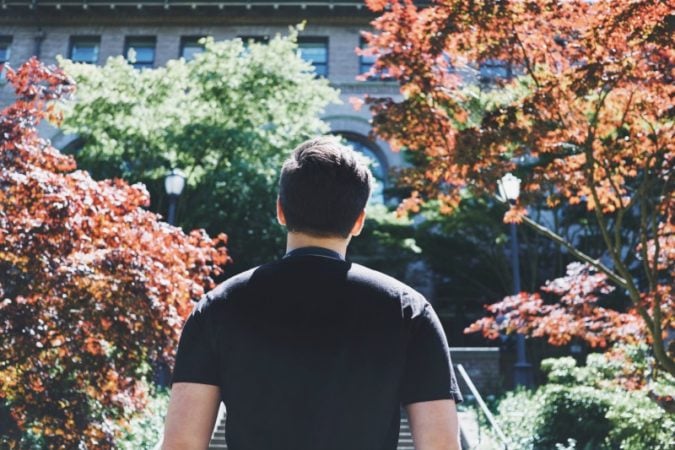 Even though life has changed dramatically due to the pandemic, it is still crucial to do research on which college you want to go to and picture yourself in college once the pandemic is over. Here are some factors to take into account and to research before selecting a school to ensure you understand the full picture, rather than just what the school website says.
Factors to research to help determine college fit
1. Dining hall reviews
Online, the dining hall may show pictures of delicious, fresh, healthy food with a wide variety of options, but be sure to take a look at the reviews of each dining hall before picking which dorm you want to live in. You can check dining hall reviews on Yelp.com to figure out which dining hall has the best food. If every dining hall on campus has terrible reviews online, definitely take that into consideration when choosing your college. 
2. Ensure campus organizations/clubs are actually active
While colleges often advertise having over 500 clubs and organizations, check to make sure these organizations are still active. Sometimes clubs and organizations disband for a variety of reasons. Check on social media for each club that you are interested in to make sure the club is still active. If the clubs you are interested in are no longer active, that may weigh into your college decision.
3. Determine if your school is a commuter school 
If you are going to an out-of-state school and it ends up being a school of mostly local students who commute, or even if the majority of students are in-state and go home every weekend, the campus can feel extremely lonely.
One way to figure this out is to check what percentage of students are part-time versus full-time students. If more than 20% of students are part-time, this is a good indicator that it is a commuter school. Also, age is a good indicator if the school you are attending is a commuter school. If the population has a high percentage of students over 25, typically these people will not live in a college town and will commute to the school.
4. Check class sizes for your specific major
While the college may advertise itself as having a low or average student to faculty ratio, this can vary quite a bit depending on your major. If possible, check the student to faculty ratio based on the year in school.
Many colleges will offer much larger classes to freshmen and class sizes get smaller once you get into upper-division courses. That can skew the average. These factors can make it look like your classes will be smaller, when in reality most of your freshman classes might be large.
5. Professor ratings 
A school may recognize well-renowned professors for their research but always check on ratemyprofessors.com. Every school has some bad professors, and even if they are celebrated for their groundbreaking research, their classes may be extremely difficult. Check professors in your major on ratemyprofessors.com to ensure that you will have professors that are a good fit for you.
This site sometimes has reviews of the professors' teaching styles as well. You can also research the professors in the field you are interested in going into online, to see if they are well-regarded. Remember, your professors will be the people to give you future letters of recommendation.
6. Review the demographics of the previous freshman classes 
While the website may show tons of diversity in photos on the homepage, this may not be an accurate picture of what the school is like in real life. Make sure to check the demographics of the previous freshman classes to get a real picture of the school and students that will be your future classmates.
It can also be interesting to check what percentage of students are in-state students versus out-of-state students, the percentage of international students, and the percentage of males versus females.
This website offers reviews of the college from current and previous students. It gives each aspect of the campus a letter grade in areas such as academics, diversity, athletics, professors, dorms, student life, location, campus food, etc.
8. Community 
Does the college actually have a sense of community and will you feel a part of the campus community? This is something that is really difficult to determine just from a website. One way you can evaluate this is to look at social media. Also, if you know someone at the school, reach out and ask them what life is really like there, along with things that they like or dislike about that school.
9. Campus events 
The website may mention many campus events or fun activities that are included in your tuition. Check to see which of the offered activities are of interest to you.
10. Campus amenities 
What are you actually getting when you live in a dorm? Dorm life may be advertised as having a pool or gym just steps away from your residential hall. Make sure to check the location of the specific dorm you would be living in to see what is nearby. Also, be sure to check out pictures of the recreational center to figure out if it is actually a place you would want to exercise at.
Also, look at whether the school has libraries or study spaces where you can study so you won't be spending all of your time inside your dorm.
11. The area surrounding the campus
If you are a person who likes being in an urban area, you might not like a school out in the middle of nowhere. Similarly, if you like a more rural environment, an urban area might feel weird. Definitely research the weather in each season to ensure you are not shocked by the cold or heat once you arrive on campus.
12. Career services
What is the university career center like? Are there regular job fairs to help students find internships and full-time positions after graduation? Definitely check to figure out how often the college holds career fairs. This is the main way that students find internships and full-time jobs after graduation. Also, be sure to check on the percentage of students that have a job upon graduating from that university, and see what services the career center offers, such as interview preparation, resume workshops, etc. 
13. Freshman retention rate
This is something a lot of people don't think to check, but can actually be a good indicator of how much students enjoy attending that university. The average freshman retention rate is 75%. Anything above 90% is considered a great freshman retention rate.
14. Study abroad opportunities
If you are interested in studying abroad, then this is definitely something to consider when choosing a college. Most schools have a variety of study abroad programs, but check to make sure the countries you are interested in are there because otherwise, it can be a difficult process to transfer your credits.
15. Campus safety record
Many college towns have high crime rates. Be sure to check on the safety record and also check if there have been instances of police and students clashing on campus. Feeling safe where you are living is so important, and this factor is often overlooked when evaluating a potential school. Crime rates may be difficult to find because this is not something a school will publicize unless it is low.
16. The graduation rate in four years
Most students go to college expecting to graduate in four years. In reality, the four-year graduation rate of college students is 33.3% for students attending public universities and is 52.8% for private universities. Graduating within four years is definitely important in order to save money, but at a lot of big public universities, the classes are too full so you may have to take an extra year in order to take the classes you need to graduate.
17. The culture where the college is
Definitely learn about the city that the college is in, and if you are worried about politics, do research on whether the city is considered more liberal or conservative. If you are from a more liberal area and are attending a school in a very conservative area or vice versa, this can be a huge culture shock. Alternatively, you might see this as an opportunity to broaden your horizons and expand your perspective.
As you see, there is. a lot of research to so beyond reading the school's brochure to find the right school for you.
You Might Also Enjoy:
How to Visit Campus Without Setting Foot on the Quad: CampusReel