"How much did Fisher cost?" one of my kids asks. $350? $400? $575?
That all depends, I think. The dog cost us $350. He was neutered, vetted, and transported. But that was a drop in the bucket in April 2005.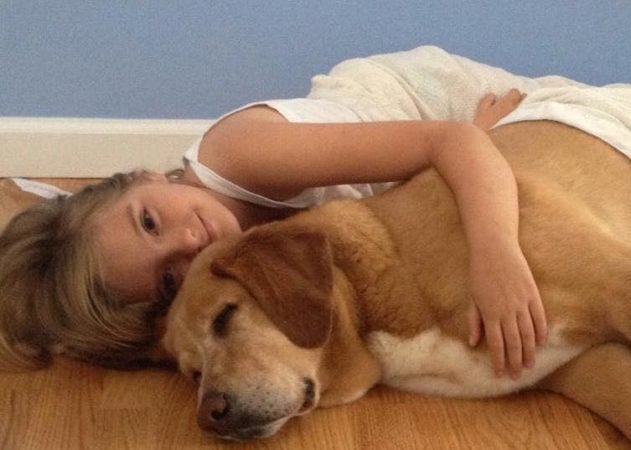 Because by May, the price had gone up considerably.
Our dog ate EVERYTHING
What's a Mother's Day Brunch cost for 12? Because he ate it all. Right off the dining room table.
But then he'd lay on the floor, let the baby crawl over, and lay her head on his stomach so she'd have a comfortable place to drink her bottle. Let's call it even on the brunch thing.
$2000 for an underground fence plus $99 for unlimited training — mostly for me. We gave him the whole yard — one and a half acres. But if I crossed the street, our dog was coming too. Shock or no shock. I learned to stay in the yard and shout at neighbors from the fence line.
Two dozen cupcakes. All ready for a child to take to school. Gone. Cupcake wrappers and all. I learned to store things on top of the refrigerator or in the microwave. But not before at least another cake or two disappeared. I never learned about loaves of bread. Fisher loved a loaf of bread.
Oh, the Barbies. Dozens of Barbies were left a limb short when Fisher was teething.
He cost me a new Christmas stocking because the one my great-grandmother made was eaten to get the chocolate surprise.
I saved the price of a watch because I was told when breakfast and dinner were to be served, what time to let him out, what time to let him in, and what time we were going to bed. He'd announce bedtime by starting up the stairs and waiting for me to follow. I knew the routine.
$275 is what the car rental company will charge you when they find fur in the rental.
We each helped take care of our dog as he got older
What does it cost when your heart stops as you hear him falling down the stairs after what became his last attempt to come to sleep next to you? A year of your life. Maybe more. And finding out you're too chicken to see if he died? That was expensive. I made my husband check. Because I knew I wasn't ready for that yet.
It cost weeks of decent sleep for the youngest, who volunteered to sleep next to him downstairs as he adjusted to sleeping on the first floor.
What's it cost every time you open the door and let him out, hoping he doesn't break a leg going down the two stairs?
You needed a fire in the fireplace after he insisted on going out the back door, even though you knew the steps to the yard and the snow would be too much.  You were right; he got stuck. You shivered and wondered just how many minutes you had in the pre-dawn dark before you died of hypothermia as you lifted a hundred-pound lab the stairs in your pajamas. I forget what propane costs.
And you're gonna need a new dog bed every few years as he goes from medium to large and then extra-large.
What does it cost when the first snow falls, and you realize he still likes to travel? You see his footprints — the three paw prints are easy to see, but the fourth — that right rear leg that he had to drag along- was distinctive. Even the neighbors knew who was sneaking into their yard. It'll cost a few irritating emails from the neighbors even though you silently cheer his cross-country shenanigans. Not bad for an old guy.
But when I came down the stairs on Saturday morning, I only wanted a cup of coffee. My throat was killing me. He didn't greet me. He lay on his bed. One glance told me how sick he was. I thought I couldn't. Not yet.
When we knew it was time to say goodbye
I started to make the coffee. I couldn't make the coffee. Fisher and I needed to talk. It was his idea. I just needed convincing. A friend said her vet told her she'd know it was time because her dog would tell her. I was getting the message loud and clear. He was tired. Too tired to stand. Too tired to eat. It was too hard to breathe. There was nothing to do but agree. I woke up my husband. And then I made the coffee. Because then I had to tell the kids.
What's it cost when you tell two teenagers, "It's Fisher, and he's sick." That's a big one. That's gonna cost a lot — a bucket load of tears.
It'll cost $1.22 for half a gallon of gas plus half a gallon of tears to get the middle one from a sleepover so she can say goodbye.
It's another half-gallon of gas, and this time a couple of gallons of tears as ten hands pet him and tell him, "You were the best dog. It's okay. Don't be scared."
You watch the tears, and the tissues drop to the floor in the vet's office.
It's another $1.22 for a half-gallon of gas to bring Fisher home to find a place under the pines.
So, what did Fisher cost? A lot, you think. But not nearly what he was worth.
You Might Also Want to Read: