Recently, I was in a fast food restaurant near my son's high school during the busy lunch hour rush. As I waited to place my order, I realized that the restaurant was crowded with high school students. For a brief moment, I wondered if school had been dismissed early and then I remembered: our high school gives eligible Juniors and Seniors off campus lunch privileges.
Students, through maintaining their GPAs, attendance and good standing are allowed to leave campus for one block during the day. The students sign themselves out and are on the honor system to return back to school in time for their next classes. On any given day, the parking lot is a madhouse around during the "privilege hours" as students dash out the door to grab burgers and fries with their friends.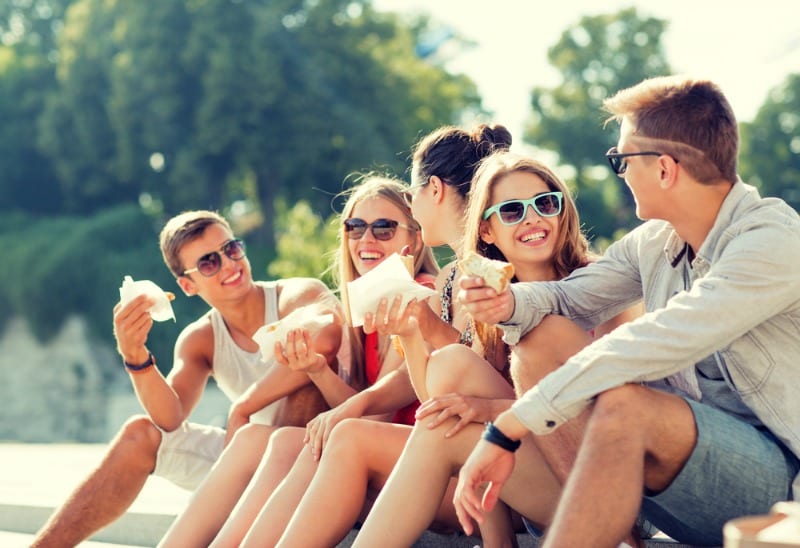 On the surface, open campus lunch periods seem like a great idea. Students learn time management and can use the time to take a breather from a busy day of school. And, of course, college bound kids have to learn eventually how to manage their lives while living in a dorm so what better way to help them do that than to allow them a little freedom during their high school years, right?
Well, yes and no.
Off campus lunch programs do, indeed, offer a wonderful opportunity for high schools to work with the local businesses teens frequent when they are allowed off campuses. In fact, a few of the sandwich shops near my son's high school see business plummet during the summer months because students and their dollars are a mainstay. And, often, in return for student patronage, local businesses are more apt to donate money and resources to school events, like catering proms and providing supplies for football snack stands.
Students who are able to participate in off campus lunch programs are able to help with family responsibilities, too. When a pet is sick or needs to be let out, students can drive home for a quick bite to eat and check in on the family pet. And, they can run errands, too, which can save parents time and headaches after school.
But, while the benefits of an open campus can be beneficial to the students and the community, the cons of an open campus lunch program cannot be ignored.
Take, for instance, the West Hemstead school district in Nassau, NY as an example. According to an article in the New York Times, the 2,600 student district shut down their open campus lunch program after two students were killed in a car accident during the off campus privilege hours. In addition to the incident in Nassau, NY, several other incidents around the state of New York led to the drafting of legislation aimed at protecting students and limiting student driving during lunch periods.
Researchers at the University of North Carolina at Chapel Hill found that, "Crash rates over the lunch hours were significantly higher for teenagers in the counties with open-lunch policies, despite these counties having no elevated crash risk during other time periods." The study went on to conclude that open campus lunch periods contributed to not only higher accident rates but also"encourage a situation where there are multiple occupants per vehicle, a known risk factor for teenage motor vehicle crashes."
Further, though supporting local businesses through open campus lunch programs can seem beneficial to the community, the fact is that most restaurants in close proximity to high school campuses do not meet federal nutritional guidelines set forth for student cafeterias.
In a study published in the International Journal of Behavioral Nutrition and Physical Activity, "Students at schools with open campus policies during lunchtime were significantly more likely to eat lunch at a fast food restaurant than students at schools with closed campus policies." The US Department of Agriculture found that students who participate in the National School Lunch Program are more likely to consume fruits, vegetables and milk versus students who frequent fast food establishments during an open lunch period.
While it can be argued that open campus lunch periods allow students a much needed break from pressures of a demanding school day, most schools haven't carved enough time out in the school schedule to make it feasible for students to leave campus and return without having to rush. In my son's school, for example, students are only given an hour to sign out, drive to a restaurant or home, eat and return to school. The disruption to the school day is almost not worth it.
And, studies show that truancy becomes an issue, too, in schools with open campus lunch programs. I mean, let's be honest: on a gorgeous spring day, would you want to hustle back to a boring English class or a complicated Chemistry final? As much as I want my son to interact with his friends during a meal, I'm fine with him having to wait until after school to grab a slice with his buddies.
Sure, high school students need to learn time management and it's our job to prepare them for college life but open campus lunch periods can be tricky and altogether unsafe if not properly designed. Supervision issues, nutritional factors and safety concerns in an already at risk group for deaths by motor vehicles might mean that this age old "rite of passage" for high school students might need to become a thing of the past.
Related:
This Is Why I'm Not Tracking My Teens
Ten Practical (and Fun!) Car Accessories for Your New Teen Driver
SaveSave
SaveSave
SaveSave
SaveSave