One of my favorite college drop-off posts says something to the effect of it's not a tragedy but it's not nothing either. And between tragedy and nothing there are a broad range of reactions to sending our kids off to wherever it is they are going.
Years ago I wrote a post that came straight from the gut. It was written as tears threatened while glancing at my son's retreating back, against the backdrop of his beautiful new school.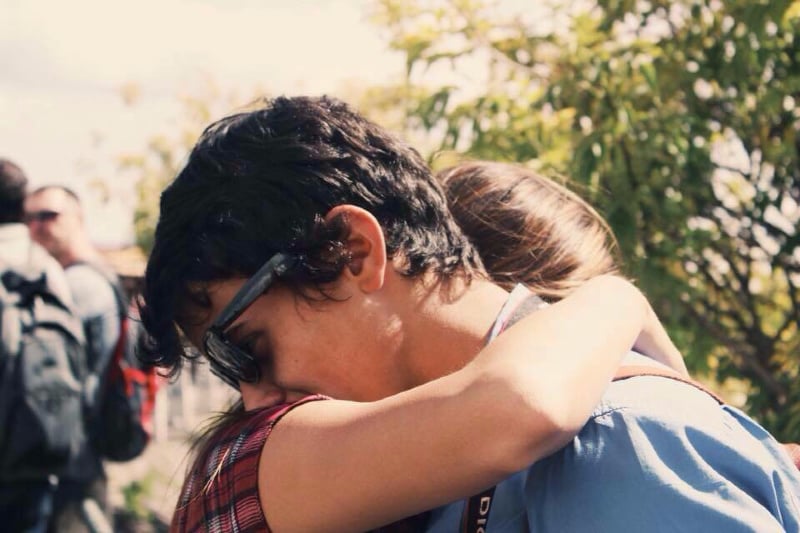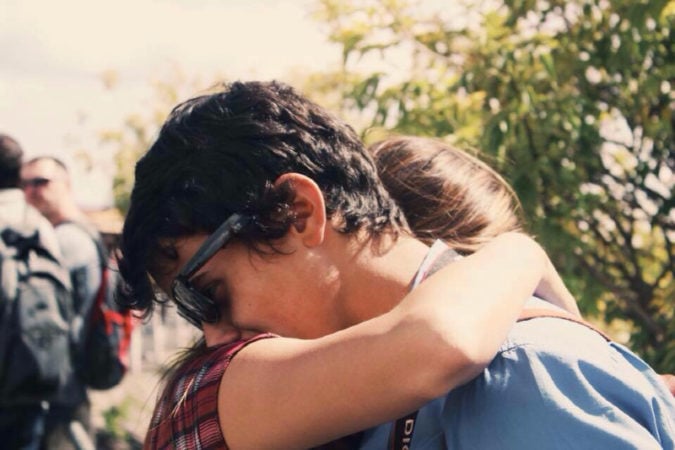 As I prepare to send son number three off, I'm certain that the familiar lump in the throat will make an appearance and the tears will come, and for all the same reasons.
But this time there will be bonus tears, because with the departure of this, my third child, we will officially become empty nesters which makes this drop-off familiar, yet strangely different. We will only have the 18 year-old dropee with us and on the trip home perhaps we will stop midway between here and there-for an hour, a day or even for the night. We'll take our sweet time getting home. Because we can.
Why We Cry When We Leave Our Kids at College
I've learned a few things since I wrote that first drop-off post:
My heart is so full of love for you that it aches like a physical pain and it's that almost unbearable fullness that brings tears to my eyes.
The tears that flow are a physical release for the searing emotion of the moment. The tears will stop, but the aching heart full of love goes on and on.
I will miss the way we were. Things will change between us now. We will always be mother and son but I will become an increasingly less important person to you, as it should be. 
I was wrong, I will not become less important to you. I will always be important to you, but I will be less present. I will know you less. You will prioritize other people, as you should. But, I will always be your staunchest fan, your biggest cheerleader and your greatest ally.
I will miss you and almost everything about you, your sense of humor, your long, rambling convoluted diatribes, even your closed bedroom door. But it's not just you I'll miss, it's the light and life you brought into this home and your friends who also became dear to me over the years.
Yes, I will. I will miss it all-you, your friends, the revolving door of people you brought to us. But there in that quiet, I will find myself, not as I used to be or even as I have been for the last 27 years, but as I might be one day. Because surprisingly, there is still time for me to become.
I will worry about you because I desperately don't want you to ever feel lost or alone but I am certain that you will experience those "lost and alone" days. Everyone has them. Thinking about the times that you will not be okay and the fact that I can't make you okay makes me terribly sad.
You are strong and resilient and it's those lonely days that will make you a more empathic person. I'm not there to make it okay-but you have enough of me in your head to make it okay yourself.
I am not worried that you will not succeed. In fact, it's just the opposite. I have no doubt that you will succeed and that success will lead you further from me. Again, it is as it should be, but sad, nonetheless. 
I know now that this is only the first in a series of comings and goings that will stretch out over the next decade or more. And, yes everything you accomplish will take you further down a path that may lead away from me. But, even so, I will always be there watching you, loving you, hoping for your best outcomes, waiting patiently (ok, not always so patiently) to hear the goings-on, good and bad.
That moment when you walked away from us, we went one way and you went the other. You walked into a bright new chapter of your life where the possibilities are almost endless. I was walking away from a piece of my heart and the poignancy of that moment is not lost on me.
Yes, and there's the rub. That moment, that moment of leave-taking, it's just always hard. It will never get easier. My grandmother used to say, "I love when you come, I hate when you go." And, there it is, and was and always will be. Brilliant in its simplicity.
But, one more time we will drive away and as we do I will look back and hope that I've done most things right, or right enough, that you make wise choices and that fortune goes your way. 
I miss you already. 
You Might Also Want to Read: 
Grown and Flown: The Book is available with pre-order and gift (through Sept 3)