Proud is an understatement for how I felt about my daughter's adjustment to college life. Happy doesn't do justice to how I felt when I hung up on our Facetime calls, during which she shared with me details about her day, her professor, or a classmate who smiled at her. After 18 years of life at home, 12 years of public school, and 9 summers at sleepaway camp, my daughter was "doing the college thing" several states away…and she was doing it well.
She settled into her classes, joined a sorority, and even figured out how to use her college meal plan card to get a Frappuccino at Starbucks. She was invited to her first fraternity "date party," got her first A on a Psychology 101 pop quiz, and ordered her first late-night Dominos pizza delivery.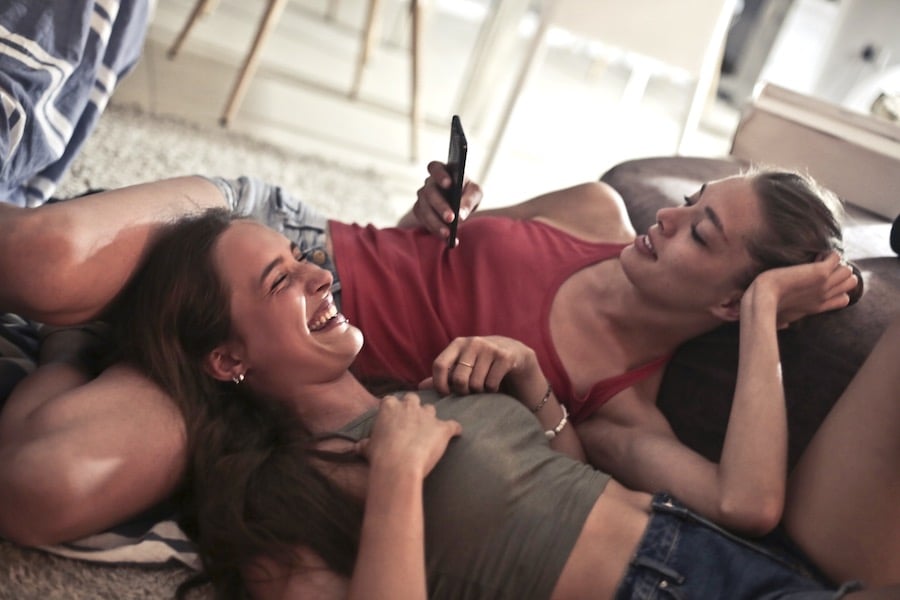 She got her flu shot by herself and signed up to play on an intramural soccer team. She posted pictures after smiling picture on Instagram with her arms draped around her new college friends. It was all going great. College life was taking off for my girl.
Or so I thought.
My Daughter's Adjustment to College Seemed Perfect
Somewhere between trying every day to make her lofted Dormify-inspired bed and tasting the "world-famous" tacos served on Tuesdays in her dorm's dining hall, my daughter's happiness started to wane.
"Why?" you ask. Well, my fellow moms and dads out there started to wane because she became obsessed with the fun that all of the other college kids on her Instagram and Snap feeds were having.
If my daughter was at a fraternity party where she enjoyed herself thoroughly, it seemed that the kids at Ohio State were at a bigger, better, "funner" party. While my daughter was hanging out in her dorm room with her friends and feeling happy, Instagram updates showed her best friend hanging with HER new besties in HER dorm room, hashtagging #collegerocks #bestfriends #lovelifehere.
When my daughter was decked out from head to toe in blue and white, heading to a tailgate and then to the stadium to cheer for her university's winning football team, the students whose Snap stories she watched made their schools' football Saturdays look even better than those in the movies.
Short of eliminating all social media from her daily life (which, I assure you, was not happening), there was no escaping the constant barrage of hundreds of other "happier than happy" college students across the country. And unfortunately, she believed everything she saw.
Every sparkly-eyed, big-toothed grin looked authentic. She could practically hear the cheers emanating from other schools' stadiums. The meals looked tastier, the parties looked wilder, the school traditions looked cooler, and the dorms looked nicer.
And based on these posts — these carefully-crafted and deliberately-arranged snapshots and their clever accompanying captions — my daughter began to question whether she was actually enjoying her college experience or if she might find more joy someplace else.
But here's the thing. You know it, and I know it: INSTAGRAM POSTS ARE NOT REALITY. SNAP STORIES ARE SNIPPETS AND PUBLICIZE ONLY SECONDS OF A 24-HOUR DAY. FACEBOOK PICTURES ARE WAYS THAT PEOPLE TRY TO SHOW THAT LIFE IS GOOD…EVEN WHEN IT ISN'T.
The posts that my daughter sees do not show her peers crying because the classes are too hard or their professors' instructions too confusing. They don't show kids spending late nights in the library reading a book about 18th Century Europe and attempting to solve a four-page physics equation.
They don't show lonely phone calls made to parents in the quiet corners of empty library study rooms or disagreements between roommates. They don't show sleepless nights filled with thoughts of home, stress about grades, or disappointment over toxic or rocky relationships. They don't show all the truths that college kids don't want to expose to their "followers." Naturally.
Talking to My Daughter About Social Media Envy is a Losing Battle 
She doesn't care to be reminded that she is a student at the college she DREAMED of attending. Because right now, all she sees are kids who SEEM to be enjoying their college experiences more than she is — and she wants what she thinks they have. I continue to tell her that the grass is not always greener on the other side, even if it appears from afar.
I'm making headway, I think. And I'm confident that my daughter is in the right place with the right academic environment, friends, and community.
I pray that her social media "envy" subsides. But I know that even if it does, it will rear its ugly head again. And again. And again. Because sadly, this constant "life comparing" is the reality for my daughter and all of the kids growing up in her generation.
We parents have the all-important job of helping our kids distinguish between reality and…not reality. If they are willing to accept that the Tooth Fairy and the Easter Bunny aren't real, then there must be a way to prove to them that neither is the social media updates they believe to be true.
When and if you figure it out, I'm all ears.
The author of this post wishes to remain anonymous.
Are you looking for a guidebook on parenting teens and college kids? Now – The Grown and Flown book is here!
You Might Also Enjoy:
The Child You Drop Off at College is Not the Person Who Returns Home