Making the yuletide gay? You better believe it (and it's about time)! After years of being the quirky best friend or the married uncles, Lifetime is putting an LGBTQ+ couple in the holiday movie spotlight. The Christmas Setup, premiering Dec. 12th at 8/7c on Lifetime, stars real-life married couple Blake Lee (Parks and Recreation, Mixology) and Ben Lewis (Arrow, Shadowhunters) as the main romantic leads. And as is true of every good holiday romance, it's all about the power and the beauty of love.
Lewis stars as Hugo, a successful NYC lawyer who is returning home to Milwaukee for Christmas with his adorable and loyal college BFF Madelyn (Ellen Wong, GLOW) in tow. Hugo's widowed mom, Kate (the fabulous Fran Drescher, in full Fran Drescher mode) is overly delighted to have them home and immediately puts them to work helping her over execute the town Christmas Eve festival that she's in charge of (because of course she is).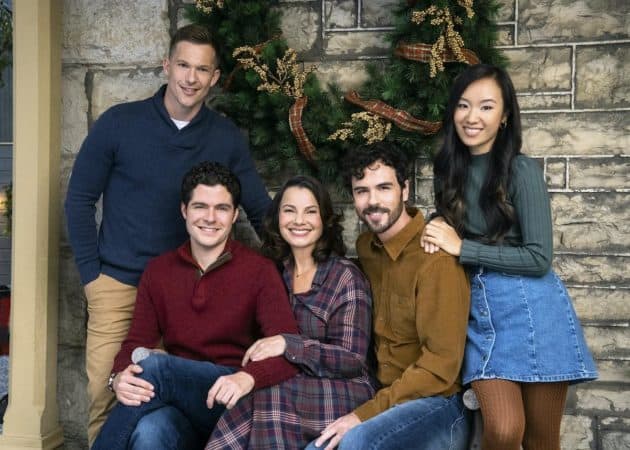 The Christmas Setup premieres Dec. 12th at 8/7c on Lifetime
(This post is in paid partnership with Lifetime but the review and opinions are 100% my own.)
The meet-cute happens right away: Patrick (Lee) — the "Mr. Popular" that Hugo crushed on in high school who has returned to Milwaukee after striking it rich in Silicon Valley and is now a well-to-do philanthropist — delivers Kate's Christmas tree, and the sparks that instantly fly between these two threaten to burn it down.
("Straight?" Hugo asks Patrick, as he's under the tree trying to get it in the stand. "Excuse me?" says Patrick. "The tree," Hugo quickly clarifies, but the tension that erupts is electrifying.)
From there we're off and running through the fun of Hugo and Patrick's saga, which includes all the usual, outlandish aspects of the holiday romance stories we love: the over-decorating, the town festival, the insanely romantic dates with snow and hot cocoa, a job dilemma, awkward caroling, and an expected predicament that almost ruins everything, but doesn't (because of course it doesn't).
The Christmas Setup, though, hits different than many of the others. Is it because of the LGBTQ+ lead story? No, although that is certainly an authentic difference from what we're used to seeing in these movies.
What's refreshing to me is the honesty — from the very beginning — of the Hugo and Patrick's feelings. They put themselves out there right away. Both of them are comfortable enough in their own skin that hiding their feelings or playing games — with themselves or with each other – isn't something they seem to have interest in or time for. Like I said: refreshing!
Throw in a bit of a town mystery, a cute-if-unbelievable B-line romance, and of course, Fran Drescher's outrageously enthusiastic meddling … er, matchmaking … mother, and you've got one of the best holiday romance movies I've seen in a long time. Lifetime gets so much of this one right: The Christmas Setup is chock full of genuine moments of authenticity — not to mention a drag queen! — and is a wonderfully bright reminder that love, and anything else worth having, is worth fighting for.
More to Read:
"Christmas Ever After": Lifetime's Most Inspirational Holiday Movie Ever
"A Welcome Home Christmas:" Lifetime's Holiday Movie Salutes Veterans
Lifetime Christmas Movies: Grab a Blanket and Your Favorite Ice Cream
Don't Miss "It's a Wonderful Lifetime" Movie: "A Sugar & Spice Holiday"