Looked at one way, it is just another day of online shopping. Your teen needs sheets, towels, a comforter and some useful and decorative items for their bedroom. But, look again.
This is the moment when we begin to prepare them in a practical way for the journey, for the young adult life they will lead separate from us. It is a moment packed with emotional punch as we imagine their college years, and say goodbye to many of the things we have loved about our lives for the past 18 years. Yet as parents, we know we need to be sensible and help our teens to prepare for the year ahead.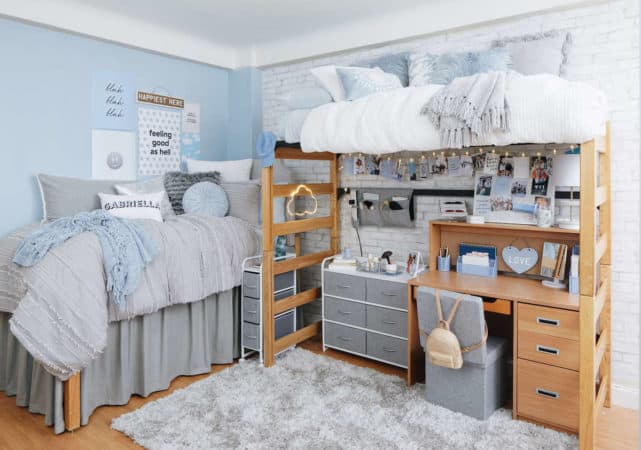 Shopping for college can feel overwhelming for both parent and teen, but the good news about 2020 is that so much of the legwork can be done online. Enter Dormify, an online decorating destination where your teen can design their dream dorm room while carefully monitoring the cost along the way.
NEW! June 29th to July 5th take 20% off your entire order by entering code LETSGETIT at checkout.
Note: We are a reader-supported site and receive compensation from purchases made through some of the links in this post. 
Dormify Shopping Benefits
Using their phone or laptop, teens can design a bed with sheets, comforter, blanket, pillows, and a headboard mixing and matching endless combinations before deciding on a final selection. They can see how their choices will look and exactly what they cost before adding a single item to their shopping cart.
Your teen can select removable wallpaper, posters, photo displays and more all while moving them around to see what the decor will look like IRL.
If your teen wants to chat via FaceTime, Zoom, Google Hangout, etc, they can book a FREE appointment with one of the Dormify stylists who can show them products and answer questions. The experts are college students or recent grads and they can give "big sister" advice about designing your space and dorm life.
There is no shortage of Dormify items that would work equally well for any gender. As moms with sons and a daughter whose styles are all very different, we picked items that could appeal to a wide range of tastes.
However, if your sons are like ours and preferred to defer the dorm shopping decisions to us, click here and show them the bundles which include a full set of sheets and a set of towels. One click and you are done with the basics.
Grown and Flown 2020 Dormify Picks:
Start with the Bed
When it's time to co-shop with your teen, pour yourself a cup of coffee and get them a snack. Start by clicking on the bed visualizer, slide the laptop over to them, and watch while they create their optimal bed choosing colors and patterns they like best.
Once they're ready to move onto wall, storage or decor items, Dormify has some unique standout pieces that caught our eye:
Headboards
These headboards can also be mounted easily on the wall. Added to the functionality are a built-in outlet and USB port so your student can plug in a phone, laptop or clip-on light at their bedside. The headboard has a 6' long power cord so you teen can plug it into an outlet and have all the power they need, bedside.
Dorm Walls
The peel and stick wallpaper in a brick pattern is an inventive and attractive way to obscure the typically awful cinder block walls that make dorms look so bleak. (It is easily removable and does not damage walls –  (just be sure to check the Student Housing prohibited list first).
3. Tapestry + Long String Light Set
Hanging a wall tapestry is a relatively easy and quick way to dramatically upgrade the walls. One news trend is to add a string light to the tapestry – so cute but make sure both are allowed in the dorms.
A cute way to display photos is with this "hangit" – that uses clothesline and pins strung between two poles where your teen can display and switch out favorite photos.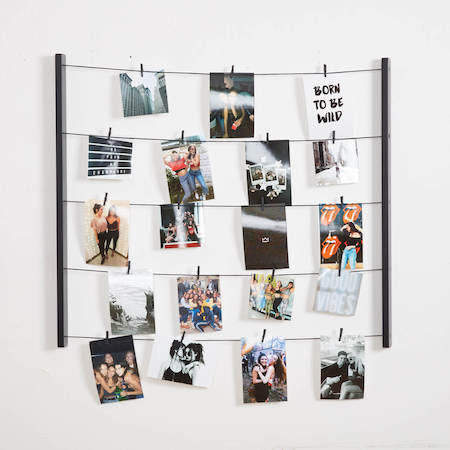 Lighting in Dorms
5. Charging Task Lamp. If the desk doesn't have a lamp or lighting, here is a desk lamp with a built-in charging outlet plug.
A floor lamp is another option for adding lighting to a room. It can be adjusted to point light in any direction desired and works especially well in poorly lit rooms. They are a practical lighting source to nestle next to an elevated bed.
Our best best advice for parenting teens and college kids …. The Grown and Flown book is now available in paperback!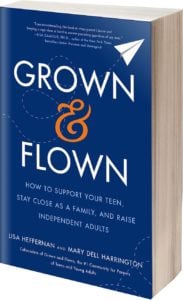 Accent Pillows
Dormify is known for their fantastic pillows and you will find a wide range of shapes, colors and textures.
Dormify will create a unique pillow with your teen's name, initials, school name, etc. which makes a great grad gift. The pillows with one large initial might be a simple way for roommates to unify two disparate styles with a pair, one for each bed.
Dorm Storage
We fell in love with this storage cube that doubles as a chair with the back folded up. It also comes with inserts for a perfect place to store shoes. It folds completely flat when not in use.
This was one of Dormify's biggest hits last year and sold out quickly. These have USB and charging ports making it even more useful than your typical bed shelf that is sometimes used with elevated dorm beds.
The Mother-Daughter Founding Team Behind Dormify
Grown and Flown had the opportunity to tour the Dormify's pop up shop in New York City last year and meet Amanda Zuckerman. Amanda is the Chief Brand Officer of Dormify, which she co-founded with her mom, Karen, while still in college. She recalled her frustration shopping for her own freshman dorm, which meant visiting multiple retailers to find and assemble the trendy style she envisioned for her new room.
Karen, owner of a DC-area ad agency and entrepreneur herself, agreed to be her daughter's business partner, using the agency to help launch Dormify. Their vision was to create a stylish and reasonably priced dorm-shopping experience where teens can find everything they need.
All photos curtesy of Dormify
Are you a member of our Grown and Flown Parents Facebook Group? Join us and meet your new 170,000 BFFs.
Looking for More Dorm Ideas: 
How to Decorate a Dorm Room – Adorable and Easy! These are some of our favorite ideas for dorm decor.
25 Bestselling Dorm Essentials for 2020 College  If you are still looking for additional items for a dorm, here are some of the most popular one.