Here's the most comprehensive list of stores that sell dorm bedding that we could put together for you. To make our list, retailers had to stock twin xl sheets, but most offer many other dorm essentials. We have highlighted store discounts and deals for students to take advantage of and will update these all summer long.
Note: We are a reader-supported site and receive compensation from purchases made through some of the links on this site.
Dorm bedding accessories we love
Dorm mattresses are slabs of thick foam covered in industrial-strength vinyl — not the best combination for comfortable sleeping. An egg crate topper, featherbed, or something like this memory foam topper (which gets great reviews) will make a massive difference in how comfortable your teen will be as they adjust to sleeping in a dorm room this fall.
Pillow
Your teen can bring one from home, or you can treat them to a new pillow, like this COOP Home Goods one that gets over 30,000 ratings on Amazon and top reviews at Good Housekeeping.
Mattress encasement
Not only are college mattresses uncomfortable, but countless other kids have slept on them, ewww. A mattress encasement zips over the mattress and topper, creating a much cleaner environment for the brand-new sheets to go over. This Allerease encasement has a bedbug barrier, is waterproof, dust mite, and is allergen-proof, too.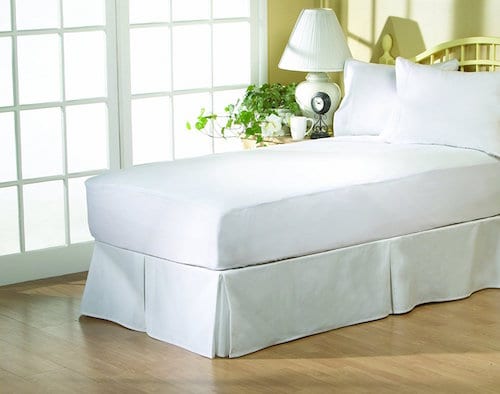 It can be hard to fall asleep in the dorms sometimes, so having a weighted blanket can be helpful for teens who have trouble sleeping.
Throw pillows are a cute addition to a dorm room. Students can even get complimentary ones for themselves and their roommates, making the room look more cohesive.
These are the very best bags to use for both packing dorm supplies for move-in day and under-bed storage for the extra sheets and towels. 
Most of the stores on our list offer great deals on dorm bedding. Look for free shipping, discounts with email or mobile sign-up, and student discounts, and take advantage of any "Black Friday" type deals.
Since so many companies compete for the college market, there is no reason to pay full price once you have discovered these tricks.
Top places to find dorm deals
The Container Store has everything your teen will need to keep things organized in their dorm room. From storage ottomans to over-the-door hooks to under-bed storage, The Container Store has you covered on all your organizational needs. Get 30% off sitewide for their Memorial Day Weekend Savings. And, sign up for their loyalty program to get 25% off throughout the summer. 
Target has some of the most inexpensive yet best-quality bedding out there. Their Summer Kickoff Sale is happening through 5/29, where all bedding is 20% off. 
Amazon Prime has so many options for bedding and tons of unique finds. Students can take advantage of a six-month trial membership and then all of these benefits:
Fast, Free Delivery on millions of items
Exclusive deals for student members from top brands
30-minute early access to select Lightning Deals
Prime Video: unlimited streaming of thousands of movies and shows
Amazon Music Prime: stream more than two million songs
Amazon Photos: free unlimited photo storage
Prime Gaming: exclusives and free in-game loot
Ultrafast grocery delivery from Amazon Fresh and Whole Foods Market (in select cities)
Enroll in The Key and get 2-5% back in rewards at not only Pottery Barn Teen but also at all the other Pottery Barn shops, including Williams Sonoma and West Elm. The Memorial Day Sale is going on now with discounts on many dorm and bedding items and free shipping for orders over $99 with code HAPPY. Here are great ways to find deals on dorm storage, dorm decor, backpacks, and more.
If your student likes being unique and having many options, Dormify is the perfect website! It even has a virtual bed visualizer where your teen can pick out the bedding for their room and see how it will look before making a purchase. Be sure to check out the Sale Section. And, get free shipping when you spend $200.
L.L. Bean has unique designs for quilts and duvets that your teen will love! Also, these items are of excellent quality and can likely be reused for years. Be sure also to check out the sale section because there are currently many comforters and sheet sets on sale. Get free shipping when you spend $50.
Tons of dorm bedding is on sale at Kohl's right now! Kohl's also offers free shipping for orders over $49.
Sign up for Macy's emails and receive 25% off! Plus, you'll hear about all the current sales — free shipping when you spend $25.
At JC Penney, be sure to check out dorm room bundles. Get free shipping when you spend $75. Currently, JC Penney has their Memorial Day Sale. Get an extra 25% off with code: THANKS4.
Many bedding items are on sale at Bloomingdale's. Sign up for emails and receive 15% off. With the Memorial Day Sale, get 25-50% off!
Bedding from Anthropologie is perfect for teens who prefer bohemian and unique bedding. Free shipping for orders over $50!
TJ Maxx has tons of options for throw blankets and sheets to choose from and can be a great option for inexpensive but good-quality sheets and pillowcases. Free shipping on all orders of over $89 with code: SHIP89. Right now, there are major markdowns — get up to 70% off.
Belk has trendy bedding that your teen will love! There are lots of muted colors and floral patterns to choose from. Get up to 50% off for their Memorial Day Sale (through 5/29). Plus, get free shipping when you spend $75.
Walmart has bedding with some of the best prices out there. This tie-dye bed in a bag is only $32.96 and includes a reversible comforter, shams, bed skirt, and sheet set. They offer tons of unique comforter styles, and many are discounted.
If your teen wants something simple for their bedding, Overstock is the place to look! There are tons of full-color bedding or simple designs that your teen will love. You can receive 10% off just by entering your email address for their email list. Get up to 50% off on their Memorial Day Sale.
Land's End offers many bedding options; many sheets are currently on sale for as low as $11. Free shipping when you spend $99. Get up to 60% off with code: HELM.
Wayfair has many cute bedding options — some starting as low as $16 and TONS of bedding sets are currently on sale. Wayfair also has free shipping for orders over $35. Get up to 75% off for their Memorial Day Clearance.
Urban Outfitters offers a bohemian style to their bedding with muted colors and modern patterns. Sign up for Urban Outfitters Rewards for 10% off your first order and special offers.
Crate & Barrel has some excellent options for bedding, even offering hemp pillowcases that are soft and light against the skin. Get 10% off by entering your email.
Etsy has tons of customizable bedspreads, so if you are looking for something specific and cannot find it anywhere, Etsy is the place to look!
Ikea has some of the best prices around — just $7.99 for a pillow! Get 20% off bedroom essentials through 5/29.
Kmart has many bedding options; specifically, the quilts would look great in a dorm room.
Costco has several great bedding choices for both guys and girls, with prices typically ranging between $75-$90.
Garnet Hill has many muted and pastel color options, perfect if your teen wants something different but not too crazy.
Dormco has many different texture options, including fuzzy, pin-tucked, waves, and more! Dormco also offers a student discount price. Be sure to check out these student discounts.
LeighDeux has lots of color options and some very trendy designs!
Room422 has classy and modern style bedding and features products that complement each other, which would be perfect if your child wants to match with their roommate but not have precisely the same bedding. Get 10% off your first order by entering your email address. Be sure to take a look at the sale section. 50% off on lots of pillows and bedding right now!
Brooklinen is luxury bedding with many high-quality options and offers 10% off your first order! Another fantastic offer is the bedding bundles, which save you 25%.
Home Depot has bedding sets, comforters, and mattress toppers for under $100 and bed pillows and sheet sets for under $50! Get up to 30% off bed items right now. 
Nordstrom has many options featuring some of the most stylish and creative bedspreads. There are also several bedding items on sale.
A dorm bed should be comfortable, clean, and, perhaps, reflect a little of your teen's style. There's no wonder that it's easy to obsess about this shopping trip since the selection can be overwhelming, much like the complicated and emotional process of sending your son or daughter off to college!
You Might Also Be Interested In:
Top 12 Dorm Shopping Mistakes These are the classic mistakes that are so easy to make. Trust us, read these, and avoid wasting time and money.
Top 12 Things Every College Freshman Needs to Take to College It is easy to get wrapped up in the hype of college shopping.  Start with this list of 10 and your teen will be more than prepared.