Twin XL sheets occupy the number one spot on shopping lists for dorm bedding for a good reason. College dorms are the only place on the planet where the beds come in this weirdly long size and, if you send your kid to college with a regular twin size sheets, you will both regret it. Trust us on this.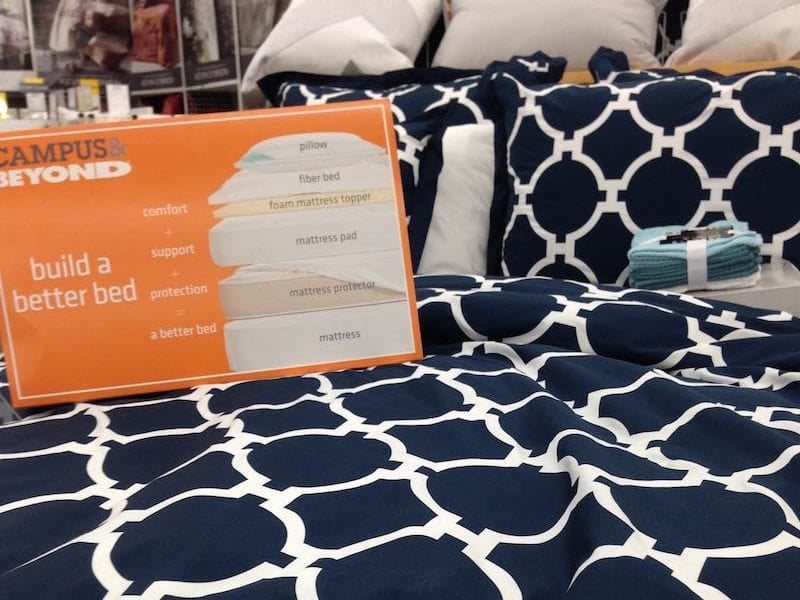 Before you grab your car keys and college-bound kid, pour yourself a cup of coffee (glass of wine) and do a little pre-shopping. We have assembled the most comprehensive list of stores that sell dorm bedding we could find (had to stock twin xl sheets to make the cut.)
Some shops might be near your house giving you and your kid a chance to feel the fabric choices before you make a decision which is a plus. Others are strictly online. Regardless of where you buy them, make sure to wash the sheets before you pack them up for drop off day.
Click on a few links and you'll soon see the huge range of price point, design, and thread count, all in the twin XL size.
Note: We receive small amount of commission from purchases made through some of the links in this post. For all our top picks for grad gifts and dorm supplies check out this list on Amazon.
Why Spend the Time Shopping for the Optimal Dorm Bedding for Your Kid?
A dorm bed will be your student's private haven – a place to read and study, to hang out while getting to know a new roommate, and, of course, to sleep. To make it as comfortable and functional as possible, buy two sets of sheets and a comforter which can be new or one from around the house. The comforter does not have to be in the twin XL size, a regular twin will work just as well. If your kid plans to move off campus sophomore year, you might consider getting a full size or queen comforter that they can use for a larger size bed down the road. Here's what else needs to go on the list:
Two pillows – there are no headboards on dorm beds and it's much more comfortable to have a big pillow in addition to the one your kid will sleep on. Consider a big square one for a European sham or one like this: Corduroy Bedrest that your student can prop up against.
Mattress topper – dorm mattresses are slabs of thick foam covered in industrial strength vinyl – not the best combination for comfortable sleeping. An egg crate topper, featherbed, or something like this: Memory Foam Mattress Pad will make a huge difference for your kid this fall.
Mattress encasement – not only are college mattresses uncomfortable but they have been slept on by countless other kids, ewww. A mattress encasement zips over the mattress and topper, creating a much cleaner environment for the brand new sheets to go over. Here's one that seems to do it all: AllerEase offers a bedbug barrier, is waterproof and allergen proof. Plus it has earned the Good Housekeeping Seal of Approval, a trusted designation for high quality and value.
Most of the stores on our list offer some pretty great deals on dorm bedding. Look for free shipping, discounts with email or mobil sign up, special in-store shopping nights for college kids and/or "black Friday" type sale days. Since there are so many companies competing for the college market, there is no reason to pay full price once you have discovered these tricks.
Top Places to Shop for Dorm Bedding
Bed, Bath and Beyond
A dorm bed should be comfortable, clean and, perhaps, reflect a little of your kid's personal style. There's no wonder that it's easy to obsess about this shopping trip since the selection can be overwhelming, much like the complicated and emotional process of sending a kid off to college!
Related:
How to Plan the Best Family Weekend
College Care Packages from Home: 50 Great Ideas
Go Ahead, Call Your College Freshman
SaveSave
SaveSave
SaveSave
SaveSave