As a recent grad, I remember how tricky it was as a freshman trying to fit all my belongings into a small dorm room. Keeping organized is vital; I needed to know where my things were and that I had enough space for everything.
There is no better place to nab storage pieces than The Container Store. And new this year, you can find everything you need for your dorm with their collaboration with bedding and decor trend-setter Dormify. You can also pick up some of the extras, like a top-rated fan, dorm-sized blender, and cute decor items, that can go a long way to help make your dorm room feel much more like home.
With a designated College Shop, it's one of the best places to buy dorm supplies, but sifting through closet, bath, and storage options can be a bit overwhelming. Here is our curated list of the 21 best things to buy at The Container Store for your student's dorm needs. I've covered practical and trendy items from their classics, like under-the-bed storage options, to my favorite new products from their Dormify partnership.
Note: The Container Store is sponsoring this post, but the opinions are my own. Prices are correct at the time of publication.
Best Dorm Things at The Container Store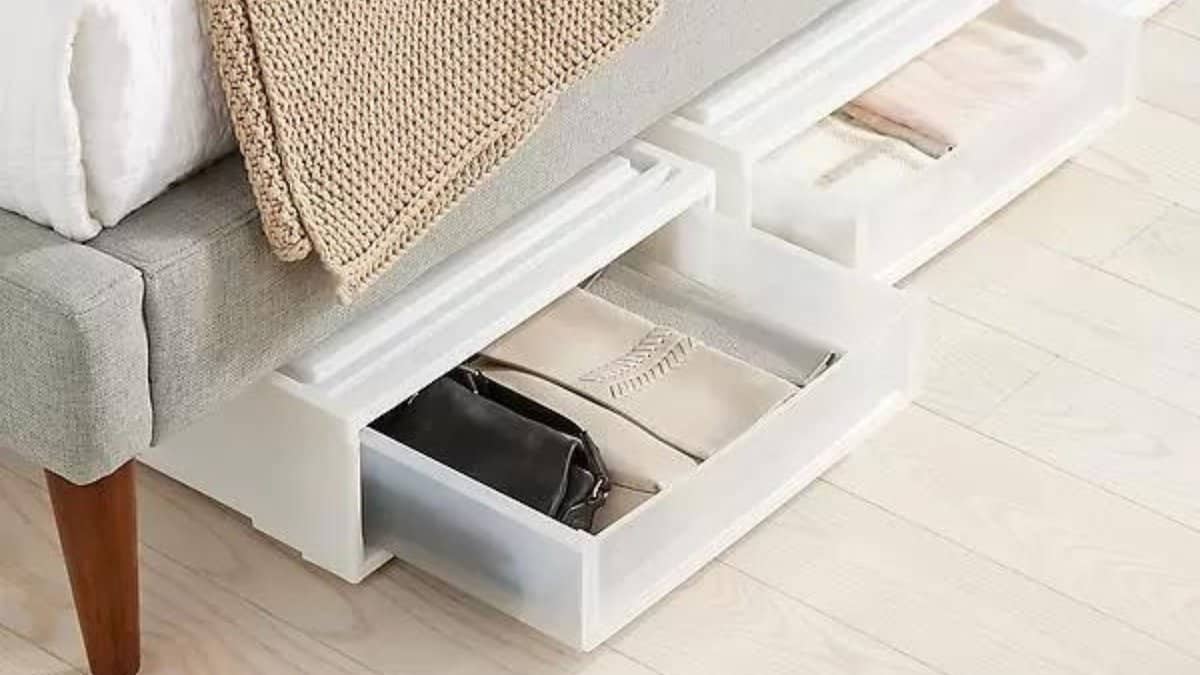 With limited dorm space, making use of under-bed storage is crucial. These under-bed drawers are stackable, so you can use a little or a lot of space under a bed, which is great if your student has a lofted bed or is using bed risers. Additionally, drawers make it easy to access what's under the bed without pulling everything out. These are super practical and will come in handy in an apartment down the road.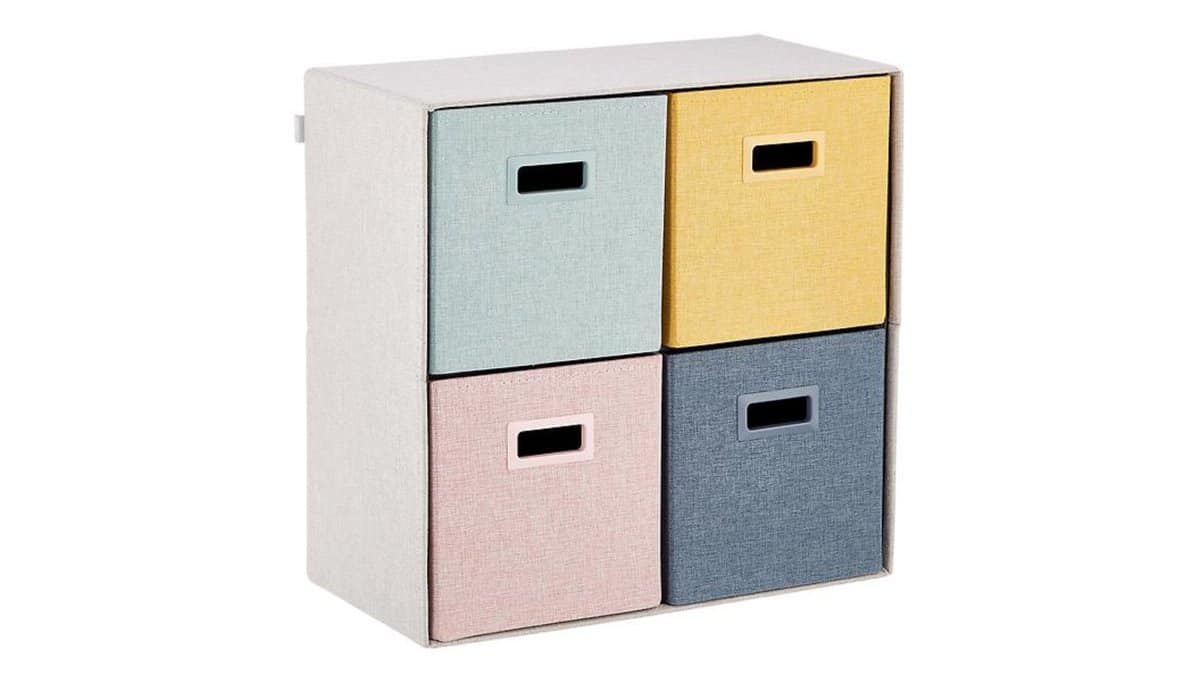 These storage cubes are great for extra items such as medication, extra toiletries, hair dryers, towels, extra sheets, and more. With six pretty colors, you can mix and match or designate a specific color for a particular organizational use.
Text CLASS to 22922 to SAVE 25% on your purchases and get more savings through the summer. Learn more here.
This storage ottoman is a win, doubling as an extra seat for friends and a storage box! It holds up to 275 pounds and can store towels, sheets, and more. Available in four colors, it collapses flat when not in use. The top is cushioned, making it a comfortable place for friends to sit.
This oversized shopping bag is excellent for move-in day, like the popular IKEA bags! You can stuff a ton of clothes in it and wear it like a backpack — making schlepping it all into your dorm much easier. It'll come in handy year after year to move in AND out of dorms and apartment.
There might not be room for a tall dresser in the dorm room, but these lightweight, stackable drawers will do the trick. They can stack on top of each other or be used individually. You can use them to store clothes, snacks, and supplies, and they also come in different fun color options. They're available in small or large sizes and can be purchased individually or in a set of 4.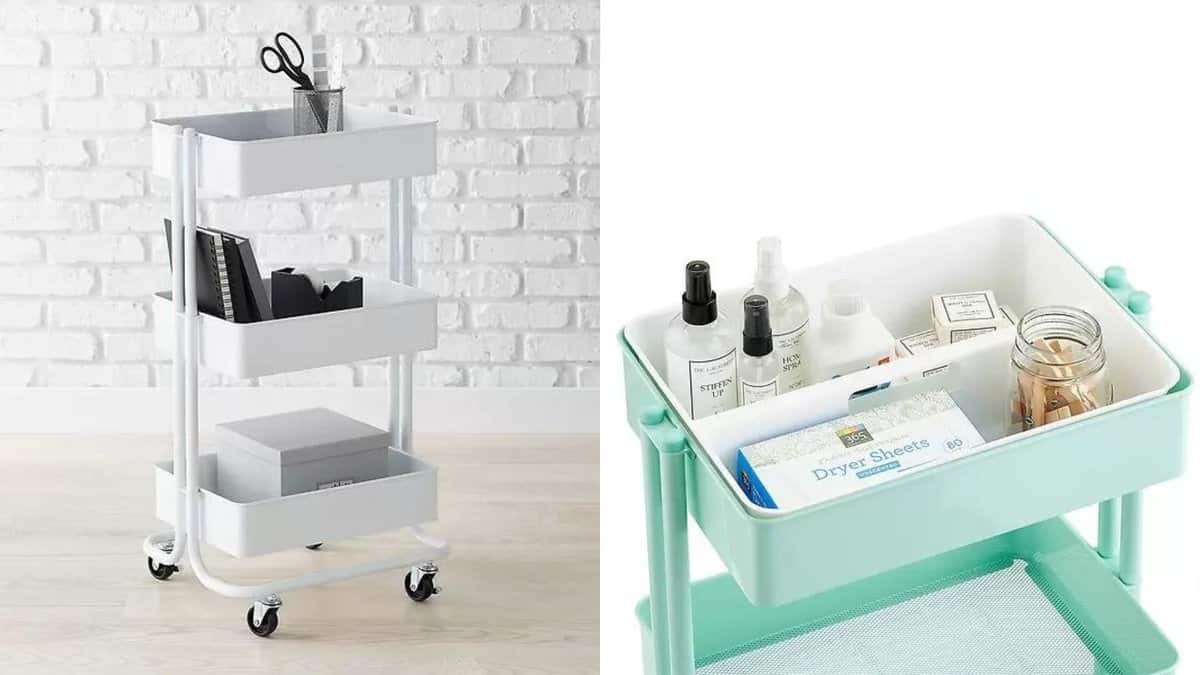 Rolling carts are handy for toiletries or cleaning supplies. As one of the most popular items at The Container Store, it will help your teen keep all their daily essentials organized. Each tier can be used for snacks, beauty, school supplies, and more.
A sweater organizer easily stores folded clothes in a closet, freeing up limited drawer space. This one, available with three or six compartments, gets Wirecutter's top pick for a hanging closet organizer. This versatile shelving system can even be used for accessories or purses and is made from breathable poly-cotton canvas with sturdy metal hooks and reinforced shelves.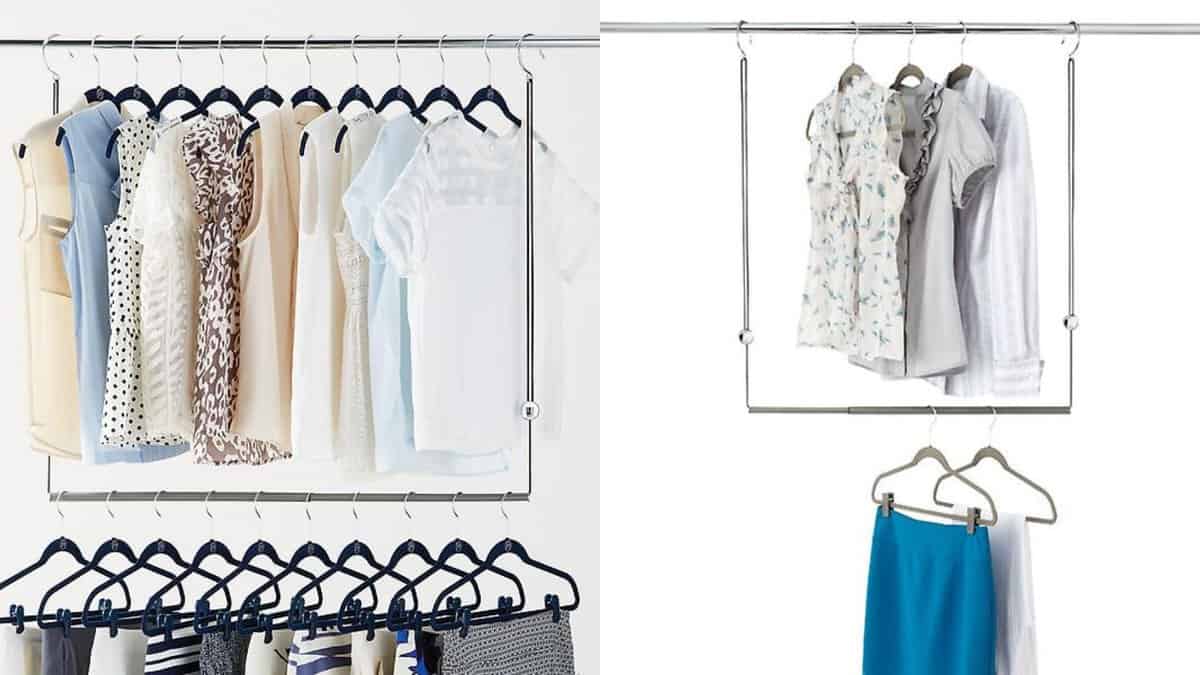 Optimizing closet storage can make a big difference in how useful it is and how much it can hold. This rod is perfect for hanging pants or tops to use what may otherwise be wasted space. It's adjustable, can be customized to fit a small closet, and installation is instant as it has hooks that fit over rods up to 1-3/4″ in diameter.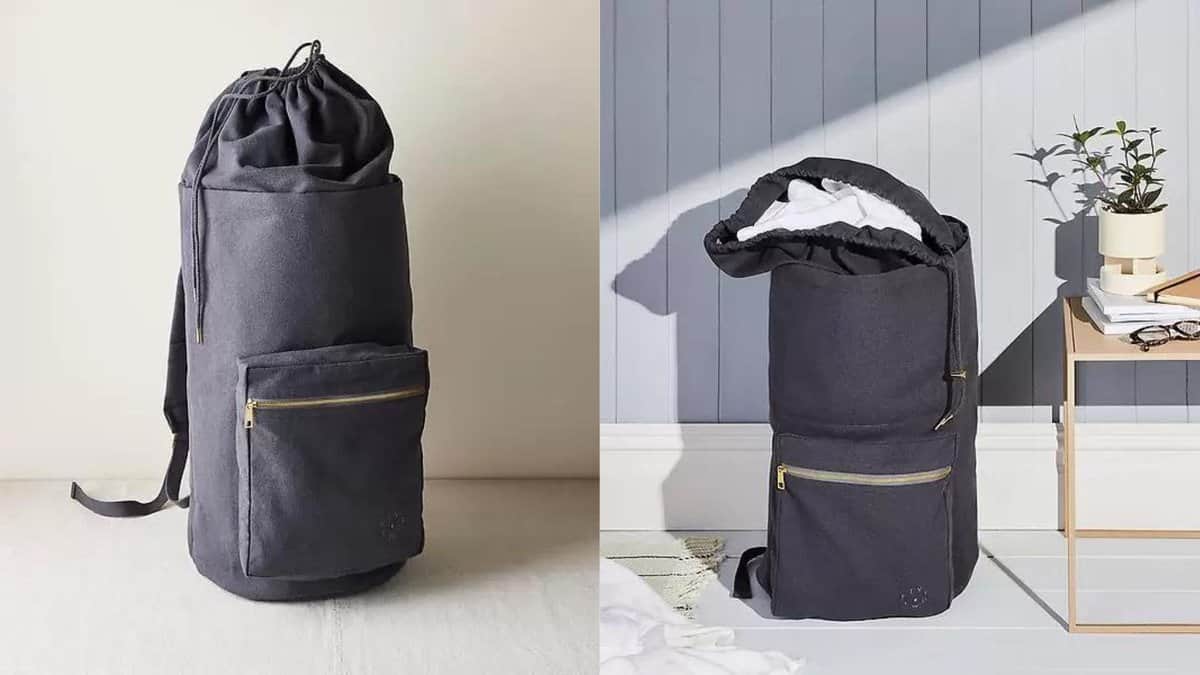 A laundry backpack will make it much easier for your student to carry their laundry to and from the laundry room, especially if they must go to another building to wash clothes. This backpack is large enough to hold multiple loads, is padded for comfortable carrying, includes pockets, and is machine washable. It's made from cotton polyester using 100% recycled yarns.
For a more traditional hamper, try this canvas one. The removable canvas drawstring bag makes it easy to pull out to bring to the laundry room without lugging the entire thing. It comes in three muted color options that will blend right in.
Dorm rooms typically don't allow for candles (they are a fire hazard), so if you're student wants to refresh their stuffy space with a pleasant smell, a diffuser is the way to go. This one from Vitruvi can be set for a 4- or 8-hour run time, has an auto-shutoff, and has an optional LED light that makes for a nice study light. Be sure to get essential oils to go with it as well.
One of the most challenging things about older dorms can be the lack of air conditioning, especially if your teen is going to college in a warm climate. You can now get things like this mini fan from Vornado, a Kansas-based company whose airplane propeller design roots date back to the 1920s. Vornado fans get top marks from Wirecutter, and this one has a retro design, comes in two colors, and has two speeds. Even on days when it is not beastly hot, this fan will help with air circulation in what can be very stale dorm air.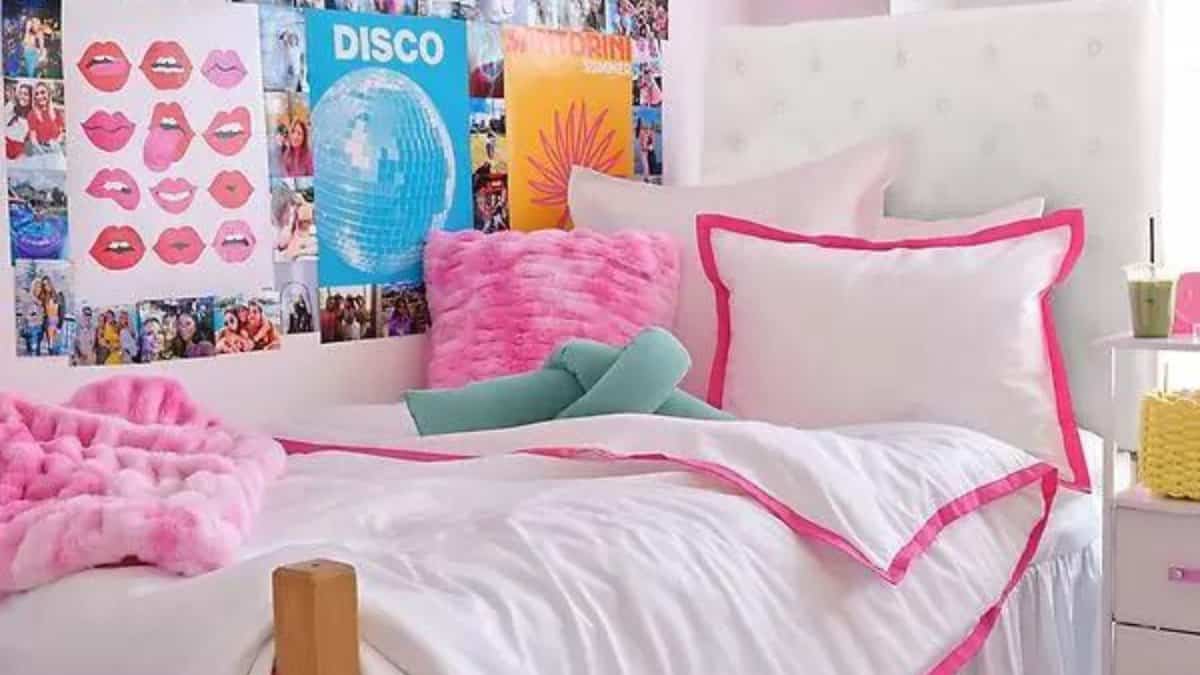 I was excited to learn of the new collaboration between The Container Store and Dormify. Now, it's super easy to shop for the bedding and décor your teen will need with all the great storage items to help keep their dorm room organized. Shop for everything from twin XL bedding bundles with headboards with built-in charging ports and outlets to pillows, neon signs, and removable wallpaper. The collection is available in five stores and online!
For a clear mind, start with a clear desk. Give your student a head start with a desk organizer for school supplies and accessories. It makes it easy to find pens, highlighters, and a planner and features a spot to stash an ID lanyard, dorm key card, or phone charger. This collection comes in sage, blush, gray, blue, and white to match any room, and there are other Poppin accessories to coordinate your entire dorm storage and organization.
A lamp in a dorm room should do more than shine a light on things: sneaky storage is always a must. Designed by Dormify, this lamp features two compartments to hold pens, highlighters, and scissors, a phone stand, a USB port, and a 2-pronged outlet. It's great on either a desk or nightside table.
The mirrors in the dorms usually aren't the best for doing makeup or getting ready. This makeup mirror has one side featuring a standard view while the other features five times magnification — ideal for getting the perfect cat eye. It is lightweight for moving about and blends well with any style of décor.
Students with a larger makeup collection need more than just a makeup bag. This acrylic system can be stacked to their preference and easily stored on a desk or vanity. Plus, it wipes down for easy cleaning.
If your teen has a suite-style bathroom, this is great for storing all their toiletries, and each person in the dorm can have a separate space for their belongings. It will help keep things neat within the bathroom. Elfa products are The Container Store exclusives and are very popular for their incredible durability.
This kit includes an Elfa Cabinet-Sized Drawer Solution with Melamine Top, Grid Tote with Handle, 3 Small Tint Stacking Drawers, and an Umbra Hide-N-Sink Under Sink Caddy for holding styling tools. (Quantities of items in the kit can also be adjusted!).
A fridge cart is ideal for elevating a mini fridge for easy access to food — there's no need to bend down for a midnight snack. The additional bottom drawers can store non-refrigerated snacks, paper towels, and cleaning supplies. This is another Elfa product; the top can hold a printer later in life. A Container Store Exclusive!
Making a smoothie, iced coffee, or green drink became much easier with BlendJet. This fantastic mini blender operates on a USB-C rechargeable battery. It is powerful enough to pulverize ice without the heavy and bulky base associated with other strong blenders. Available in five pretty colors, this would be a fantastic way for your student to prepare a healthy snack in their dorm.
If you don't know where to start in your dorm room organizational journey, The Container Store has created easy-to-shop bundles of all the necessities for every college student's needs. You'll find solutions for storage, snacks, bedding, décor, study, bath, and laundry, which are much easier to shop than sifting through the entire site.
Text CLASS to 22922 to SAVE 25% on your purchases and get more savings through the summer. Learn more here.
Do you have our Off-to-College Checklist with everything to take care of before your teen leaves for College? Find it here.