When my eldest son's friends began to hang out at our house regularly, I felt compelled to match up the disheveled heap of shoes I'd find at the door and line them up along the foyer baseboard by pairs.
That's a me thing.
I like the house to be neat and organized, but after a time or two, I stopped my borderline OCD routine. Not because I no longer had the urge, gave up, or had better things to do, but instead, I considered how my intention might be misunderstood by the teenagers we were thrilled to have in our home.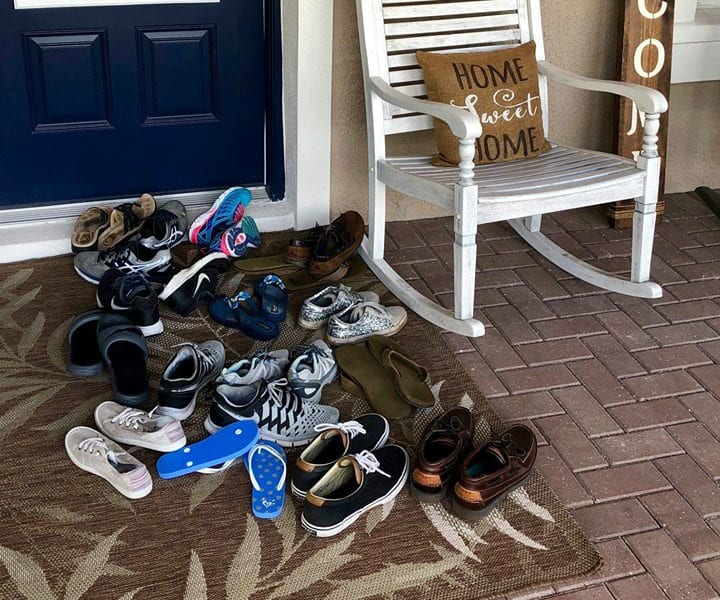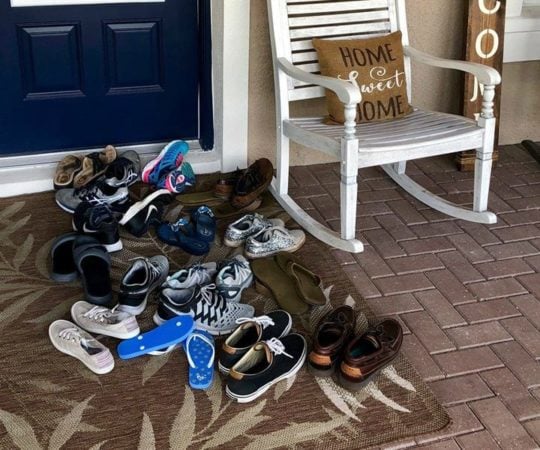 I wanted the teens in our house to know they were welcome
I wanted these teens to feel comfortable in our house and not think I was overly worried about them making a mess. I didn't want it to seem like a chore (for them or me) when they were here. I wanted it to feel easy. We liked having them in our home, so I had to think about what little gestures would let them know we wanted them here. We wanted our space to whisper, "this is a place you can kick off your shoes and stay awhile."
We wanted them to come back.
Growing up in the South, I was not raised as a Shoe Taker-Offer. We didn't have the slushy mess homeowners have to contend with living in the Northeast. I have learned, though, that it's rude not to slip off your shoes upon entry or, at the very least, ask if your footwear should be removed as soon as you arrive. I still, to this day, insist people keep their shoes on when they come over. We have hardwood floors throughout, so the possibility of ruining carpet is not a worry.
I started to see shoe removal as a sign of respect
With the teens, it's different, though. The shoe removal habit is so ingrained that I started to see it as a sign of respect their families extend to ours when they hang out at our place. I appreciate that the families of my sons' friends have raised them to respect other people's property. Though I don't feel it's compulsory, the collection of shoes at our door reminds me that the family values of others are welcome and appreciated here.
Since knowing our firstborn would be going to college some 1,257 miles away, the little things have begun to tug at my heartstrings.
Like their shoes.
I count the shoes to see how many kids I need to make breakfast for
On my way to the kitchen each Saturday morning, I pass the unsightly scattered pile of sneakers I have grown to love. I count the mish-mosh of pairs to know how many I need to make breakfast for and feel my "I'm not crying, you're crying" smile stretch from my head to my heart. Feeling fully content and happy the boys were here; I whipped up my signature cheesy bacon egg breakfast.
I have started to view the lopsided shoes as art. I snap pictures as I walk by and bask in the meaning. Their shoes tell a story. The shoes lying about indicate that my boy and the other boys from families we love are safe and resting comfortably upstairs in our house — where I want them to be.
While these days may be numbered, the snapshots will always bring me back to the place in a time of cherished memories with my high school senior and his friends.
More Great Reading:
Note to Self: On Parenting Teens