My firstborn son was going to college and moving him into his dorm was going to be THE perfect day. After all, I had planned it all in my head for months.
I would lovingly make his bed and fill his dresser while my husband put the finishing touches on the newly assembled loft furniture my son had purchased to outfit his dorm room. (Purchased second hand to save money, isn't our son smart?)
Next, we would have a nice dinner together at one of the fantastic restaurants to be found near his university. Then my son would give me a big hug and tell me how much he loved me as he gently escorted us out of his dorm and to our car to make the two-hour journey home without him.
I would be sad on the way home, but the feelings of being a proud mom would overcome any tears I may shed and I would text him one more time to let him know that he would be fine and that we loved him so very much. My husband and I would high-5 each other and congratulate ourselves for successfully nudging our oldest son out of the nest and into college life as we drove home to continue parenting our two younger kids.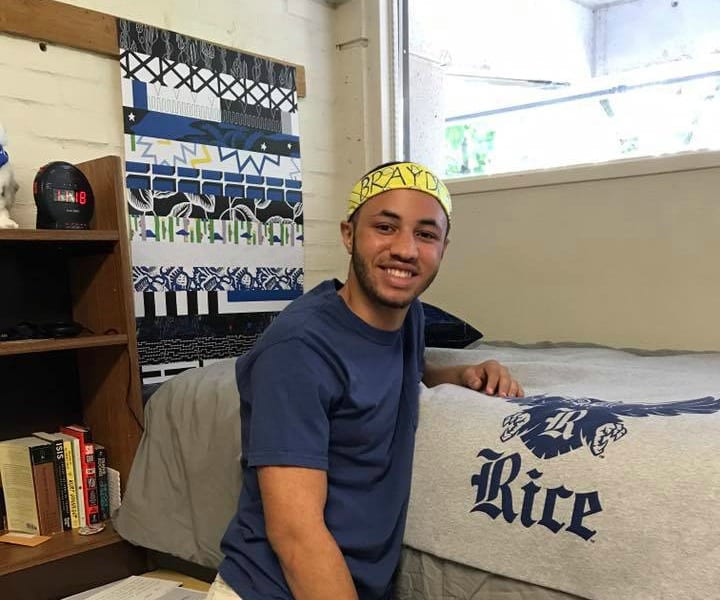 What really happened on my son's college move in day
STOP RIGHT THERE.
Rewind to what really happened on the day my husband and I dropped our first-born son off at his college dorm.
Stairs, there were SO many stairs. Hot, it was SO hot. Don't today's modern dorms have air-conditioning? Up and down three flights, over and over and over. Why does one brand new college freshman need so much stuff? Did I encourage him to pack this much? I only followed what was recommended on all of the college dorm packing lists!
The loft bed was going to be so cool, until we realized that it didn't come with any directions AT ALL. Who packed the tools? Why didn't someone tell me that college students need tools?
Oh my gosh, it is SO hot in this tiny dorm room! How can I lovingly make the bed when just assembling it is literally taking HOURS? We are all getting mighty testy as the heat intensifies and my sweet son is showing a side of him that is rarely seen. Has college life changed him already?
OK, the loft bed is finally done and we are exhausted and starving. The dorm room looks great and everything is neatly tucked into its own place. What fun and trendy restaurant should we go check out together?
It's been a really tough day, but a nice meal will lift our spirits and cool us down. There is only one problem. Brand new college boy has no interest in going out to dinner with us. In fact, he is practically shoving us out of his dorm without hugs, kisses, OR sweet goodbyes. Is dorm food really THAT good?
So, that's it? 18 years of nurturing and love coming to a screeching halt as we are expected to just walk away like it is no big deal. Nobody warned me of the almost instant transformation from excited new high school graduate to college freshman with a grad student attitude.
As I stole a quick hug and my husband and I left the dorm empty-handed, I was suddenly inundated with memories of the day we brought our son home for the very first time the day after he was born. So much time and care is taken to make sure newborns are belted into the car seat correctly and swaddled perfectly. I remember sitting in the back seat with this angel who gave me the gift of motherhood and vowing to care for him to the best of my ability as long as I lived.
The problem was, I was still very much alive and this man-child seemingly no longer needed me. It hurt. At the risk of falling into helicopter parent territory, I sucked it up and we began the drive home. There were two more kids at home that still needed me and my nest was not yet empty.
Since that day when my oldest son began college, my husband and I have successfully nudged our middle son out of the nest and into college life, but this time we brought tools. These include a hammer, screwdriver, pliers, fan, lightweight packing bags, lowered expectations, and somewhat tougher skin. As our youngest son begins his senior year in high school, I am diligently working on the tougher skin part and cherishing each moment as it comes.
If you are a parent who will be experiencing college dorm move-in day soon, take heart. They do love you, I promise. Maybe a nice dinner together, hugs and a sweet goodbye will be part of your experience, but then again maybe it won't. Keep your head up and don't assume anything on that day that means so much to parents and students, but in very different ways. You have done a great job and should be immensely proud to be the parent of a brand-new college student. Well done and high-5!
You Might Also Want to Read:
Dear Parent Sending Your Firstborn Off To College
What's Even More Painful than Saying Goodbye to My College Daughter