A month ago, my husband and I were bracing ourselves to become empty nesters this fall when our youngest is set to begin college. But to quote the perfectly timed reminder delivered by our middle child when I smashed my car into our garage: "Life comes at you fast."
And it certainly has. Thanks to the new household phrase social distancing, suddenly our home is fuller than it has been in years. All three of our adult-aged children are living under one roof again. Sharing Internet service as we all work or attend school remotely. Negotiating what to watch on Netflix and where to order take-out. Opening and closing the refrigerator only to find that we're out of everything—again. And loading and unloading the dishwasher multiple times a day and bickering over who actually does it correctly.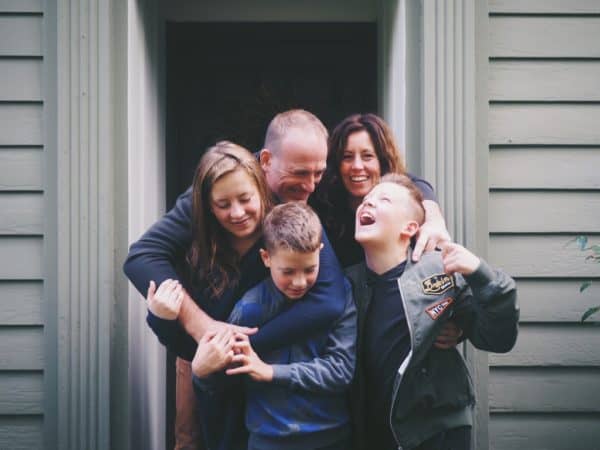 This new family time is different
This newly discovered family time is different than when the kids were young. There's nowhere to go—no carpools, no play dates and no sporting events. No errands to run either, except the occasional trip to the grocery store wearing a mask and toting hand sanitizer. And no solid plans to anticipate. Anxiety looms overhead and everything is up in the air until this virus releases its grip on our everyday lives.
But what a gift we've been given. Call it whatever you like. A blessing in disguise. A healthy dose of perspective. A chance to reinvent ourselves or realign our life priorities. For those of us who are stuck at home, watching the heroes on the front lines from afar and thanking God for their commitment each and every day, it's critical to take stock of our surroundings.
The universe is telling us to slow down
Whether you're alone…confined with others who you may or may not have strong relationships with…or thrown back into close proximity with family members you thought you'd never spend large chunks of time with again except during a possible summer vacation or holiday gathering…be sure to look around.
The universe is telling us something. Slow down. Connect with your loved ones. Prioritize your relationships. Those relationships are far more important than anything else in this world, and they're fragile…vulnerable…and they won't be around forever.
I'm not suggesting that we shouldn't be disappointed that so many of the events we've been anticipating are canceled. I'm sad for our teenage son who won't be able to attend his senior prom…and for
who were forced to abruptly end their school years without a proper goodbye to their teachers and friends, and who will miss out on their commencement ceremonies. Those are once-in-a-lifetime milestones that many of us still reminisce about today. They won't get that chance.
And for us soon-to-be empty nesters, it stinks that our 30-year-anniversary trip to Italy has been indefinitely postponed. We were looking forward to that trip; we'd planned and saved for so long, but it seems trivial to even mention it at this point—even though I just did. Everyone has a story of how this outbreak has punched gaping holes in their calendars, and again, it stinks. But we're still here. We're healthy and safe. And together.
We'll laugh and love like there's no tomorrow
So, as we hunker down to do another puzzle, play another game of euchre, and take our dog on another walk around the block (oh, our lucky dogs), I've pledged to make the most of a time that will never come again. We'll color Easter eggs as if we were ten years younger, indulge in another fresh-baked loaf of banana bread, reminisce over pictures from years gone by, and reconnect with family and friends over social media who we've lost touch with somehow but can't remember why.
Most importantly, we'll laugh and love like there's no tomorrow—because there's no guarantee. There never was.
And when the threat of exposure has been mitigated, at least enough so that the world can attempt returning to "normal," we'll never forget the road we've just traveled. We'll be forever grateful for another chance to enjoy the full impact of family time.
It'll be hard to say goodbye again
Will this make it easier or harder to say goodbye again when the time comes? Who knows? When our kids are ready to return to their own lives—whether that's moving into a college dorm for the first time, heading off to Chicago for that first entry-level job, or moving back into that apartment that was just too lonely to live in throughout the last month—somehow I don't think we'll be ready.
But if this time together has taught me anything, it's that the world changes in unpredictable ways whether we like it or not. And we've got no choice than to change with it. The only thing we can control is how we approach that change…with a fresh perspective…through a new lens…and with a renewed sense of togetherness to build upon.
More to Read:
This is the Anthem for the Class of 2020