If you've retired your need to make sure your child always has clean, matching clothes, is wearing a warm coat, and you humiliate them on the daily without caring at all, you are probably the mom of a teen.
Long gone are the days when your main goal in life was to give them comfort and joy at every moment. As a mother of teens, it's freeing to let go and care less about things that used to feel earth-shattering.
What moms of teens don't need to worry about
1. If they're wearing a coat
We live in Maine and this past winter when temperatures fell below zero and my kids refused to wear a coat since they "were only getting in and out of the car" I wished them luck. If another parent thinks that's horrible, I guarantee they don't have teenagers yet—just wait.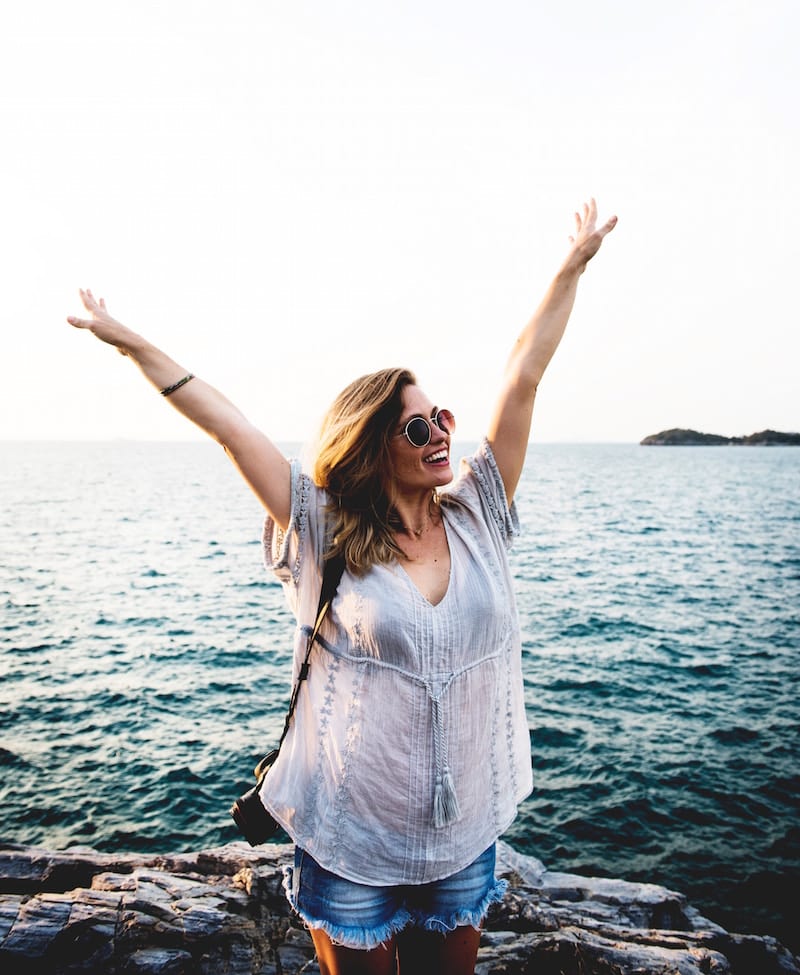 2. If we forget their name.
Chances are if you have more than one child, or one child and a partner or pet, you will call them the wrong name at least once a day. This bothers my teens but if they had all the crap rolling around in their head that I did, they'd understand. This is minor, so we'll allow ourselves this mistake since we ours brains are full.
3. If we aren't wearing the right outfit.
Or have the right 'do. Or shoes. Or talking or walking or breathing the right way. Also, if we embarrass them by hugging, kissing, waving to them or looking in their direction, so be it. When this first starts to happen during their younger years it stings. But it soon goes away when we realize we are their mom and we get to do what we want.
4. If they have clean clothes to wear.
They are old enough to do their own laundry now. You've done your time, Mama. It's time to pass the torch, and by that, I mean pass the Tide and show them how to use that machine.
It's their body, and what they put on it is their business. You've done this parenting thing long enough to realize no one notices if your child wears the same sweatshirt every day anyway, they are too worried about their own life.
6. If their friends like you.
One thing moms of teens don't need is to befriend more teens. You may not be the cool mom who lets your kids and their friends do whatever they want when they are in your presence but you don't care. It's more important to you to enforce rules and remind them how to behave than it is for you to be liked by them because you are trying to raise decent human beings, not win an award for most popular mom.
We all have our limits but I refuse to fight my teens about the state of their room as long as there aren't creatures living in there or a strange fungus climbing the walls. We've given the energy to an area of our life that's worth it– like taking a Pilates class. If they want to sleep in filth, fine. You know full well you can reverse the lock on their door, lock them in, and make them clean it before they move out. You'll worry about it then.
The teen years bring on big worries– it's okay not to sweat the stuff that really won't matter in the long run.
I might call my kids by the wrong name and refuse to do their laundry and let them have a filthy room, and I know fellow moms of teens feel me– we are in survival mode and it's the only way to make space for the bigger things that matter. Like supporting them and their choices, being there for them when they don't realize they need you, and keeping them from acting like an ass at all costs. Really, messy rooms and clean clothes seem trivial compared to all that.
Moms of teens, learn how to show their love in different ways as their kids grow up. It's not easy, but somehow you figure it out.
And if I'm being honest, it feels really good to not give a crap about what my kids are wearing and fight them every day to put on matching socks or a coat– that was exhausting.
More to Read:
What Happened When I Finally Stopped Caring More Than My Teens Do