I think it's safe to say that we all could use a few delicious indulgences this season. Whether you wish to purchase as a gift for extended family members and friends you may not see in person this year, or for a surprising treat for your own family, here are some delectable offerings you can find online and have delivered right to those hungry hands.
Yummy online Christmas gifts
Savory snacks
Note: We are a reader-supported site and receive compensation from purchases made through some of the links in this post.
has exactly what you need if you've hopped on the charcuterie board trend. You can find pre-selected gift boxes with the cheeses, meat, crackers, and spreads already assembled, or pick your own separate favorites. They also offer unique gift boxes for every theme and palate, including gluten-free and vegan snack boxes.
will have you brie-lieving in magic! It is the site for every cheese enthusiast in your life. They've got meats, olives, and pickles, too – plus so much more. Warning: browsing this site will absolutely make your mouth water!
is the place to find the perfect gift for all the snackers, bakers, and chefs. You'll find a huge variety of nuts, seeds, flours, nut butters, dried fruits, and superfood powders, along with baking essentials like spices and extracts.
offers amazing baked goods for any occasion. My family received an assorted box of their English muffins a few years ago and I'll never eat a store-bought English muffin again. They also sell gourmet scones, waffles, crumpets, and sweet rolls, along with many other delicious carb-loaded treats.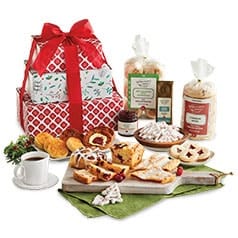 is where you go if you want someone to feel like they're enjoying a classic New York City nosh. Their bagels are hand-rolled, free of preservatives, and are never frozen. They offer a wide assortment of flavors, including their colorful and Insta-worthy Rainbow bagels.
Popcorn
I'm giving popcorn its own category, since many of us love both savory and sweet varieties. And if you're like me, you've missed movie theater popcorn so much, you've found yourself daydreaming about popcorn this year.
has a flavor for everyone on your list, from Bacon Cheddar to Drizzled Butter Toffee Almond Pretzel. Their holiday tins and boxes are famous for the beautiful colors and themes, and now you can upload your own photo to personalize a tin as well.
is home of the fan favorite Chicago "Garrett Mix" – a blend of cheese and caramel popcorns that is delightful. If that doesn't sound good to you, there are other incredible flavors as well, and several nut varieties.
has long been "known for the cone," their distinct cone-shaped packaging. For holiday gift-giving, they offer special popcorn flavors and mini cones with "Santa and Friends" and metallic wrapping options. Perfect for stocking stuffers and Secret Santa gifting.
Amazing desserts
was launched by a mother-daughter duo who came up with a brilliant idea to ship cupcakes in mason jars with layers of cake, frosting, and fillings safely packaged for easy shipping. Shark Tank's "Mr. Wonderful," Kevin O'Leary, invested in the company, so these cupcakes are legit – and remain fresh up to 10 days without refrigeration.
has the best caramel apples I've ever tasted. They offer seasonal flavors and gift sets sure to please everyone on your list. Their Jumbo-sized caramel apples weigh over a pound and serve six to eight people – really!
is home to the award winning Kringle pastry from Wisconsin. Flaky and stuffed with fabulous fillings, these Danish desserts are the perfect compliment to a cup of coffee or hot chocolate. Other offerings include coffee cakes, bread puddings and traditional Scandinavian breads.
for kids of all ages, has ALL the things sugar. If you've ever been in one of their retail stores, you know that it's like walking into a real-life Willy Wonka's Chocolate Factory. There are holiday options for every price point. I just ordered some Christmas Morning Marshmallow Donuts that I know my college kids will be fighting over like they are five-year-olds.
These bundt cakes (mini and full size) are as beautiful as they are delicious. They bring the traditional bundt to the next level of deliciousness. And the cakes can be decorated for any event or holiday.
makes the most extraordinary cookies or shall we simply call them mounds of joy? One cookie can feed at least four people. Favorite flavor: Dark Chocolate Peanut Butter.
is one-stop shopping for anyone who wants to send food gifts from iconic restaurants around the country. Want to deliver a lobster roll to your cousin who shared them with you on vacation twenty years ago? Or gift your grandpa with some Philly cheesesteaks he used to devour as a boy? Goldbelly can make it happen, if you're willing to splurge a bit to ensure these foods arrive safely and fresh.
Any cake or pie under the sun can be found on the site, including a "PieCaken" – an epic 4-in-1 dessert composed of a Pecan Pie, Pumpkin Pie, Spice Cake, and Apple Pie all layered together with cinnamon buttercream. It's fun to just browse this site and dream about meals you'll one day have again, when traveling is safer and easier.
Many of these websites offer deals like free shipping or discounted prices for new customers who sign up for their emails, so get busy searching for some great deals.
With so many of us celebrating the holidays from home this year, under warm blankets, watching movies and streaming shows, tasty treats are sure to be some of the most appreciated gifts.
More to Read: