I hear the mudroom door slam and the sound of my son yelling, "I'm home, Mah. What's for dinner?" floats up the stairs to my office. I find him, rummaging in the refrigerator, ravenous after a full day of working on a house renovation for a local realtor. His job this summer has kept him away long hours so, in the moments when he's home, I make sure to stop and drink in this time with him.
And not because he doesn't live at home and not because he isn't present and engaged when he's with us.
No, I miss him because I'm feeling the tug of goodbye on my heart.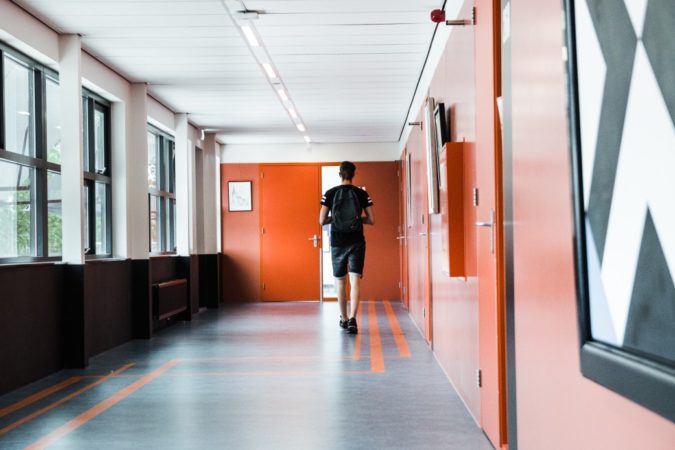 My Son Will Soon Start His Junior Year in High School
He's approaching his junior year and every moment feels more precious, fervent even. It's as if I'm trying to capture every interaction with him and searing it to my brain for the days when I miss him so much it hurts after he's moved into his college dorm.
And though we have so many exciting moments ahead of us in the next few years, each one will slip away like sands in an hourglass, one more reminder that we are marching toward graduation. I find myself quietly watching him when he's with his friends or when he's goofing off in the grocery store, wondering where the time went.
In those moments, I can hear the beat of time in my ears, the cadence of the years that have flown by right before my eyes drums in my soul.
Though he's over six feet tall now, I still see him whacking his head on the kitchen table when he was two. The look of surprise when he realized the table was now as tall as him was priceless.
I see him learning how to parallel park and my heart aches because it wasn't that long ago that he was driving his sister around our yard in a bright yellow motorized Hummer.
When he talks to me about plans to attend college across the country, I think back to the days when he would tell me he was going to build a house in our backyard. "So you'll never be alone, Mommy," and he'd snuggle his face into my neck, smelling of baby shampoo and freshly laundered footie pjs.
And, no matter how many times I hear him affectionately call me "Mah," I can still see his toothless grin with "Mama" rolling off his tongue for the first time.
Junior year is coming and I'm running out of time with him.
There was a time when he was my constant companion on Friday nights. We'd snuggle in after a long week of work and school for a night of movies and popcorn. Those nights are fleeting now, thanks to a job, his social life, and a girl who has stolen his tender heart.
When I look at the empty couch next to me or I see his shoulders sag when he says, "Sorry, Mah, but I have plans. Next time?" I know that junior year means we've already started the goodbyes.
And I'm caught between being excited to see who he'll become when he spreads his wings and feeling heartbroken that the college years have gotten here so quickly.
The next two years will be a flurry of SATs, AP classes, and college visits. There will be rejection letters, FAFSA forms, and a shiny new driver's license. We'll take pictures of him on the night of his final theater performance and in a hoodie with his new college on the front. He'll be dapper in his prom tux and I know my heart will break just a little bit more when I see him in his cap and gown. On the day he throws his arm around me in his dorm room, I will try to smile for the camera before the tears spill over.
For now, in this moment, he is still here at home, anxiously awaiting my answer about dinner. We still have time for movie nights, inside jokes, and memories made under our roof.
When he tucks into my homemade lasagna, his favorite, he closes his eyes and seems to relish the flavors on his tongue. When he opens his eyes, he gazes around the table and his eyes settle on mine. Instantly, I realize that he feels it, too.
Junior year is coming.
And I plan on making the most of it.
You'll Also Love Reading:
The Best Parenting Decision I Ever Made Was During My Son's Junior Year