I attended each one of my son's games. He could always count on me and his sister to be there. As most baseball players do, he had a ritual he would do each time he took the field. He would run out to the field write a little something with his finger in the dirt, then look up at me and point. It was his thing and I loved that he included me in his ritual.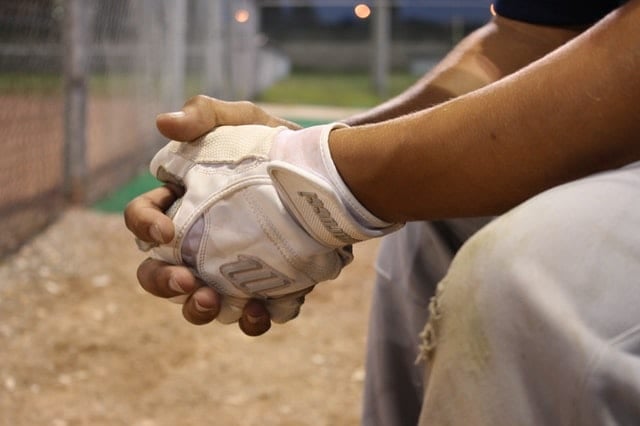 My son always knew I would be there for him
He knew I was always there. His father worked nights for the past twenty years so he missed out on most of his games. My son Jorden knew if his dad could he would be there sitting right beside me.
The bleachers were always filled with other parents and family members who were supporting their favorite ball player. We come from a pretty small family so usually it was just my daughter and me who would cheer Jorden on.
When Jorden was younger he had a few family members who would occasionally come out to watch but as he got older they just stopped showing up. Never once did Jorden lead me to believe that this bothered him. Not once. Not in his middle school or high school years did he ever drop a single hint to me.
It wasn't until his senior year when he was asked to give a final speech at his baseball banquet did he make it very clear not only to me but a room filled with over 150 people just how important it is to have extra fans in the stands. My son stood before his teammates who he had practically grown up with, his coaches who became his mentors, parents of his teammates and other guests as they looked on and watched him poured his heart out with emotions so strong you could hear a pin drop in between the words.
His speech was nothing like I thought it would be. It wasn't short and bittersweet. It wasn't your quick thank you to his coaches and teammates. By the time my son was done with his speech he left an entire room in tears.
He explained that he never had any grandparents who came out to watch him play but he was so grateful for one of his teammate's grandparents who showed to support not just their own grandson but the entire team of boys.  They arrived at every game an hour early and always had extra blankets and bottles of water whenever any of us needed any.
My son told everyone that he never had any aunts or uncles come out to watch him play but he was so grateful for the older brothers of teammates and other aunts and uncles of teammates who offered him the same support as their own loved one. To this day he calls one of the teammate's aunt his very own honorary aunt.
Clearly this talented young man craved for more than just me. 
To say I wasn't enough for him would be a false statement. My son knew I was his number one fan. I always will be. Never in a million years did I ever think my son would be hurting inside as he looked out to the bleachers to see only me at each and every game. I can only imagine his silent thoughts of hope that this would be the day someone else besides me would show up to watch him play his heart out.
His speech was a lesson to not only myself but to many others as well. If you are ever invited to a soccer game, baseball game or any activity just go. Go! This small simple gesture would mean so much to any child and even if that child is older. I always assumed since my son was grown this never bothered him but apparently it bothered him enough to stand before a roomful of people and share what he missed all these years.
As he struggled getting each word out through tears my heart broke. I made a promise to myself that I would attend as many events in the children that are close to me as I possibly could because there was no way I could allow another child to feel what my son was feeling. Whether it is a niece, nephew, and neighbor's kid it doesn't matter. I need to be there.
I am not upset with those who never attended his games. I understand all of our lives become complicated and everyone is busy with their own children and have jobs that may not allow them as much free time as they'd like. I don't even think my son is upset with anyone personally. It's the absence in itself that pained him. There was no specific person he wanted there, he just wanted someone else beside me to be there, to be proud of him. To witness his craft in action.
As the end of the season neared we had several of our dear friends show up to watch him finish the season out. I could see the difference in him as he walked out of that dug out and saw me surrounded by a few extra fans. I know he will forever remember those faces and is beyond grateful for their small kind gesture.
More Great Reading: 
15 Lessons Kids Learn From Sports