The other day I was explaining to my oldest that he needed to watch out for his sister when she joined him in high school. He reminded me he never asked to be the oldest child.
While I know he loves his sister, and would help her out of she was in trouble, the term "looking out for her" translated to him as being responsible for her. And at 15, it feels like too much pressure to him.
There have also been times he observed that his younger brother or sister were able to do, or have, things he wasn't allowed at their age.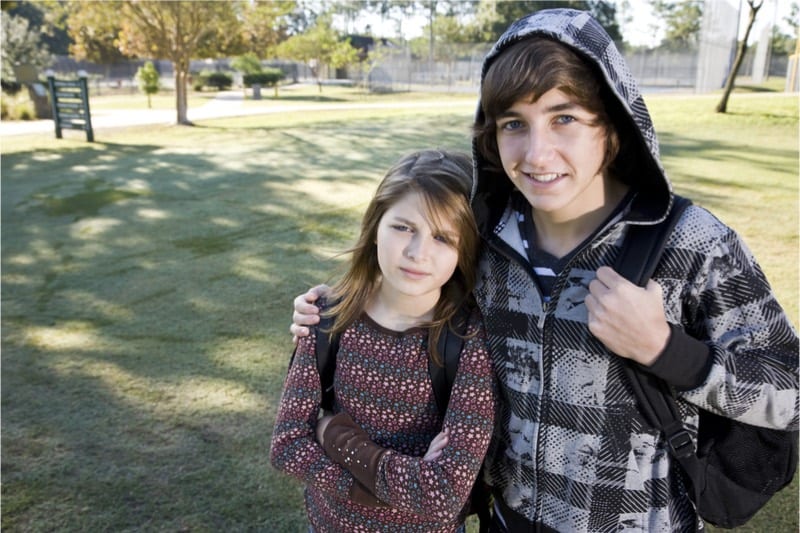 So, on top of putting the pressure on him to set an example, and watch out for his younger siblings, he sees that there is much expected of him. He's paving the way so they can have an easier life and do things like hang out with their friends unchaperoned earlier than he was able to.
He's right– it's not fair. Since I was never the oldest, I never really experienced his point of view and I'm glad he brought it to my attention because I honestly didn't even realize I was doing this. I not only want to bring back a better balance to his life, I want to be fair to all my children.
He's a teenager and doesn't need to feel as though he needs to set a perfect example and live under a microscope. I also want him to realize that I expect him to act a certain way, and handle situations with more maturity, because he's older in age than his siblings.
It can be tough as a parent to realize the difference here. Grown and Flown talked with Raffi Bilek, LCSW and Director, Baltimore Therapy Center, who gave us some tips on how to treat your oldest child.
1. Don't tell your firstborn they are responsible for the way their younger siblings behave.
Bilek suggests unless you are putting your oldest in charge of babysitting, the responsibility of "being in charge" of their younger siblings shouldn't come up and says, "Putting the responsibility for the choices of the younger kids on the oldest really isn't fair."
2. Don't compare your oldest child to their siblings.
Bilek says firstborns should feel free to live their own life and shouldn't feel the pressure to worry about what their siblings are doing, or ever made to feel like it's their fault if the younger kids do something wrong. It's one thing if they are supposed to be watching a younger sibling in order to keep them safe, but overall, "they need to focus on their own behavior and be evaluated on their own standard, not against how it will influence their siblings," says Bilek.
3. Don't make all their decisions for them.
An article in Parents talks about how many firstborns have Type-A personalities, which turns them into mini-adults far before their years: "Because of this, we tend to think they can handle more and will expect more out of them."
It goes on to talk about how a lot of firstborns can be overachievers and the importance of letting them make their own decisions about what activities they want to be involved in without assuming they should do something just because they are good at it, or enjoyed something in particular at one time. Many times, our kids will not speak up and just do something because they can. Letting them choose can make them feel autonomous.
4. Don't expect your oldest to act like a parent.
Dr. Kevin Leman is a psychologist who has studied birth order for almost forty years, and writes for Parents: "Just because they are older doesn't mean they should be held accountable for the fact that their younger siblings decided to finger-paint the walls." We can't expect them to be on duty all the time and constantly be in tune with what their younger siblings are doing.
I know I can barely keep up with the mischief my kids can get into, how can I expect my teenager to do it?
5. Make sure to spend enough time with them.
My oldest has always seemed to like the company of adults better than kids his own age. You can tell he wants to be part of the conversation and feel important. He's said a few times in his life he feels that I'm spending so much time taking care of his two younger siblings, and he needs more time with me.
As he's gotten older, I noticed he would act out instead of expressing this, and spending one on one time with him, even if he hasn't asked for it, has done wonders for our relationship.
Trying to figure out the best way to parent our firstborn kids can be hard.  They are the oldest and we expect certain things out of them, but we must remember they are still just kids and most of the time (unless they can boss everyone around) don't love being in charge simply because they are the oldest child.
And we must demonstrate to them our expectations of them are based on their age, not their birth order.
Related:
11 Favorite Products For Moms Of Teens
4 Things Not To Say When You Don't Like Your Teen's Friends
SaveSave
SaveSave