I often wonder where our parents went for advice on raising teenagers way back when- you know, before there were a million different parenting resources available in the palm of your hand.
Then again, maybe they had it better because they were able to sit amongst their peers and openly discuss the issues they were facing raising adolescents, receiving face to face support and reassurance from others in the trenches. There's something to be said about that kind of front porch commiserative parenting, where moms gather to chat about the do's and dont's and ins and outs of parenting teenagers.
Sadly, we live in a time where we don't have that luxury anymore, but what we do have are wonderful voices coming to us through the magic of podcasting, and in many ways listening to those voices can be just as reassuring and helpful as face to face conversations. Stressing out with your teens and craving real conversations and help for it? Take a listen to these 8 podcasts: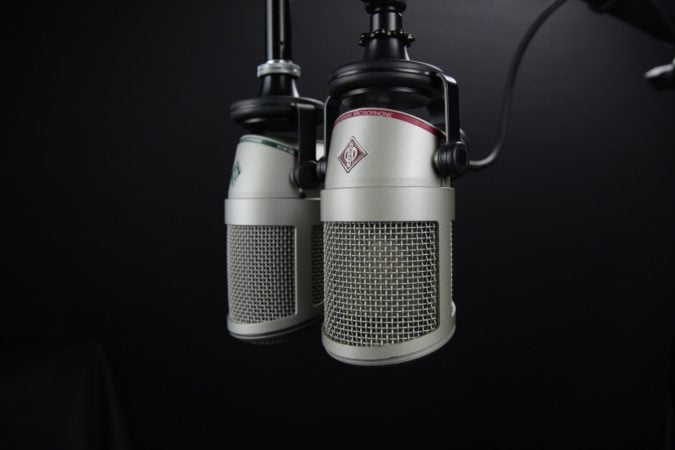 Great Podcasts for Parents of Teenagers
Andy Earls is the host of this show. He is a researcher and writer who work focuses on adolescent risk behaviors and parent-teen communication. He also writes the Talking to Teens blog, and he coaches parents on how to discuss sensitive issues with their teenage children. No topic is left uncovered here, as this is a very comprehensive wealth of info and support.
Hosted by author and speaker Sandy Fowler, Mighty Parentings focus is to "empower parents as we share the unspoken truth about the challenges facing teens." They do this by giving parents information, tools, and support for raising emotionally healthy children with a weekly podcast, as well as a sense of community to empower families with information, skills, and healthy coping strategies to "manage the unique challenges our youth face today."
3. Your Teen with Sue and Steph
From the founders of Your Teen Media (think online presence and print magazine) comes this fairly new podcast which boasts great interviews with a variety of parenting experts, including counselors, educators, writers, and health care professionals. Episodes run under 30 minutes so it's perfect for carpool rides, and the warm conversation among the hosts (and experienced moms of young adults) Sue and Steph is comforting.
With almost eight hundred 5 star reviews, this podcast hosted by pediatrician, best selling author, and mom Dr. Meg Meeker offers engaging discussions on how to best simplify parenting tens, while giving lots of hope and encouragement to those struggling in the adolescent angst trenches.
Face it, your teens are way more tech savvy than you'll ever be, and as cool as that is, it also comes with an entire new environment to grow up under, one that includes issues we never could have imagined. Join Marc Groman, an Obama White House tech and privacy adviser, and David Reitman, an adolescent medical doctor, for discussions and tips about screen time, social media, sexting, privacy, online gaming, and other challenges facing parents of teens today.
Described as a podcast covering all the things keeping middle aged women up at night (and isn't that just about everything?) Midlife Matters is hosted by three mid-life women who share great conversation and life experiences, as well as interviewing a variety of professionals who help with everything from raising teens to taking care of aging parents.
7. Power Your Parenting: Moms with Teens
Colleen O'Grady, MA. is the author of "Dial Down the Drama: Reduce Conflict and Reconnect with Your Teenage Daughter—A Guide for Mothers Everywhere." In this uplifting and informative podcast, she shares her wisdom from twenty-five years of experience as a licensed marriage and family therapist which translates into over 50,000 hours of working with parents and teens.
8. Next Question with Katie Couric
Our favorite morning host, who once kept us company during crazy mornings with babies, is back in the media world again, this time it's through our earbuds. Couric's new podcast covers news, politics, pop culture, and a little of everything in between with captivating interviews with some of America's most well know personalities and intriguing people.
There's not many out there with the interviewing prowess that Couric has, and that translates into an enormously engaging and smart podcast, and one not to be missed. Plus, don't miss her free daily newsletter, Wake-Up Call, filled with all you need to know about current events, pop culture and great tips from this award-winning journalist and mom of two.
So you're raising teenagers and stressed out and I can bet your marriage reflects that tsunami. So what to do about it? Listen to real life married couple Danielle and Adam dish about REAL marriage and what it looks like, and how changing life seasons affect it greatly- including raising teenagers. Don't miss the interview they did with the founders of Grown and Flown, where the talk was all things teenagers, and what you should and shouldn't be stressing about during these years.
10. Moms Don't Have Time to Read Books
Hosted by book maven Zibby Owens, this podcast is all about trends in publishing and what we're all reading, and if you don't think you have time to read, Zibby's engaging and relatable author interviews will convince you otherwise. Don't miss the episode she did on the bestselling Grown & Flown book! 
You Might Also Enjoy Reading:
If Your College Senior is Asking You, Now What? Tell Them This
Dear Moms of Teens, Here's the Open Letter You've Been Starving For