As I sat next to my fidgeting son during a parent-teacher conference this fall, his advisor looked at him and asked, "So, Addison, what is it you want to do when you grow up?"
He shrugged, "I don't know. I haven't really thought about that yet."
"Well, you should start thinking about it, you are smart, have lots of opportunities, you only have four years of high school left, then it is time for some big decisions."
"Four years left," that statement cut through me; I winced at the thought of my son leaving in four years. He is my oldest, I have never done this before. As soon as he reaches one milestone they just keep coming, and as he has gotten older, I have stopped loving these new stages like I did when he was younger. Somehow his first chaperoned date was not as fulfilling as his first steps.
Four years left. I thought we had more time. Or was it I just figured the time for him to leave would never come because I couldn't bear the thought and perhaps that in itself would stop time?
Four years left. Is four years enough time to teach him all I want him to know? Sometimes I annoy him to no end with my constant lecturing and teaching about how you treat others, "Don't be a jerk, but don't be a doormat." I realize I speak to him like this so much there are times when he can't hear me simply because he has had enough.
In four years will he still wipe his mouth on his shirt and bite his fork the way he does now despite my constant reminder to use his manners?
Will he know what it feels like to have his heart-broken and how to deal with the angst? Will he be capable to be on his own? Will he be responsible? Will he be kind if I am not there to remind him?
I suddenly felt this urge to get it all in that fall day at his teacher's desk, We need to get him involved more, he needs to do more volunteering, I will encourage him to start his own mountain biking club. I want him to shake things up, I never want him to settle. I want him to know how to get comfortable with being uncomfortable so he can deal with situations in a productive, healthy way. I will remind him once a week how to talk to women, I will set aside time for just him and I to spend together. I will try my best to make sure he has what he needs in order to succeed. 
My mind was racing as I walked out of that conference.
That one statement "four years left" sent me spinning to a place even I didn't recognize.
We sat in the car side by side, I fumbled with my keys, he scrolled through his cell phone checking on some very important business I am sure. I opened my mouth to speak, and I could see his shoulders tense. "Four years left," I said.
"Yeah, that is so long, I can't believe I have to be in high school that long." To him it is an eternity. He is going to discover so much about himself, about others, about the world. He will learn to drive, have his first date, go to prom, and surely make lots of mistakes, and I have to let him.
Maybe instead of trying to reel him in so tight, I can let go a little it at a time. I can guide him without being pushy, let him find his own way through the murky waters. Don't we all learn better that way anyway? And don't I just want the best for him? I can not micromanage his life. I can give it my all, from a distance, and let him flourish.
I need to let all the things I want to teach him, all I want him to know happen organically. So I made a promise to myself that afternoon as I watched my son, head down in his cell phone, avoiding me with everything he had; I will just do what feels right. What feels right for us both, because if I try too hard I might do more damage than good in these next four years, known to him as an eternity, but to me, his mother, it just feels like a flash.
And driving to his favorite Burger Joint, just him and me, I get out of the car and he rushes ahead to hold the door open for me and I am able to see I have done a pretty good job so far. For the next four years we can keep building on this foundation, this relationship, this trust, and maybe it will make it go by faster for him, and slow it down a bit for me.
Related:
Note to Self: On Parenting Teens
Clean is Sexy and 58 Other Bits of Advice for Sons
Holiday Gifts for Teens and College Students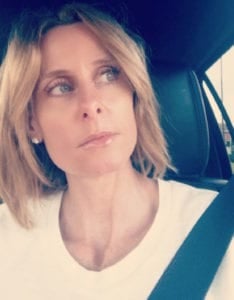 Katie Bingham-Smith lives in Maine with her husband and three kids. She is a Staff Writer at Scary Mommy, shoe addict and pays her kids to rub her feet. You can see more of her on Facebook and Instagram .