College tours can be an exciting time for parents and teens. Life's next stage is coming into focus, and it is hard not to feel the thrill of watching your kid stand on the doorstep of adult life. But this can also be confusing as families take one college tour after another and quickly feel overwhelmed with options and information.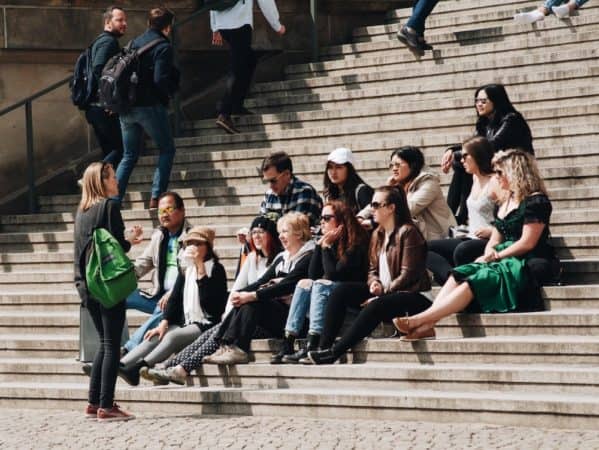 The key to getting the most out of a college tour is for teens to stay organized and true to their interests and instincts. To help, here are a few tips.
10 ways to make each college tour a success:
1. Walk away when your teen has lost interest.
There are lots of colleges and, after a while, you begin to know when your kid will never become interested in a particular school. I fell in love with a college, let's call it South U. I loved it so much I urged my kid to apply until one day, he turned to me and said, "Mom, you didn't apply to South U. You didn't graduate South U., And you are never going to. Get over it."
He was right, when he was ready to move on, it was time for me to move on as well.
2. It will begin to blur.
If you and your teen are visiting more than three schools, there will come a moment when you know, with utter certainty, the following sentence the admission officer is about to utter. Because after school, three or four or five, it all begins to sound the same. And that is because, in many cases, it is.
We live in a country with unparalleled institutions of higher learning, so if every school you visit cannot stop telling you how wonderful they are, how many club teams and Nobel laureates, and if it starts to all sound alike, it is because it is. The bad news is that the schools will blur a bit, but the good news is that there are so many incredible colleges.
3. Suggest that your teen take some notes.
Like so many moments in life as they are unfolding, we are sure we will never forget them, but we do. We know this, but our kids don't. You may begin viewing colleges in the spring of your teen's junior year but come December of senior year, some of what you heard in the information sessions or on the tours will begin to blur.
A few notes, on paper or a cell phone, with maybe a couple of photos for each college tour will jog memories when it comes time for applications. Many schools want to know why a student wants to attend their particular institution; this is when notes taken on a tour or information session will be helpful.
4. Parents are not really supposed to speak, at all.
We have loomed large over our teens' lives for almost two decades, but now it is time to tone down our voices and listen. While visiting colleges, our kids are easily influenced by our thoughts, whether we verbalize them or paint them all over our faces. The less parents say and the more they avoid egregious facial expressions, the better the visit.
Parents are there to soak it all in, to be seen and, frankly, not heard. Don't speak up in the information session on a college tour because your child will hate you, and all the other parents will feel sorry for her. There will be plenty of time for discussion and an exchange of views later; this is the moment for your kid to soak it all up, to imagine themselves in this new world.
5. Parents do not need to go on every college tour.
It is time to let our kids strike off on their own. I let my kids visit a few schools with friends while I stayed home. These were, without a doubt, some of their best college visits, and I should have done it more often. My kids formed their views, and when they returned home and told me about the schools they had visited, the retelling clarified their thoughts.
Sometimes letting them visit on their own is just not practical, but parents can still set off in a different tour group and still give their teen the chance to recount his own impressions.
6. Don't worry about getting all the facts while you are visiting a school.
Most of the data parents or students need about almost every university is online on the college's website or the common data set. Visiting the school is about getting an impression, about breathing in the surroundings. Look for what you cannot learn online. This is a moment to listen more and talk less.
7. Hit the town.
The most important site is, of course, the college campus but students are also choosing a town to live in for four years. Stray from the campus and explore a college's surroundings. One excellent resource for doing just this is the fabulous site, DaytripperUniversity.
Before you plan a trip, click around to find out where to book a hotel room, where to have dinner, and discover the top spots before you step foot on the campus. This will help you and your teen gain a real insider's understanding in a short amount of time. After all, while many freshmen stick close to campus, as the years go on, students often travel further afield so find out what the area has to offer. Assume you have seen the best.
8.Decide what is really important.
A college tour is all about impressing prospective students. Guides lead groups through the most excellent dorms and beautiful campus buildings. But does this matter? Many excellent universities have some very downtrodden dorms. Ultimately, college experiences turn on great professors, close friends, and engaging activities. Don't be taken in by superficial tour highlights that will mean nothing in years.
If siblings are close in age, try and bring them along. A college tour is expensive and parental enthusiasm is known to diminish after multiple visits to the same campus. We countered some of this by having the other parent take the next kid.
Some universities care if their applicants visit; others are indifferent. If you cannot see every school (and there is no reason why you must with the information available online), make sure to visit the schools your student cares the most about and where a visit might impact the outcome of their application.
It is so easy to be swayed by the name of a college, or the opinions of college counselors, friends and grandparents. When your student arrives on campus, none of those people will be there. Our teens need to remember that this is their decision alone and, as they view each campus, they need to think about whether this new place could feel like home for them. It's hard to mentally leave everyone behind, hard to imagine being in a new place on their own. Yet, in order to find the best fit, the school where they will thrive, this is exactly what they need to do.
More Great Reads:
Senior at Home? Why You Have to Spoil Them
Senior Year: Here are 5 Things for Parents to Know
SaveSaveSaveSaveSaveSave