During a fit of slightly panicked enthusiasm the other day, I started making a packing list for my daughter's college graduation weekend that is all-too quickly approaching. I'll need something to wear to the Baccalaureate service one day, something different to wear to the departmental diploma ceremony another day, and I can't forget a hat for the larger Commencement ceremony held outdoors at the football stadium.
And because this three-day weekend will involve air travel, luggage, a rental car, and finding someone to watch the dog, it all seems a bit more complicated than the single ceremony we could easily drive to for her high school graduation four short years ago.
Complicated.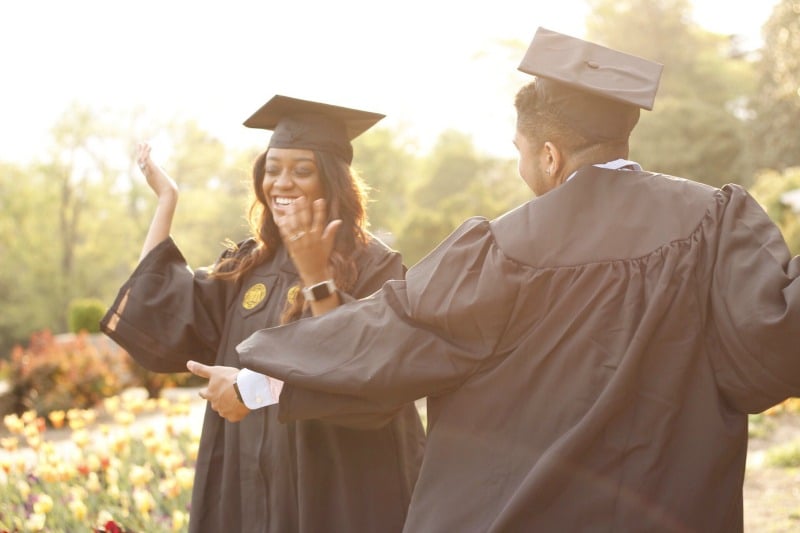 To me, that feels like the perfect word to currently describe all things college graduation. And all the feels are a bit different than the feelings I felt as she completed high school.
If I had to come up with a few words to sum up high school graduation I'd throw out terms like fun, optimistic, sweet, and exciting. The students donning those caps and gowns seemed almost like little kids playing dress-up in costumes. When each one of my own kids hit that milestone, I simply felt joy.
Joy.
Because my husband and I were proud of them, and there was so much to look forward to. We both felt a bit giddy with anticipation – an almost expectation, I must confess – that they would love their time at college. Like many fellow parents I know, we look back on our college years as some of the most enjoyable of our lives.
That's not to say everything about that time was picture-perfect, but they were those last few years where we still felt carefree most of the time, where we made wonderful, lifelong friends, we learned and grew so much, and met and fell in love.
Our lived experiences had definitely provided us with rose-colored glasses, firmly planted over our eyes as we looked at our children departing high school and embarking on their own college adventures.
Yet I also vividly remember the existential "crisis" that I and some of my friends felt as we neared the end of our college days.  No one had yet to coin the phrase "quarter-life crisis" but we did suddenly find ourselves asking some Big Questions. What were we really going to do with our lives? Would that singular piece of paper with our name on it and that seal from our university serve as a passport to true adulthood and meaningful purpose in life?
And just as my friends and I arrived at college graduation in varying states of certainty about jobs, more schooling, and geographic destinations, my daughter and her friends find themselves with similar doubts and ambiguities. Some are itching to move along, while others are looking around and thinking, "I'm not quite ready to leave this place."
But her generation seems to have dealt with much more pressure and anxiety during their college years. They've been pushed from Day 1 of college to Get That Internship! Study Abroad! Interview with All the Companies! Do Some Research! Apply to Grad School! Basically, they've been urged to do all the things because life is so competitive and that doesn't stop with graduation, kiddos.
I feel like we didn't experience anything near the current level of pressure back in our day, and when I faced graduation weekend without a job lined up, I just assumed I'd find one pretty quickly because of my diploma. (And I did.) Our "crises" were over rather rapidly as everyone just figured it out, without freaking out.
Why does it all feel so much more complicated now?
Has our digitally connected, 24/7 news cycle, post 9-11, Twitterverse existence made it actually harder to "adult" today, or does it just seem like it's harder?
The hopefulness of the high school launch feels starkly contrasted to the somewhat ominous "Houston, we have a problem" situation when college comes to an end.
Even students who have snagged a post-grad job still feel uncertainty about fitting in, career advancement, and job security. Almost every soon-to-be college graduate, if they haven't already, will soon be facing concerns like new cities, new roommates, and new life experiences. (And let's just for a few blissful days surrounding graduation not even think about things like commuting, taxes, student loan debt, dental insurance and IRAs.)
Watching our first child graduate from college in a few weeks will of course still be super exciting and full of hope. As parents, we will again feel immense pride at her accomplishments, and genuine admiration for all the hard work it took to complete her degree.
But underneath that excitement, we all will be feeling a complicated little swirl of other emotions as well. Uncertainty, hesitation and even absurdity. That our child has finished college in the blink of an eye and that her passport to true adulthood has indeed been stamped.
Those thousands of smiling students that we will be watching process into that large stadium will no longer appear to be kids playing dress up. Ready or not, these are full-fledged adults who are moving out into the real world.
Elgar's Pomp and Circumstance March No. 1 will again be playing. Cameras will be snapping and recording. Family members and friends will be cheering. Tissues will again be dabbing wet eyes.
It will be momentous and thrilling.
And complicated.
You Might Also Enjoy Reading: