I begged my parents not to come to my college graduation. It was an 8-hour drive from Brooklyn to Buffalo and I was only attending a small departmental graduation in my communication department.
"It's such a long trip," I pleaded.
"Nope, we're coming," my mother said.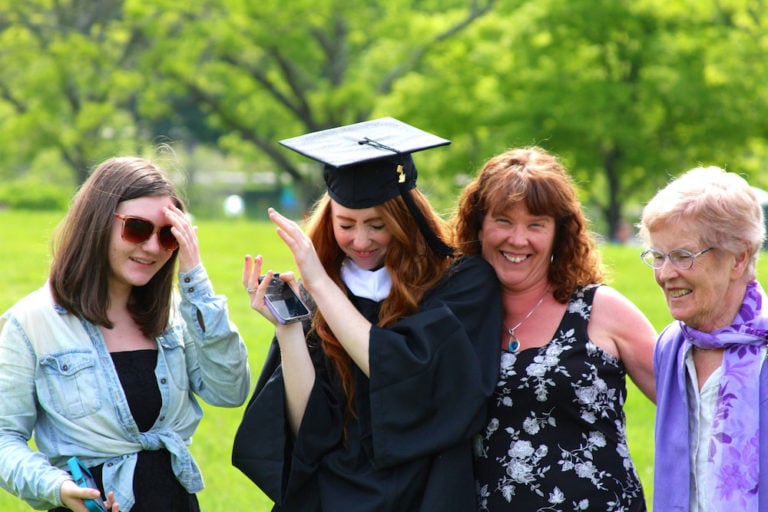 I begged my parents not to come to graduation.
My reverse psychology could never work on two psychologists. I really wanted to hang on to my last days of being a senior just a little bit longer. I had my apartment till the end of the month, and my friend Gina was going to drive back with me, so I was looking forward to the final road trip before I was back in New York. Back in my parents' house. Before my "real life" was going to start.
I put on my white linen outfit. Linen was perfect for those of us unable to use an iron and still wanting to stay cool. My father made me stand in all sorts of awkward positions to take some preliminary photos. Always forcing a smile never capturing the real moments.
We arrived on campus and I saw my friend Robin and went to sit with her.
"So, they came?" she asked in her Long Island accent.
"Yup, camera and all."
I zipped up my black polyester gown and waited until they called my name. I couldn't believe I was actually graduating from college. It took me so long to get comfortable here, transferring my sophomore year, moving from dorm to dorm. Now I finally felt at home here. I had to go back to New York and was dreading it. I liked Buffalo. I didn't mind the snow – plus the university built inside tunnels so you never had to go outside if you didn't want to. New York had little that protected you from anything.
A part of me wished I had never fallen into the internship at the advertising agency. The one that was almost too good to be true. Maybe I could spend one last summer here, eating wings and going through tunnels.
Elana Rabinowitz…
"Woot, woot!" Gina screamed from the back. And everyone looked to see where the noise was coming from.
I smiled and took the rolled-up diploma, wanting to give it back but kept on walking.
Gina joined us for a bit and then went back to her dorm. My parents got a few choice shots of me and some of my communication cronies and we went out to lunch downtown. I was their third child, and this was their last graduation, so they wanted to savor it a little bit longer.
The waitress went to seat us in a quiet section downstairs. It didn't actually matter where the server placed us, it could have been next to the President of the United States and my mother would have insisted we move anyway.
"Can we sit over there?" My mother said pointing to another table.
"Sure," the waitress answered.
I could survive one last meal with the rentals. Gina and I were going out tonight and I couldn't wait to slowly pack and enjoy my days of freedom.
I hugged my parents goodbye and went in my car back to my apartment. I looked around and while it was almost bare it was still so full of life. I had made a life for myself here, one that I was proud of.
And then mom had to join me on my trip home.
Then the phone rang.
"Hey Lon, our car broke down, your mother is going to stay with you until I get it fixed." My dad said.
"What?" I answered in disbelief.
"Since your roommate is out of town, she's going to stay at your place, then drive back with you." He said, matter-of-factly.
I couldn't breathe. I actually couldn't breathe. I began to look for a paper bag for ventilation. When my breathing restored, I swallowed hard, then spoke.
"Are you crazy?  She can't stay here. I am driving back with Gina. She can go back with you."
"She's your mother," my father said and hung up.
The whole thing didn't make any sense. I would later learn that my father had a way of panning off my mother when she drove him crazy, but this was unacceptable. The drive was 8 hours. I had mixed tapes all picked out and gossip to share.  What could I possibly say in front of my mother?
For all my shouting and screaming there she was in her socks and sandals at my front door. And that was how my time at college ended. No big bashes. No final hookups. Just me, my mother and Gina for a road trip back to Brooklyn.
Gina did all the driving. She loved to drive and had a fearless nature. She was braver than any cab driver I had ever seen and smarter. An engineering major she could calculate velocity and speed and swerve in out of traffic seamlessly. Even driving up on cemented islands to overtake traffic. It was scary but both my mother and I enjoyed her bravery. We were such nervous Jews but Evil Knievel not only got us home in record time, she made it enjoyable.
We dropped her off in Marine Park and slowly made it back to our house. The only thing I hated more than going home, was going home in the summertime. My large upstairs bedroom baked in the oppressive heat.
My mother took out the skeleton key grabbing the copper handle and opened our wooden door.
It was hot and after unpacking I went to sit in the living room to cool off. It was the only other room besides my parents' bedroom that had an air conditioner, usually reserved for her patients but on this day, I was allowed to inhale the cool air.
Eventually, I trudged my belongings upstairs to my bedroom. It was there that I found the most unbelievable thing. A brand new air conditioner had been placed in the far window. Maybe the return to New York wouldn't be so bad after all. I sat on my worn couch and began to breathe. I turned on my new ac and let the cool air fill my room.
My mother still talks about that ride home, the laughter, the adventure, the thrill of three women on the road. And while I never got the road trip I wanted, perhaps on that day, I got the experience I needed.  The one where I left my university years behind me and began the transition into adulthood, side by side with the woman who gave me life and the friend who showed me how to live it.
Sometimes those are the best journeys we can take.
You Might Also Enjoy:
Favorite Holiday Gifts for College Students
Elana Rabinowitz is a freelance writer, teacher and world traveler. Her writing has appeared in The New York Times, Washington Post, Narratively and elsewhere. She is currently working on her memoir. Her work can be found here.