In 2014 Daniel Wetter was an 18 year-old freshman at George Washington University. It was the end of October and campus was abuzz with Halloween excitement and planning. Daniel was having a difficult week, and was on his way to class when he got an email notification from Package Services that there was a package waiting for him. As he sat in class trying to concentrate on what the professor was saying, all he could think about was the package waiting for him. What was it and who was it from?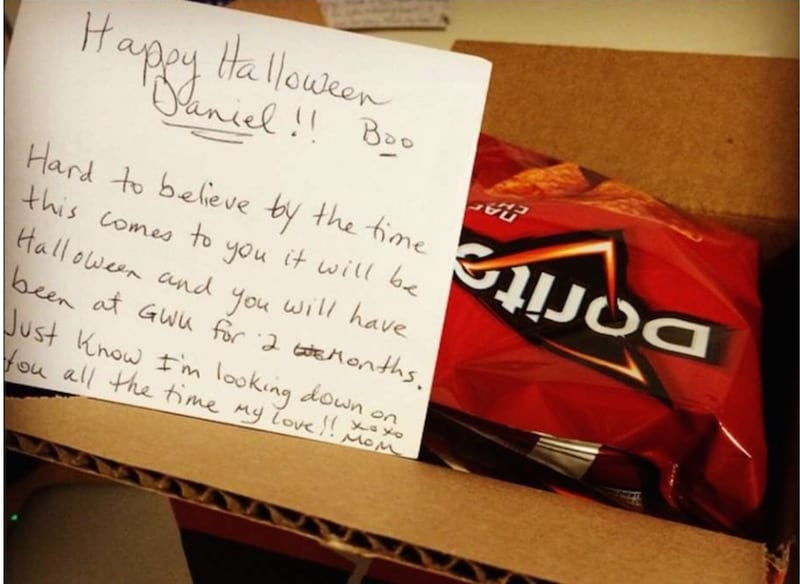 After class he hurried to pick up the mystery package which turned out to be, "a rather small square box – maybe 8 inches wide and 8 inches deep. The most noticeable thing about the box were the orange and black Halloween-themed designs on the outside of it."
Daniel anxiously sliced open the package and under a bag of Doritos and popcorn he found a note, which read:
Happy Halloween Daniel!!
Hard to believe by the time this comes to you it will be Halloween and you will have been at GWU for 2 months. Just know I'm looking down on you all the time my love!!
XOXO,
Mom
(Photo courtesy: Daniel Wetter)
Daniel describes his reaction, "I was frozen. All I could do was stare at it, reading it over and over again. I felt the paper, struggling to believe it was real. But there was her handwriting. I was flooded with memories from the past year…"  
A month earlier Daniel had said his final goodbye to his mother who passed away after a year-long battle with ovarian cancer. Of those final days Daniel says, " I knew this was coming, but I always held out the hope that maybe – just maybe – she would miraculously recover.
But reality didn't work like that…I hugged my mom tightly, while she said all the things she wanted to say to me one last time. That she'd always be there for me, that she loved me more than anything else in the world…'I'll never see her again,' I thought as I approached the door. I looked back one last time before leaving…I managed to say one last thing through my tears: 'Goodbye, mom.'"
Only a month later, Daniel was in his college dorm room staring at a handwritten note from his mom. After that Daniel received "five more notes from my mom – all of them reminders of how much she loved me." On his 19th birthday, he got a card that read, in part, "Feel my presence, feel my hugs, hear my unending support of your dreams." and on Valentine's Day, a note with a care package that read, in part,
You'll always be my Valentine Daniel. I'm sending you a cupid arrow from Heaven with lots of love attached! I will always love you forever and EVER!!  
Love,
Mom
Daniel explains that these notes from mom helped him, "feel her presence and her hugs." Daniel dreaded his first Mother's Day without mom and secretly hoped that he would get another note but Mother's Day came and went without a note. Daniel says, "I was crushed," when he looked up and saw hot air balloons in the sky. Months before his mom passed, Daniel and his sister has taken their mom on one of her bucket list items, a hot air balloon ride.
Seeing those balloons in the sky, Daniel realized that he didn't need, "to get a note from my mom to know she's there. I just know it."
Related:
College Care Package Ideas for Every Type of Student
The 5 Promises I Make to My Teenage Son
Daniel Wetter is a digital consultant, journalist, and student.
SaveSave
SaveSave
SaveSave
SaveSave
SaveSave