There's this weird thing happening right now and I don't know if you've noticed it. A divide has formed between those who are "taking the virus seriously" and "those who are NOT taking the virus seriously."
Sometimes, we say things out loud and loudly – on Facebook and other social media, unkindly pointing fingers, making judgements, ensuring our voices get heard. Sometimes, we simply think things in our heads and roll our eyes inwardly. Regardless, opinions form.
The news has been completely confusing
Just weeks ago (though it now feels like years) when we were initially presented with news of the virus, information changed by the second. Wear a mask. Don't wear a mask. Virus is airborne. Virus is not airborne. Stay home. No, don't stay home. The virus came from a bat. No, the virus came from a lab.
School is still in session. School is no longer in session. Go to the hospital if you have symptoms. For the love of God, do NOT, under any circumstances, go to the hospital if you have symptoms, stay home and take Tylenol. Do not take Ibuprofen, as it worsens symptoms. Stay six feet away, or maybe should it be more like ten? Gather in groups of fifty. No, ten. No, wait. No gathering at all. Scratch that. Scratch it all, in fact, because no one knows what the hell going on?!
Can you see why we're all exhausted and confused?
Now that it's been a few weeks and most of us have emerged from the initial fog. We are still exhausted and confused, but new emotions have surfaced as well. Fear. Anxiety. Anger. Frustration. It's as though we've all been dropped into some strange movie or play we did not audition for, and there is no director. We are all characters who do not know our lines or what to do next. Oh, and we are blindfolded and not wearing pants.
At first, we formed a united front. In it together was the slogan, and we proudly rolled with it. We were happy to watch Netflix, plant some basil in the back yard, tinker in the garage, bake a pie. Zoom was our new best friend, and we embraced it. Sleeping in felt like a luxury, and we happily jettisoned commuting, getting dressed up, and the many other activities we had committed to be involved in.
The toilet paper crisis alarmed us but we eventually got over that too. Family time, we happily told ourselves, was a chance to catch our breath. We CAN DO THIS, folks! But as the weeks passed, we grew weary. Confused. Afraid. Job and lives were lost. As ever-changing information flew at us rapidly, we tried to take it all in. But like actors in a strange play, we kept forgetting our lines. Why? Because we never knew them in the first place.
We have never been here before
There was no script for this.
Then, a strange and sad thing happened. Somehow, somewhere, we created a divide between those taking the virus "seriously" and those not. The determination was, of course, of our own making. Not wearing a mask? A selfish, careless move. Biking with a friend in a park? Reckless, thoughtless and dumb. Gloves in the grocery store? Utter foolishness. Feeling sad about cancelled events? First world problems, folks, and just please get over yourselves. Visiting Grandma in the backyard? A crime indeed. Washing hands twenty times a day? Completely OCD. Our knee jerk reactions to others behavior sent us spinning.
Were WE the problem here, or was it OTHERS?
Just the other day, a friend lamented that she had not seen her elderly father in nearly two months. "He's in poor health, so I know he's vulnerable, but I also know I would feel terrible if something happened to him and I never got to say goodbye," she said. One friend encouraged her to go visit anyway. Another friend gasped at the idea. She could KILL her elderly father by visiting him, and the guilt would then kill HER! My friend's face crumpled as she slowly bowed her head. "I don't know what do anymore," she sighed. "I don't know how to do ANYTHING."
Brene Brown asks the question that we should all ask ourselves now
In his podcast, Under the Skin, Russel Brand interviewed best selling author Dr. Brene Brown about her research into an essential question that ultimately changed her life: "Do you believe people are doing the best they can?"
When first researching the question, Brown admitted she answered with a resounding "No!" That all changed when the question was reframed: "What if God told you that a person you knew was doing the best she or he could?"
That changed everything for Brown. With this perspective, she found her thinking shift. Knowing a person was doing their best, she could abandon anger and focus on love. "I realized it's our job to take care and responsibility for what works for us," she said.
Exactly NONE of us have ever lived through something like this before. Therefore, exactly ALL of us deserve grace. We are all doing our best. Whatever our own best is.
So what must be at the center of this great divide, I wondered, taking things a step further. Shame, perhaps? Fear? Shame and fear, as Brene Brown points out, are universal themes. And of course, they go hand in hand.
Shame keeps us from being vulnerable, from being our most true selves. Sadly, shame seems to be a theme during this precarious time. "I was going to let my son walk with the neighbor," one friend whispered over the phone, as though admitting she'd just robbed a bank. "But I'm afraid I'll be shamed. Of course, they would stay six feet apart." Of course, yes, six feet apart, social distancing. We must always throw those words in.
Then Fear, Shame's cousin, steps in. Perhaps she is NOT taking things seriously enough? What if SHE gets the virus or gives it to someone? Where and when does the cycle end?
What if, instead of ranting about others and judging them harshly, we simply told ourselves that everyone is doing their best? Better yet, what if we told ourselves we are doing our best? What if we offered grace to the weary, the ones who are afraid, the ones still figuring it out (all of us!), the ones who wear masks and gloves and the ones who don't, the ones who bike outside in fresh air, the ones who choose to stay inside, the ones who want to go back to work because their bank accounts have run dry?
What if, like Brene Brown, we remember that it is our job to take responsibility for what works for us and choose to leave it at that?
Let's not let this divide us. Instead, let's intentionally give each other grace. After all, there's no script for this, and we are all fearful and vulnerable and still trying to figure out what works and what doesn't.
More to Read:
How to Get Up and Go When Your Motivation Got Up and Went
Now More than Ever I Miss My Old Married Life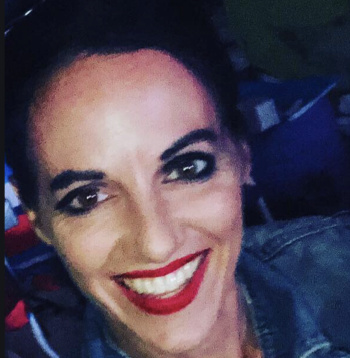 Karen Koczwara is a freelance writer, a California native, and a mother to four amazing teens and one small dog with social anxiety. In this time of uncertainty, She's been writing to comfort herself and the humans around her as we collectively figure this thing called life out.