I recently received a mailing from a new apartment complex constructed near the college campus where both of my sons attend. It was a large, shiny (and expensively printed) postcard that featured all the amenities and modern conveniences this new "student-focused" living center had and how my student would find this new home to be a perfect fit for their time spent at college.
"This sounds perfect!" I thought. I mean, who doesn't want the very best for their college student? After all, they did their time in a cramped, musty, and stale dorm room their freshman year. Don't they deserve the space and freedom apartment life affords* them? *Affords appears as an oxymoron here, but we'll get back to that in a second.
I flipped over to the side of the postcard, which showed the photographs of the complex, and my jaw fell open. In high gloss Technicolor, there was a picture of the rooftop of the "student-focused" multi-leveled apartment building. No matter how hard I looked, nowhere on that rooftop sat several air conditioning units and an old patio chair someone had found in a dumpster and then had hauled up there to sunbathe on.
Instead, that rooftop looked like it belonged atop an all-inclusive resort in the Bahamas. There was a teak pergola covering teak lounge chairs. TEAK! There was an outdoor kitchen with a built-in BBQ and cold storage area. Must keep the beer chilled!
From what I could tell, there was also a gym up there with glass windows, so while burning off last night's BBQ and beer on the elliptical, you could gaze at fellow bikini and Speedo-clad coeds while they take a dip in the oversized swimming pool. POOL! After your workout, it looks like you can head to the hot tub to destress a little before hitting the books, but if not, practice a little Yin yoga on the meditation mats near the TEAK PERGOLA.
After I picked my jaw up off the floor, I had one thought, "When can I go back to college?"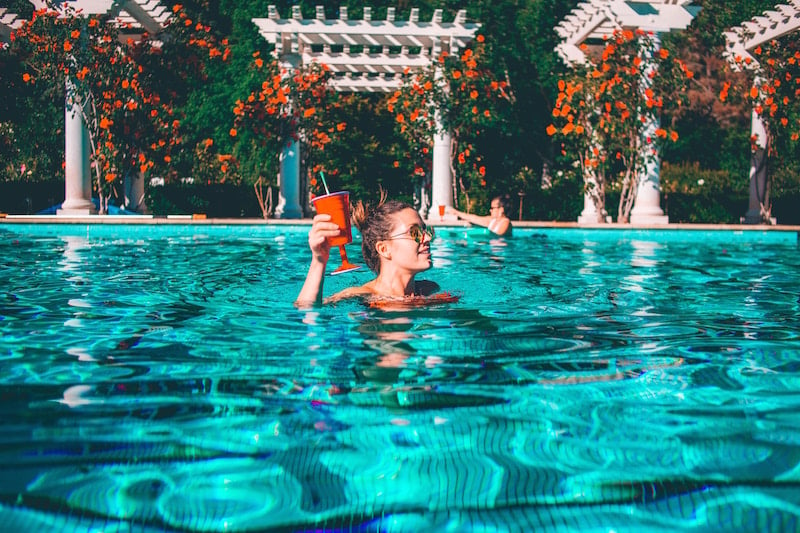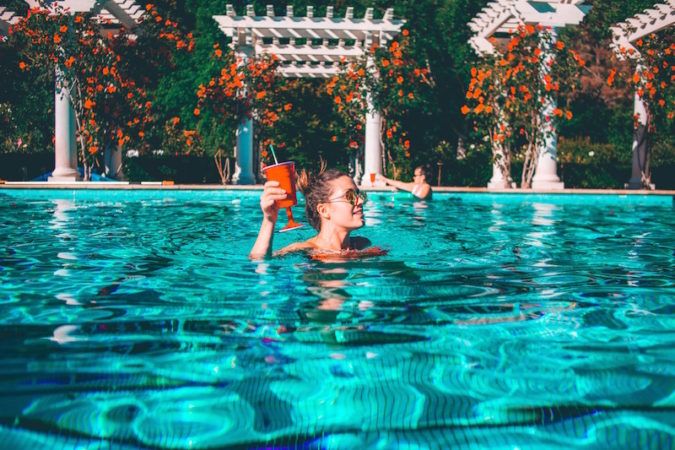 Expensive apartments are not uncommon in college towns
Elegant and posh apartment living like the one I just described is not unusual in college towns these days. Real estate markets in and around campuses are highly competitive, and property developers have to offer building and living amenities that are not typical of what and how we as parents lived in college.
Nearly all of these pricey apartment homes come fully furnished (and we're not talking cheap futons here) and have high-end stainless steel kitchens, deep jetted bathtubs, in-home washers and dryers (no more laundromats), and hardwood or tile floors have replaced the filthy shag carpet we were forced to crash on.
But what does all this high-end living eventually do to students who can afford it and those who cannot afford it?
For those who can afford it now (because parents are footing the bill), what will their real "adult" place look like when they graduate and pay their way?  And for those who cannot afford it, are private or federally subsidized student loans covering their rent at these student-focused resorts?
What happened to being broke in college, living very modestly, sharing bathrooms, shopping for necessities at thrift stores, and foraging furniture from curbsides and garbage dumpsters? Doesn't learning to live humbly while in college pave the way for a more grateful attitude in the future? And honestly, when you start on a resort-like rooftop, where is there to go but, well, down?
Perhaps often overlooked among the students lounging on luxurious rooftop recreation areas are the students who are NOT on those rooftops. There are entire populations of high-achieving, low-income students at college right now who not only cannot afford to live in these high-end complexes; they cannot afford the campus "wealth" culture that surrounds them.
By that, I mean that after they pay tuition and buy books, the rest of their money is spent on basic food and self-care needs (and eating at the campus dining hall only) and not much else. No disposable income is left for clothes, concert tickets, weekend road trips, greek life dues, social functions, late-night dinner splurges, or even $4 lattes.
In a now-viral letter to Duke University's student newspaper, student Kelly Noel Waldorf addressed the giant schism between the haves and the have-nots on elite college campuses. She expressed feeling isolated among the very wealthy and stated in her letter,
Why has our culture made me so afraid or ashamed or embarrassed that I felt like I couldn't tell my best friends, 'Hey, I just can't afford to go out tonight?'
Her statement makes me sad for the thousands like her who are unnecessarily harboring a sense of shame for spending their college years poor, especially because when my generation went to college, being broke was almost a badge of honor. How far you could get on $10 in your bank account became a heralded and hilarious budgeting game amongst friends, not a shameful weakness that needed to be hidden.
I'd like to see today's college students return to that kind of modest living — where Ramen noodles are always on the menu, and the dollar value becomes strikingly clear when you have less than ten of them total to your name.
And can we please save the ostentatious rooftop terraces for much later in life?
We all need something to look forward to in middle age, don't we?
More Great Reading: