My husband and I have been empty nesters for almost a year now. While it certainly took us a while to get used to the deafening silence, and the aches in our hearts, we adjusted rather quickly to the many benefits: lower grocery bills, less laundry, cooking, cleaning, and nagging.
We've eased into a new routine and overall, home life is simpler and more structured — in a good way. In a few weeks, our fledglings will be returning for most of the summer, and to be honest, while I can't wait to have them home, I also dread (just a teeny bit) the chaos that will accompany them and their suitcases overflowing with stuff.
I'm not worried about the Big Rule types of issues. I fully support that they are used to living on their own, and making their own decisions about food, sleep, daily schedules, and activities. I will not suddenly revert back to Mom of Young Teenagers, asking who they'll be hanging out with and what time they'll be home.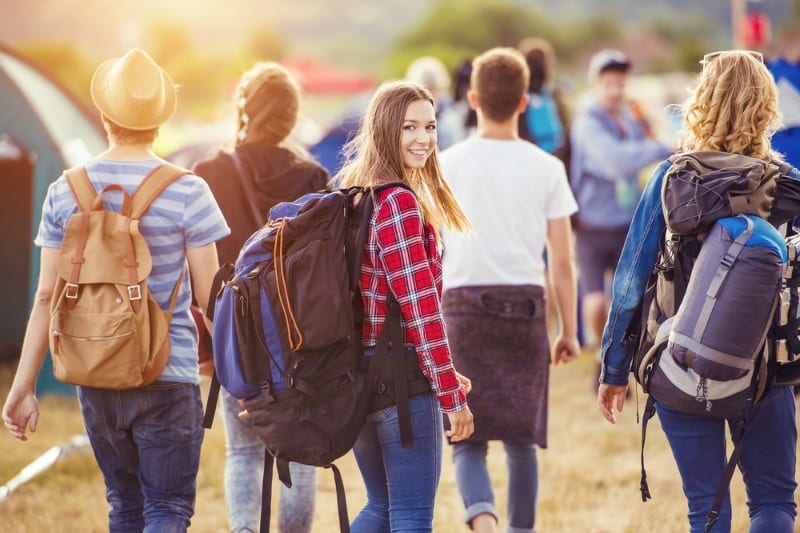 What I am concerned about is common courtesy — that has not changed one iota. (Who else feels like they've repeated "Make sure you say 'Thanks for having me' a billion times during their kids' childhoods?) While they will always be my beloved children, no matter their age, I want their physical presence in our home to now morph into Very Polite Houseguest Stage.
So, this is the list of expected behaviors that they'll find typed up in their room upon their return (like the fire exit instructions in a hotel) and I'm sharing it with you. Welcome Home!
Ground rules for college kids home for the summer
We're so happy you are back — and can't believe how fast your school year flew by. Now that you both are used to adulting successfully on your own, we look forward to a new family dynamic when it comes to personal responsibility at home. Another way of saying this: Mom has permanently removed her House Manager/Nagger-in-Chief Hat.
We are all now full-fledged members of one team whose goal is peaceful co-existence. Everyone is now expected to treat the others as likable roommates, who want to stay likable roommates.
Here's how that'll play out:
1. Laundry
You are welcome to do your laundry at any time. "Doing your laundry" means completing the washing, drying and putting away in your own room on the same day. Once it's back in your room, I don't care what you do with it. The steamer's in the laundry room. (Yep, Mama don't iron anymore!) If you are running late sometime and need something steamed, I'm happy to help you out, if I have time — as I will expect you to do the same for me.
Why? Because that's what thoughtful adults do.
2. Cooking
Cook any meal for yourself that you want, and you will be expected to make a family dinner for all, every so often. You and only you are responsible for cleaning up the kitchen when you are done. You are also responsible for cleaning up any cups, bottles and plates you leave around the house. If you deplete a food/drink item, add it to the grocery list on the fridge — and fear for your life if you leave only two, crummy items in any large bag of snacks, or a quarter cup of iced tea in a bottle.
Why? Because that's what thoughtful adults do.
3. Home for dinner?
If you won't be home for dinner, shoot a quick text by 5pm. If you're the only one home around 6pm, feed the dog.
4. Turning our lights
If you are the last one downstairs at night, you are responsible for turning off all lights, fans, locking the doors, and making sure the dog has water. Check the dishwasher to see if it's full, and if so, start it. If you ever open it to find clean dishes, put them all away. If you don't know where something goes, ask.
Why? Because that's what thoughtful adults do.
5. Empty the trash
If you see a full trash bag anywhere in the house, at any time, you are to take it out, and put in a new bag. Take care of little things like dirty mirrors, smears on light switches, crumbs on tables, dog hair on carpet, globs of toothpaste in the sink, and wet towels on the floor.
Why? Because that's what thoughtful adults do.
6. Using the car
And on many days, four adults will be sharing two cars. Discuss in advance your needs and wants. Last minute demands will be met with "Take an Uber". Flexibility and compromise will be expected from all. And if you get home after everyone else is asleep, everyone else better stay asleep!
Why? Because that's what thoughtful adults do.
If you sense a theme here, Bravo!
7. Respect
You've both shown us that you can be decent roommates and thoughtful adults — when you want to be those things. The life skills you've acquired at college are now expected to be carried out at home, because we are all adults who deserve respect. Our love for you is unconditional. Our tolerance for thoughtlessness is minimal.
XO, Mom and Dad
You Might Also Want to Read: 
Summer Vacation: 30 Ways Students Can Make the Most of Their Time Off
SaveSave
SaveSave