Sometimes trying to understand teenagers is like trying to understand a foreign language. There is a lot of head nodding and grabbing onto phrases that sound vaguely recognizable but you're not sure, so you refrain from using them.
Understanding your teenager's language for describing sexuality and gender identity can add to the confusion. I won't pretend to tell you I know what "lit" means, but I can help you understand the diverse terms in the LGBTQ rainbow—words your kids likely already know or identify as.
Before I run through some terms that will help you understand the queer community—yes, I said queer, and we will get to that—I want to be clear on a couple of things. I don't speak for all queer people any more than a straight person can speak for all straight individuals. Like parenting, there is common ground and shared experiences, but it's best to not assume labels.
Labels are validating though, and I'm going to help you understand what these terms and labels mean for most people. Don't worry: I will start with the basics. Some words you already understand but don't have the language for yet. Here we go.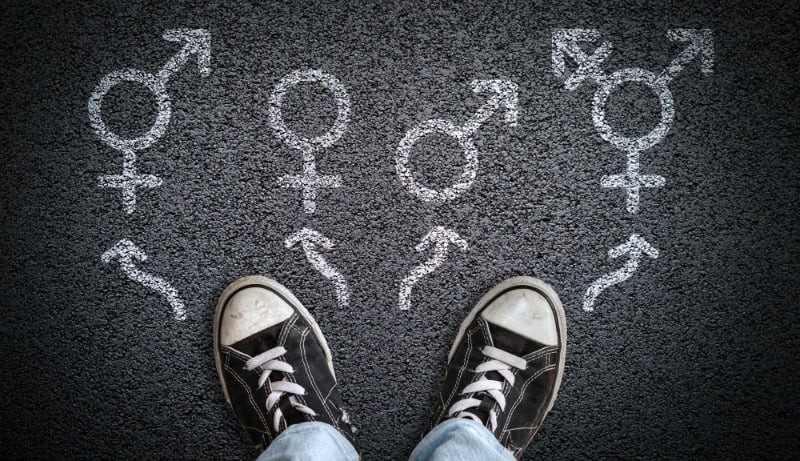 Parents guide to gender and sexual identity terms
Gender/Gender Identity
Gender identity is the way we see ourselves in terms of being male, female, both, or neither. Gender is not the same as biological sex, even though that is how it is defined at birth. Gender is determined in the brain. Sex is determined between the legs. Usually those two match up, and that is called cisgender.
Most people are cisgender. When a person's gender (male/female) does not match their anatomy, they are transgender. A person may choose to socially or surgically transition to feel their most authentic self, but it is not a prerequisite to identity.
A stealth transgender individual is one who is actively choosing not to let people know they are transgender. This is done for many reasons, mostly out of a need for safety. If you happen to discover a kid, teenager, or anyone is living a stealth life, do not out them. Please.
A transgender maleis a male who was assigned female at birth. A transgender female was assigned male at birth. Here's the thing: A transgender male or female should first be seen as male or female. Being transgender is an adjective, not a noun.
Some people like myself identity as nonbinary. Ah, yes—binary. One or the other. Male or female. I feel a mix of both male and female. Sometimes I don't feel like either, rather a hybrid of each. I use they/thempronouns to define myself because to be labeled as either a woman or a man doesn't feel right.
Gentle reminder: A transgender or nonbinary person's genitalia has nothing to do with our gender identity, so don't ask.  Ask about our preferred pronouns, not our body parts.
Sexuality
I like to think of sexuality as the way you fall in love. And it is usually defined based on your gender identity. Your gender and the gender(s) of the people you are attracted to usually give way to labels like straight, gay, lesbian, and bisexual.
But sexuality and gender are so much more fluid than these terms.
A person who is only attracted to someone of the same gender often describes themselves as being gay or lesbian.
Bisexual people are attracted to both their same and the opposite genders. A broader term for someone who is attracted to a gender outside of their "normal" sexuality is called bicurious. This means a mostly self-identified gay or lesbian person is open to attraction to someone of the opposite gender, while a straight person may be interested in a same gender relationship.
The term pansexual applies to someone who is attracted to another regardless of their gender or sex. They fall in love with all the beautiful combinations of hearts and parts.
There is also the chance a person defines their sexuality as asexual,or ace. Their attraction to someone does not include any sexual attraction or desire. Any of the above sexualities may also have the asexual term attached to it.
Queer
This word can very much be and has been a derogatory word used against the LGBT community. However, it is also a word that has been taken back, and many of us use it as a way to define not only our sexuality, but our identity. More than anything, I identify as queer. I recognize some LGBT people do not like the word applied to them because it is hurtful or shameful, but it's not hurtful to me. To me, it feels like home. It encompasses my nonbinary gender identity and my attraction to same-sex, female identified people. It is a nongendered word that represents my many colors of the rainbow.
All of these words rub up against the heteronormative. Heteronormative is the belief that people fall into the binary of either male or female, and that those male and female people follow stereotypical gender roles and maintain stereotypical masculine and feminine appearances. It is the belief that these people are heterosexual and cisgender. It is the belief that this is the norm, and anything outside of it is not normal.
But "normal" is a fluid term and should be viewed as such. Gender is not binary and can be expressed in many ways. There is no right or wrong way to dress or look like a particular gender; a person's gender expression can be conveyed through pronouns, clothing, hair styles, and names. Yet anyone who does not fit society's expectations of gender expression is considered gender nonconforming.
Here's the best part of all these words: knowing them can help you be an affirming and inclusive ally. Knowledge will help you advocate for your kids, your kid's friends, and all individuals who take shelter under the LGBTQ umbrella. You can do your part to spread love and acceptance by acknowledging that love comes in all genders, sexualities, and expressions.
Related: