Every day since we have been mandated to stay at home, I've gotten up and taken a shower. It was strange at first. I'd be standing over my sink applying mascara and blowing my hair out wondering why I was putting in the effort.
I'd ask myself why I was doing this when I felt almost paralyzed by what was happening.
There was also the fact I wasn't going to see anyone but my kids and could easily get away with skipping it and staying in my pajamas. It seemed senseless and like a waste of time. I thought about it many times, but the pull to smell my body wash, apply some moisturizer and spritz myself with perfume would come to me every day.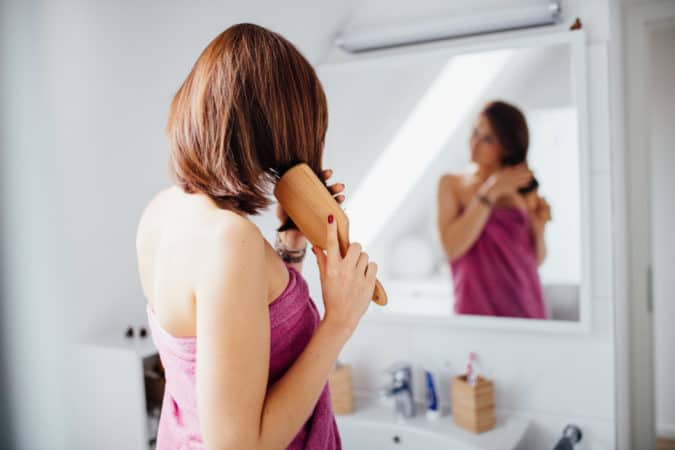 My daily self-care routine is for no one other than me
It's more than trying to fill up extra free time. And it certainly isn't to try and prove anything to anyone. I realized on day five that this ritual of putting effort into the way I look was a gateway to make me feel normal. I'd step out of the shower and think, I'm so glad I did that. I feel better now.

Taking a shower and straightening my hair makes me feel more motivated to work. It wakes me up and refreshes me. It's been exactly what I've needed to feel somewhat like myself when there were so many other daily rituals that have been taken away.

When my sparkly gray hairs started peeling through, I ordered some boxed hair color online immediately and thought, well, here goes nothing. I've also given myself a few trims to keep the split ends at bay.

After reading the directions, breathing in the fumes, and waiting the twenty-five minutes to rinse and use the glorious conditioner that comes with it (why can't all conditioners be as good as the conditioner that comes with boxed color?), I felt like a new woman. I'm not afraid to admit it was the highlight of my day and made me feel like I had pep in my step again. If there's one thing I've wanted through all this is an escape. And touching up my roots was almost as good as going to the salon.
When I look good, I feel better
A lot of women look fantastic with gray hair— I am not one of them. And yes, not many people will see that while we are all instructed to stay at home but I will. About 10 times a day when I look in the mirror. The reflection I see staring back at me matters to me.
When I look good, I feel good, period.

I want to feel better during this pandemic and do anything I can to make that happen since there are so many outside factors that bring me down hard every single day. I've never been so thankful for scented shaving cream, or the smell of a towel fresh out of the dryer.

Trying out different hairstyles and makeup hacks with my daughter has been a lifesaver. And there's nothing like showering off the day when my kids are asleep, applying some lavender oil, and climbing into bed. It's the hug I need through all this.

Having freshly painted toes and plucking my eyebrows have always been things that make me feel better. Why would I stop doing that during a global pandemic when I'm trying so hard to keep my chin up and stay positive?

When I was seven, sneaking into my mom's makeup drawer and applying blue eyeshadow then putting on her red high heels brought me great joy. I certainly didn't see anyone then, but I remember the happiness it gave me for hours alone in my room.

After my divorce, I felt incredibly lonely and did all the hair things: I went red, then blonde, then cut bangs. I always felt like a different woman leaving the salon and it brought me comfort.
Lip color does wonders for my mood
There's no denying what a bold lip color can do for a woman's mood. And we can't forget how good we feel when we have a good hair day. I don't know about you, but it brings me down when I see the dark circles under my eyes that can easily be erased with a dollop of concealer.

So now, even though I'm stuck at home, showering, doing my makeup, shaving, and coloring my hair have been things I've needed to do for me. I will continue to give myself a little glow up every morning for the simple fact that it's made a world of difference–to me.
You May Enjoy:
This Senior Had the Best Prom Ever #Classof2020
"Are People Doing the Best They Can?" is the Brene Brown Question We All Need to Ask Ourselves Now