Mask wearing is strongly encouraged in some places and mandatory in others. The CDC has said that the use of face masks can slow the spread of the virus. A rising number of states now require that masks be worn in public. Eighteen states and the District of Columbia now mandate masks in public — a list that was joined by Pennsylvania on Wednesday.
They have given us guidelines on how to wear masks, how to wash them, and the 5 features a cloth mask should have.
5 things to look for in a cloth face mask
Fit snugly but comfortably against your face.
Be secured with ties or ear loops.
Include multiple layers of fabric.
Allow for breathing without restriction.
Be able to be laundered and machine dried
Masks can be uncomfortable, especially in the hot weather, and getting our teens to wear them might be tricky. So with summer upon us we asked our Grown and Flown parents which masks they found most comfortable and breathable.
Popular face masks
Old Navy masks have a strong following. Many of our parents say that the masks are comfortable, well-made and and the price point is reasonable which really matters because our kids are going to need a lot of them.
UNIQLO AIRism Face Masks are a triple-layer structure to enhance performance, UPF 40 rating to block 90% of ultraviolet rays and three sizes to fit children and adults at an affordable price point of $14.90 for a 3-pack of masks. In addition, AIRism fabric is anti-microbial, self-deodorizing, heat-releasing, sweat-absorbing to keeps wearers dry as it wicks away moisture.
Athleta masks that come in 5-packs are some of the most popular ones for everyday use. They also have a 3-pack of "made-to-move" masks for use while exercising. Athleta offers mask sizes for girls, too. Their masks have adjustable ear elastic and and are comfortable with lots of different colors. Order early because it took me a few weeks to get these.
If you are a Vera Bradley fan, these masks have great patterns and get good reviews. The come in many of the signature Vera Bradley colors and styles that we have grown to love over the years.
Jaanu masks got rave reviews for being comfortable, soft, and fitting well and for not hurting your ears.
Vistaprint masks have an assortment of very interesting patterns and they have a replaceable filtration system. Vistaprint is donating a small amount of the purchase price to small businesses affected by Coronavirus.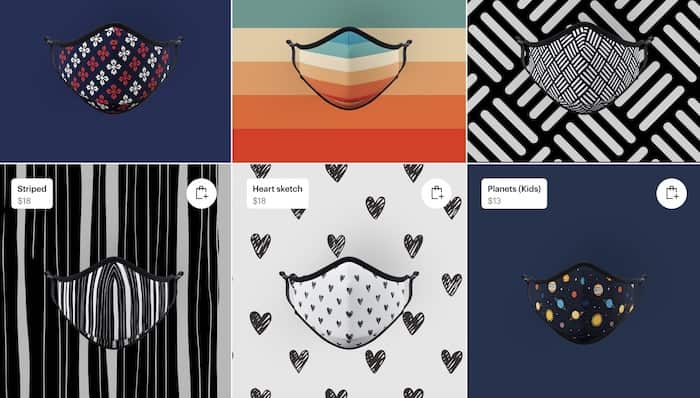 Striking sports equipment company turned their attention to mask-making when it became clear that masks would need to be worn. Several of our parents said that their kids loved these.
Oyakumi is a health care supply company that makes plain white masks with a 2-layer filtration system.
Onzie masks are made from up-cycled fabrics used in their yoga clothing. The company is donating masks to local hospitals and some of the proceeds from sale will be donated to healthcare workers across America through a donation to the Center For Disaster Philanthropy. Our moms say the masks are stretchy, comfortable and breathable.
Proper Cloth, a men's dress shirt company is making everyday masks from 100% cotton shirting material that have an anti-microbial finish. They are stylish and have a removable air filter.
Johnny Was has pivoted from their normal production and they are making masks that are pleated and have an interior pocket to place an additional filter. For every pack sold, they will donate a pack to essential workers. The patterns are vibrant.
The Oomla mask is designed by a pediatrician, and mom of two teens, and it not only looks good, it feels good and it has a pocket for a filter. With every mask you buy, one is donated to one of these organizations: eat.learn.play, Supplies Save Lives, Covenant House, Alexandria House.
Fanatics sells college and pro team masks and started the All-In Challenge to raise money to help alleviate food insecurity
These masks from Fanatics let you wear your team or college colors while staying safe. They are the #1 site for officially-licensed designs from the NFL, MLB, NBA, NHL, PGA and 500 colleges and universities.
The NBA, NFL, and MLB are working in partnership with Fanatics to donate all NBA, NFL, and MLB proceeds from the sale of their masks to the All-In Challenge Foundation. Learn more about the celebrities and sports figures who have made donations to the All-In Challenge, and how you can help, too. Nearly $58 million raised to date.

Last but not least, a box of disposable masks which will be useful to have when your teen has lost their cloth one or a friend needs one.
Pro tips for wearing and washing face masks
Some of our G&F moms suggested getting a separate lingerie bag (those mesh bags with a zipper) for the washing machine. Just throw the used ones in the bag and they can be laundered in the bags. Another mom suggested keeping a basket of "clean" and "used" masks by the front door so that family members can throw their masks on when they walk out the door and can throw them in a basket for washing when they walk in the door.
One of our issues is that we tend to carry our masks in our hands and often put them down and promptly forget where they are. We thought that a mask strap would come in handy. If you want something simple, this works
Please note that none of the masks suggested are medical masks.
Grown and Flown is a reader-supported site and we receive compensation from purchases made through some of the links in this post.
You Might Also Want to Read:
How Your Teen Can Find a Virtual Volunteer Opportunity Teens who want to volunteer can find virtual opportunities. Here are ideas for them.
100 Life Skills to Teach Your Teen in 15 Minutes or Less Since many of us are stuck at home, here are 100 life skills to teach your teen.