One day my middle son asked, "Why is everything so hard for me?"
His question echoed my years of sleepless nights worrying about him and wondering how to ensure this slow-paced boy would find success in a fast-paced world.
Unless you live with it, one would not imagine that learning differences bleed into every corner of life outside the classroom. Although my son was diagnosed only with ADHD and mild processing and working memory issues, it was clear early on that the way he digested information was not the norm.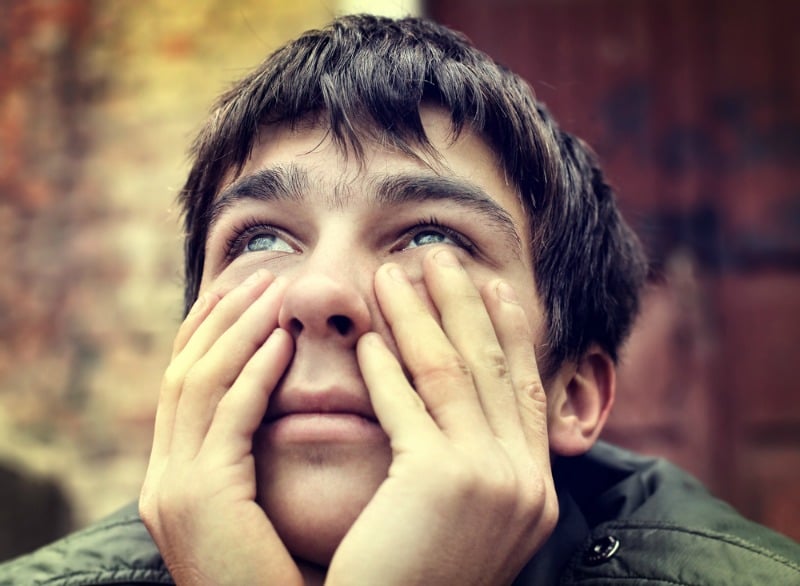 Wildly curious yet cautious, we often found ourselves waiting for him to put all the pieces together and accomplish milestones behind his peers. His spirit never dampened but we soon learned that parenting this sweet boy was going to present challenges we had not experienced with our take-charge oldest son.
Tests of any kind were truly his Achilles heel. In school, teachers knew how to compensate for this and assist him. In the real world, organizations like the Motor Vehicle Administration and Red Cross lifeguard trainers had no such mechanism. He was on his own and it inevitably took several attempts to pass.
It took Herculean effort to temper our expectations and his as well. This was never more apparent than when we approached junior year and the topic of college. He wanted to go to college, this much we knew. However, the process itself was so overwhelming, he shut down.
Schools hammer home the importance of grades, standardized tests, essays, and application timelines starting freshman year. For kids like my son, that build-up and pressure can backfire. Thus, we found ourselves in the summer between junior and senior year with not one college tour or any real progress toward applications. We circled around the subject but he just wasn't there yet. Experience told us that if he wasn't on board then the train was never leaving the station; so we waited.
It was torture.
Something clicked in July after he finished his first ACT and we took the first faltering steps of college prep. And when I say "we" I mean all of us. My older son had managed his college app process alone. He kept me in the loop, gave me a cursory glance at his essay, asked for the credit card, and is happily completing his junior year.
This experience was going to be a team effort and I was happy to assist, prod, and encourage our way through it. Now, that all the applications are in I have the following advice to parents in similar situations.
How parents can help teens who struggle in school with their college applications
1. Listen
The path to college does not come with a manual. Listen to what your child is saying and look for non-verbal cues as well. My son not only didn't want to talk about applications, but he also was not even looking at the school brochures when they came in the mail. Learning differences can ding self-confidence and the fear of rejection was crippling for him. He felt confident after taking that first ACT and that was his springboard to beginning his search.
2. Don't Listen
Yes, I am contradicting myself here but it is vital that parents shut out societal influences that insist kids that need help navigating the application process are not ready for college. If you haven't taken a tour of the Common App lately, it is a confusing and exhaustive document. Guiding your child through questions related to this process is not only acceptable but encouraged. The hands-off approach is not a fit for everyone, especially those with processing issues.
3. Testing
Though there is a growing list of test-optional schools, the majority still require those scores. My son took the ACT three times using a review book, an online tutoring company, and a review of math and still scored sub 20 each time — even with super scoring. This put our essay focus on other strengths while making sure to address the scores in passing.
That is to say, his weakness was not the thrust of the essay but offered a glimpse into all the things that he does do well. I spoke with his guidance counselor to ensure that he gave my son success stories of kids with lower test scores and emphasized his potential.
4. Realism
My son attends a large public school and while I love his counselor, we did not receive a list of suggested schools or real guidance about how to narrow it down. So, I spent my days on college search sites putting in budget constraints, test scores, distance, GPA, and narrowing it down.
Yes, I did this work. This task would have been too overwhelming for my son. I came up with a list and then tossed it to him to do a virtual tour and weigh in. We then visited a few in person and left others to tour after a decision was rendered.
5. Be Aware
I had to familiarize myself with the deadlines of the high school for transcripts and recommendation requests as well as the application dates. When kids are not organized by nature, gentle reminders are necessary. In the process, I taught my son how to create a spreadsheet with college info and dates, sat with him while he made phone calls to admissions offices, and helped with wording for emails.
By teaching as we went along, he will take those skills with him and is already much more comfortable communicating with admissions officers and administrators. I can't emphasize enough how partnering in this endeavor can be beneficial in the long-term; whereas leaving an LD child to their own devices could be disastrous.
Most importantly, follow your gut. You know your child, their goals, and capabilities better than even they know themselves sometimes. Our story has a very happy ending. My 3.0 (unweighted) GPA, two AP courses, bad test score son has been accepted to four schools thus far with one even offering him merit money.
We are awaiting more decisions but the confidence that grows with every "yes" we receive shows that we used the right approach for him. It was different than what worked for my older son and I believe my youngest will be a hybrid of the two.
And in answer to his original question I say, "When things come hard, you appreciate them all the more."  And that is true in the college search and in life.
Related:
IEP: Five Things I Want My Teen To Know About His Individualized Education Program