While mindlessly show surfing through Netflix a couple Friday nights ago, I stumbled upon a show called Cheer. I sighed with frustration, not the least bit excited to watch a show I thought would be about glitter and gossip, basket tosses and attitude, makeup and midriffs.
But it was listed in the documentary category, and because curiosity got the best of me, I started episode one slumped deep in a chair-thinking that a show about the Navarro College cheer team couldn't possibly keep me entertained.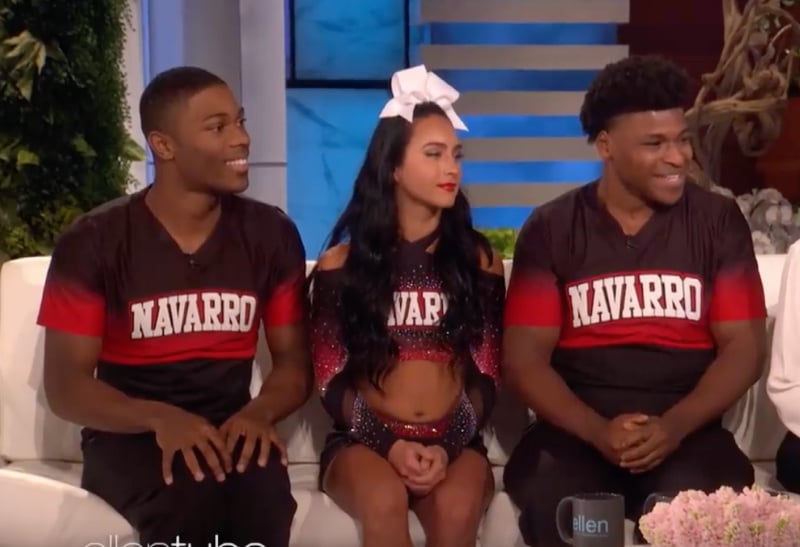 Cheer hooks the viewer right from the start
Three episodes later, both my husband and I (who was scrolling Twitter when the first episode started and had zero desire to even look up) were cheering with a kind of zealous and dedicated emotion that could only be described as "'tween girl meets Jonas brother."
We were yelling things like, "Jerry should make mat. If he doesn't, we're not watching anymore!" and "Lexi better not give up. Why can't she buy in and listen to Monica?" and "Wait, Morgan's dad just left her alone to raise herself when she was in high school? How does a teenager overcome that to get here?" And finally, "I need La'Darius to get his own reality show!"
Yep, in the span of one evening I became an instant Cheer super-fan. (I'm even following some of them on Instagram now.) Who am I?"
How could a documentary about a cheerleading squad in a small community college in Texas leave two middle aged people smiling ear to ear in wide grins and happy tears? I'll tell you how. They did it by using a formula to tell a story about humanity, compassion, empathy, and the monumental struggles of young people, with competitive collegiate cheerleading being just one- albeit a large one- component of their equation.
Why are millions glued to their TVs watching Cheer
But when it comes down to it, the reason why millions of Americans are glued to their TVs watching 19 year-old cheerleaders do back handsprings across a gym is not because we're rapid fans of gymnastics, it's because we're fans of authentic, feel good, all odds against them kind of stories where the good guys win.
So what is it about this college and these cheerleaders that have skyrocketed them to fame? And if you still don't believe that the country is completely enamored by this squad and its fearless leader (we'll get to her in a sec), just turn your TV on or scroll your newsfeed.
In the last week alone some of the squad has appeared on Ellen, The Today Show, and The Late Show, and Saturday Night Live even did a spoof on them, and news outlets from the Washington Post, to CNN, to the Wall Street Journal have done write ups about Navarro's supremely talented and consistently winning squad.
But behind the sweat, falls, flips, and mat drills are the kids that make up the squad, and it's specifically their back stories that pull at both our heartstrings and our competitive juices that have Americans obsessed with Navarro.
By elite cheerleading standards, these are not your average, upper middle class kids who grew up in perfect nuclear families, with hardly a worry about gym fees or elite cheer travel squad dues, let alone their next meal. But perhaps what makes these kids so likable, and has millions of moms and dads rooting for their success not only on the mat, but in whatever endeavors they are aiming for after cheerleading ends, is where they came from.
Take tiny, shy, new squad member Morgan for example, who was abandoned by her father during her high school years, and left alone to feed and take care of herself in a trailer. Or lovable and exuberant Jerry, who was raised by a hard working single mother who died during his teen years. And then there's the most gifted gymnast on the squad-Lexi, who is a high school dropout, and whose past we learn was filled with violence, running away, and substance abuse.
Lest we forget about La'Darius, whose infectious dance moves bely the fact he is the product of sexual abuse, bullying, and being forced to hide his homosexuality. And what about their coach Monica? Well let's just say she not only is coaching high kicks and herkies, she's also playing the role of protective mother bear, guardian, life coach, therapist, school counselor, and full time in loco parentis for this entire squad.
Let's hope there is a season 2 of Cheer
Not to spoil the ending of season 1 of Cheer (the word is still out on whether we'll get to see a season 2), but it's this ragtag group of young adults whose passionate fight, determined dedication, and unwavering will that will have you binge watching until the finale to see if they bring home that coveted college championship trophy.
Trust me, you're not gonna wanna miss how it all goes down, errrr, I mean stacks UP-pyramids and all, because falling down? It's simply not an option for the kids from Navarro.
So are you READY? OK! (CLAP!)
You Will Also Enjoy:
It's Devastatingly Haunting as James Blunt Sings to His Ailing Father