Shopping for Mother's Day gifts can be hard. Maybe that is the reason we so often fall back on flowers, cards or chocolates. Whether you are looking for your own mom, another mom or friend who you just want to make feel special, or want to drop a few suggestions for your own kids, here are 14 ideas we love.
Note: We receive compensation from purchases made through some of the links on this page. 
14 Mother's Day Gifts For Your Mom, Sister, Aunt, or Friend
1. Find an experience to share with Mom.
Hands down the number one gift mentioned by the moms in our Grown and Flown Parents Facebook Group is time with our kids. Having brunch or dinner, going for a walk or buying tickets for an outing will thrill her. Mothers love nothing more than a gift that comes with their child, no matter how old that child is.
2. Book a class.
How many years have you and your mom been saying that you were going to learn how to cook French food/watercolor/speak Italian? Today is the day that it stops being a dream.  Find something that you have both been wanting to learn and carpe diem.
3. Enhance her home.
We have a crush on super-successful entrepreneur Kendra Scott and we love her beautiful earrings, necklaces, and rings.  She recently introduced a new trio of candles, named Amethyst, Rose Quartz, and Malachite, which are also exquisite. Available at her 75 retail stores and more than 600 speciality boutiques, they are also here, on online, along with these other Mother's Day Gifts.
4. Lend a helping hand.
Last year, Grown and Flown raised the money to buy dorm supplies for 225 first gen freshmen at University of Texas Austin and this year we are looking to help even more students. You can read about it here.
If you make a donation of $25 or more we will send this gorgeous card with a note to your mother (or friend or other special person in your life) indicating that a donation has been made in their name. How great is that? You get to help a group of students who need it and your mother gets a wonderful momento of your generosity.
Here is how it works:
Make a donation of $25 or more via Paypal to

[email protected]

Include your name, the name and mailing address of the recipient in your Paypal order.
Spread the joy with this Mother's Day gift to help kids move into college with a little extra love and good karma from you.
No Paypal? Send a check made out to Grown and Flown to

PO Box 810, 

Katonah

,

NY

 

10536
5. Buy a wonderful book of essays on motherhood.
Maria Shriver, journalist, author and mother of four has a new bestselling book out that will be an inspiration to other women.  I've Been Thinking . . .: Reflections, Prayers, and Meditations for a Meaningful Life.  And can't we all use a little more of that?
6. Fill her space with sweet scents.
Buying expensive soaps or lotions is a little bit of luxury that many of us do not seek for ourselves but LOVE to receive. Molton Brown
 is our absolute favorite purveyor of hand and bath gel, lotions,  candles, diffusers, etc. and your mom will be grateful for your considerate Mother's Day gift every time she washes her hands or uses one of their exquisite lotions. This is an especially thoughtful gift for those special women in your life who are downsizing or wanting fewer things.
7. Give your mother of any age a digital assistant.
Give your mom an Echo Spot
.Whether she is looking for the news, weather, her favorite playlist or an obscure fact, the answer is just a shout away. And, with this model, she will be able to video-chat with you!
8. Have a tea party
This lovely T2 Fine Bone China TeaPot , would inspire anyone to take a break and have a cup of tea. Bake a batch of cookies to go along with the tea post and plan for time to sit and chat over tea.
9. Send a reminder of home.
Moms are all about home. Minted makes stunning gold, silver or rose gold maps of any location your family calls home. Or have a heart made and framed from family snapshots like you can find here: Heart-Shaped Photo Gift
. Have you ever met a mother who didn't love having pictures of her family on the wall?
10. Best. Shoes. Ever.
If you have not already tried Allbirds shoes, this is the time to get yourself and pair when you are ordering them for your mom.  They are simply the most comfortable shoes, made from the softest wool, and are washable.  Great for travel or walking around town.  Now, they come in three styles and lots of pretty spring colors.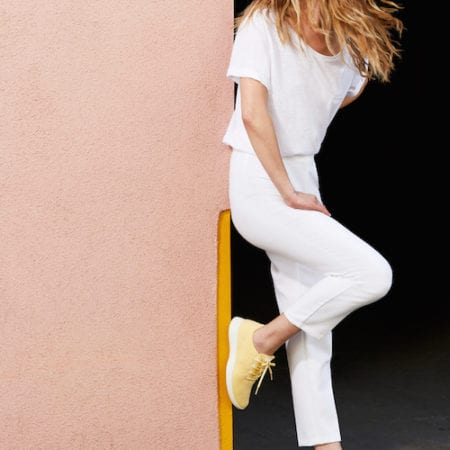 Give a Mother's Day Gift All Year Long
Over time, it is all too easy to fall into a rut on cooking and shopping.  With these subscription boxes, your mom can experiment with new dishes and a new look – who wouldn't like to try that?
11. HelloFresh
 – choose a plan based on the number of family members and menu preferences. An excellent idea for someone who is making the transition from feeding a small army to cooking for two, a box with all ingredients and menu cards also means many fewer trips to the grocery store.
12. Stitch Fix Gift Card
 – having a personal stylist to help your mom create a few new look would be a fun experiment and might just be a catalyst for her to update her look – for casual or business attire, in all sizes and tastes.
How about a Mother's Day Gift for You?
13. Send some swag from your favorite site
Nothing thrills us more than when we hear you tell us that you have shared our writing with a friend.  Thank you! We are grateful for being part of our Grown and Flown community and, if you want to treat yourself to a little something for Mothers' Day, check out our t-shirts and this great mug that is a Grown and Flown favorite:
New this spring are these adorable and super-comfy Notes to Self socks.  We. are big fans of Notes to Self and love the inspiration message on each of their socks.
All proceeds from the sales of Grown and flown shirts, mugs, and socks will benefit our Move in Moms project.
14. Last Minute Gifts 
Amazon has you covered with flowers, cards, chocolate, and wine in their Mother's Day Shop.  Depending on how long you have procrastinated, and where your mom lives, you can order as late as the Saturday before Mother's Day and still stay in her good graces.
Related:
Grown and Flown Style: What to Wear to Graduation 
NEW! Grown and Flown Top Picks for birthdays, graduations, celebrations all in one place. 
SaveSave
SaveSave
SaveSave
SaveSave
SaveSaveSaveSaveSaveSave