I have a picture of my daughter taped to the inside of my closet door. In that photo, she is 6 weeks old and we are wearing matching pink shirts. I remember exactly when it was taken— a hot July day right after I finished nursing her. My daughter had fallen asleep and my mom took the picture as I sat cradling her for two hours, mom and I speaking in hushed tones so as not to wake her.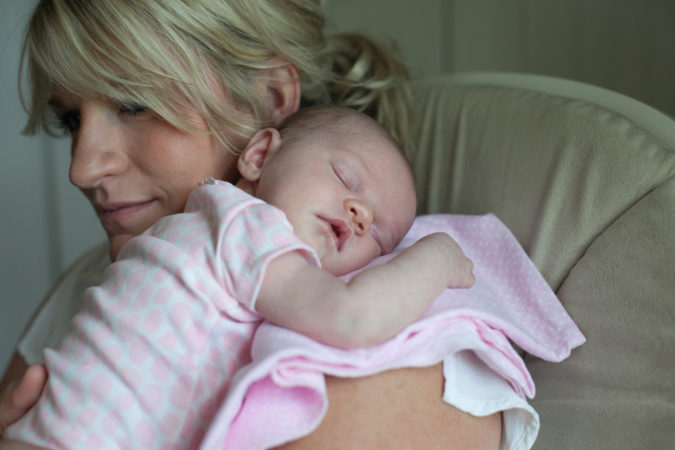 I put the picture inside my closet door on purpose. Every morning when I open my door to get dressed I stop and look at it. For some reason, I see it more because it's behind a door and not right in front of me.

And for a moment, she is 6 weeks old again. I am holding her and can smell the top of her head. She fits in the crook of my arm so perfectly that I know she was made for me. I push back her sweaty hair as I am nursing her on a sweltering summer day and watching her brother out of the corner of my eye.

She curls her fingers around my pointer finger and doesn't seem bothered by the heat or her loud brother. All she sees is me and I remember thinking, "There is nothing else in this world that I need."
I taped a baby picture of my daughter to my closet door
I taped that picture up almost ten years ago. My daughter is fifteen now. And every time I slide my hand over the knob and my eye catches her pink shirt, I tear up. The feeling hasn't faded. My mind hasn't said, "Enough already. You've cried over your nostalgia so many times you can't do it anymore." If anything, with each passing day, the tears come harder and faster until I'm convinced that this feeling is just a part of who I am now.

These days, my kids and I have been looking at old pictures a lot. We scroll through my phone and I see pictures of my teens when they were four eating at our favorite sub shop; when they were six on a hike; when they were ten standing on the front porch with a ball in the rain with untied shoes and tousled hair.

Then, I look up and see these adult-looking kids sitting next to me laughing at themselves talking about how dumb they were or how they hated their hair. They wonder why they were so okay with themselves and didn't feel the need to hide when the camera came out. I loved them like that.

They no longer willingly agree to be in front of the camera, and I love them like that, too.
Looking at who they were reminds me of who I was
My kids don't know why I tear up every time I see a younger picture of them. They can't grasp the fact that looking at who they used to be reminds me of who I used to be. Life was simpler then when they were happy to play trucks on the wood floor for hours, or when beach days ended with them happily enjoying the ice cream cones they were so excited to devour.

I'd give anything to just hold one of my kids at the age two for just a second. Looking at old pictures of my children, then seeing them in real life as they walk around the house in boxers eating cold pizza, or driving out of the driveway, or dropping them off to meet their friends, is a slap in the gut.

It makes me feel like someone is standing over my shoulder saying, "Your time is almost up. Soak up these last years as much as you can because it's really almost over."

When you are a parent, looking at one photo of your child will immediately take you right back to that moment. You'll remember what you ate that day. You'll remember how their skin felt. You'll remember how they needed you and how you needed them. And yes, for the most part you'll only remember the joy you felt in the younger years as the bad stuff falls away.

Looking at those old pictures reminds you that regardless of your child's size or their mistakes, your children will always be your babies. And there's nothing that pulls the tears from my soul more than that.
You May Also Enjoy
How to Think About Sibling Jealousy: For Teens and Adults

My Son Is 17: The Age Of Possibility, Potential And Flight