I don't know about you, but, I'm in the middle of a stretch when being the parent to teens, let alone four of them, feels extra hard and has me feeling especially unqualified for the job of raising them. Between that, my professional job and the rest of life, I find myself lurching into the holiday season and the pending New Year with weary insides.
Bah humbug.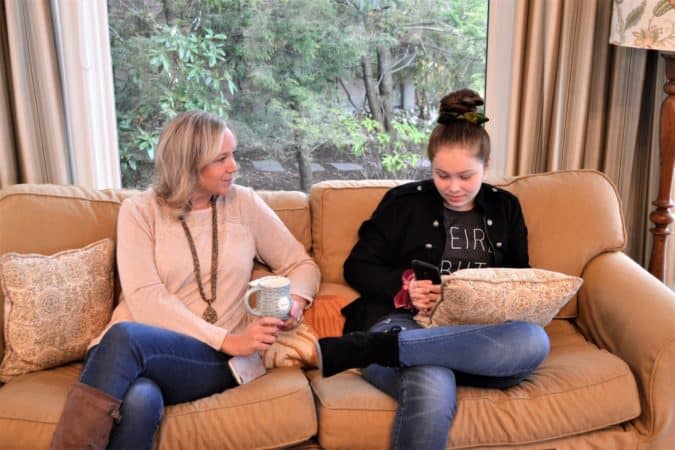 I am tired and so are too many of my friends and family. Tired of faking-it-till-we-make it on a long list of fronts. For me, personally, I can't be bothered anymore. Forget keeping up with the Joneses. I can barely keep up with myself and my own set of expectations, which are ridiculous, even by Martha Stewart standards. They include things like having floors clean enough for my teens to eat from, which is laughable, given that they would eat off the driveway so long as the enchiladas are hot.
So, with the new year fast approaching, I am vowing to change up my game by taking everything down a couple of notches. Basta. Finito. Enough.
It's time that I learned a thing or two from my foursome. They think they know everything. Everything may be a stretch, but I am starting to accept the fact that they have some things down better than me.
Taking that to heart, 2020, I'm coming for you with a resolution to fully, full-on embrace a handful of my teenager's crazy-making habits, with the hope that I feel a little less crazed. On January 1st, here are some ideas that I'll be test-driving:
New Years Resolutions for Moms of Teens
1. FOOD and SOON as my default answers to any questions related to what we are having for dinner and when it will be ready. I don't need to sweat making the equivalent of what feels like a daily "last supper" the way that I used to. Between my lone vegetarian and other must-have-meat-or-it's-not-a-meal, I've been dishing out sides, extras and alternates like there truly is no tomorrow. No more.
From now on, I am putting one meal on the nightly menu. Substitutions can be made in the form of self-made toast and eggs. All ideas for improvement can be left with management.
2. Staying in my room with the door closed when I need to recharge. The very idea of a nap brings joyful tears to my eyes. I will gratefully settle for five minutes of alone time. I might read a book. I might meditate. I might not even listen to my favorite Simon & Garfunkel album just to enjoy the sounds of silence.
3. Plugging in. I've had enough of hearing about how the world needs to unplug. Some of us need to learn how to give ourselves a break, including me. I can't remember the last time I listened to music for pure pleasure, instead of as inspiration to get me through a five-mile run. Same for TV. I've got more experience with bingeing on carbs than I do on Mrs. Maisel or The Crown.
Meanwhile, my teens have found their favorite series and plowed through from beginning to end. It may drive me crazy to think they know more about what is happening on The Office then in the oval office, but I remember having the same interests when I was their age. Instead of focusing on what's wrong or what I need to fix about this, I'm going to instead listen for their laughter and be thankful that they can just let themselves be. Something their mother clearly isn't great at.
4. Mess is more. The house, our closets, my car, they just don't need to be as tidy, no offense, Marie Kondo. I may love having things in order, but I don't always love the work it takes to keep things that way. It sometimes leaves me feeling resentful towards the people I love most, which isn't worth it in the end. This year, our home will be kicking off the year by going on a bit of an anti-diet.
5. The sofa as my own. It may have room to seat six comfortably, but I've come to see that it really is meant to be enjoyed by one person at a time, to lay sprawled out, head to toe, from one end to the other, until there is no space for anyone else to possibly sit. Up until now, this theory has been proven true by five of the people living in this house.
Come January (more like this afternoon), make it six. I'll be stretching out without a care in the world. Even if it's just for five blissful minutes. The couch will be mine. All mine!
There you have it. My teen-inspired self-improvement plan that is hopefully going to leave me feeling more like my old young self. Caring a little bit less about things that don't matter so that I can spend more time enjoying the people who do.
The is only one downside to my plan working; I may just have to tell my kids that they were right.
You Might Also Enjoy Reading:
Now, for parents of teens, the Grown and Flown book is here!