When moms help their teens with dorm shopping, it can be as simple as shopping at Target or Bed, Bath & Beyond to get the basics or they can spend hours pouring over Pinterest and Instagram for ideas and inspiration. Either approach is absolutely fine and students will survive in their new rooms regardless of the time and effort parents devote to their teen's dorm decor.
But, with a vision, determination and the budget to do so, hum drum dorm furniture and cinderblock walls can be transformed into space that is both functional and possibly even cute.
How to Create a Pretty Dorm Room
Houston mom, make-up artist and former interior designer, Sheila Ybarra, went well beyond mere "cute" in the dorm room design for her daughter, Skylar. In fact, she has done it multiple times – for her daughter's freshman year, at the sorority house/dorm, and last year, for her apartment.
We have Ybarra's Instagram posts, showing each of Skylar's rooms over the last three years, which reveal so many of her amazing ideas.
Freshman Dorm, 2017
Sophomore Year Sorority House/Dorm, 2018
Here is a photo of the before:
And now for the after:
Personal touches in the room include this coffee bar: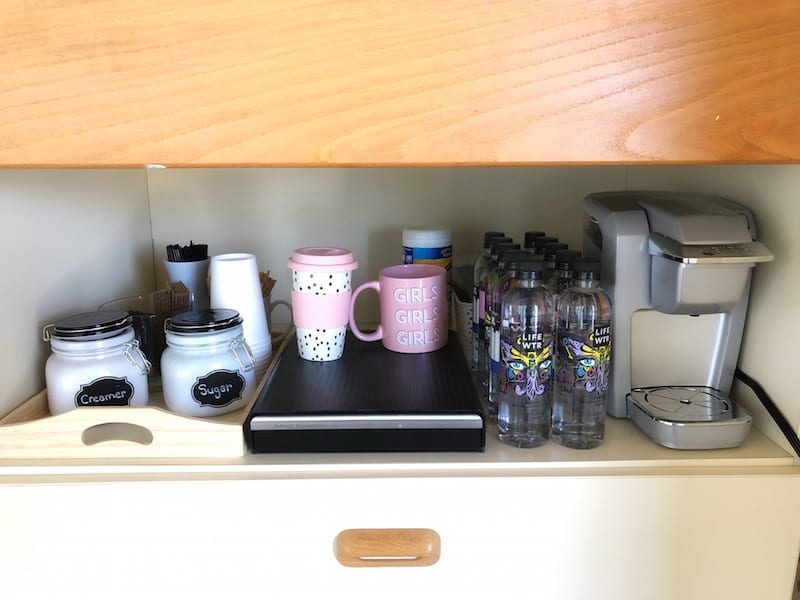 Monogrammed desk chairs and a pretty work space:
Wall design and pink colors for the bedding:
Many of the furnishings came from Wayfair because they ship for free and offer free shipping for returns, too. Skylar was able to use many of the decor and furnishings from freshman year in her later years and those she could not use, she sold to other students.
Junior Year/Apartment, 2019
Where to Shop the Look
Note: We are a reader-supported site and receive payment from purchases made through some of the links in this post. 
Wayfair:
Target:
Glass coffee table with gold legs 
White molded chairs with gold legs 
Keurig Mini in rose (also available in mint, silver and black)
Wake Up and Be Awesome coffee mugs
Tiered bracket shelf (bathroom) 
You Might Also Want to Read:
How to Decorate Your Entire Dorm Room at Target Target has stylish, well-priced dorm and apartment furnishings. These are some of our favorites.
How to Decorate a College Dorm Room: Adorable and Easy Here are some popular ideas your teen might not have considered for dorm decor.