It was an ordinary Saturday afternoon and I was walking my dog around the park near our house where I walk every day. On weekends, I'd often observe Little League games with tiny uniformed players swinging at large balls gently pitched by kneeling men. Man, I'm glad my kids were never into baseball, I'd think, remembering my friends complaining about the traffic to and from Treasure Island, the practice spot for older Little Leaguers.
Sometimes my dog and I would walk past toddlers being hoisted into swings or getting scolded for dumping sand on another child's hair. Man, I'd think, I'm glad those days are over. But on that particular day, as I rounded the bend into the park, I spotted a man and a little boy dashing back and forth on the wide swath of grass, the boy's hands clutching a plastic string holder as a kite on the other end lifted into the sky. I stopped dead in my tracks.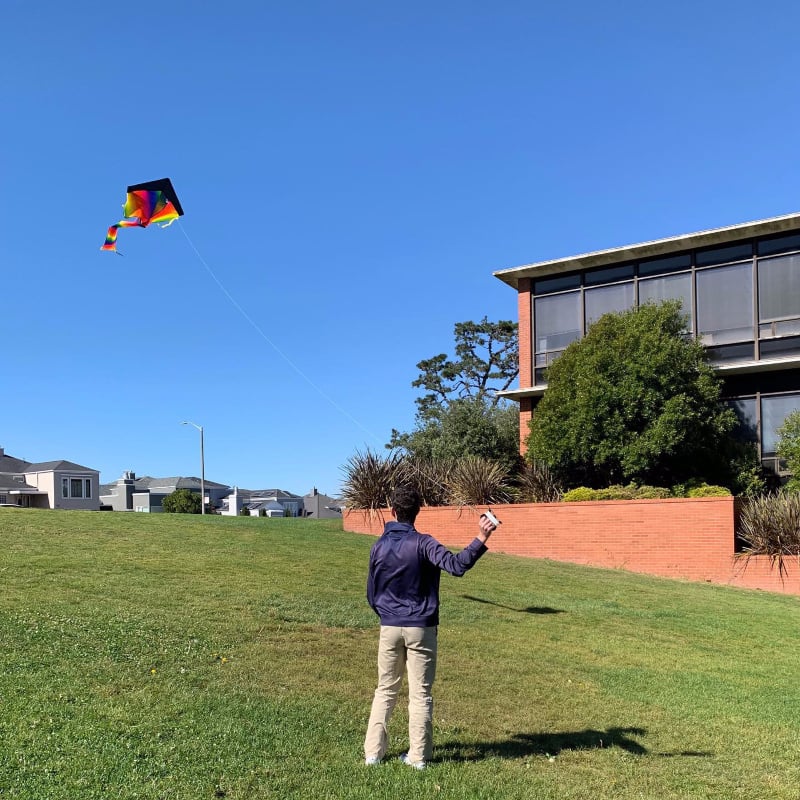 Had I ever flown a kite with my kids?
I wracked my brain and determined that, no, I never had.
I started to cry.
My kids are 17 and 16, a senior and junior in high school. My son just hit send on his first college applications. My daughter, only 15 months younger, is deciding between the SAT and the ACT. It's really happening.
My feelings about Little League and playgrounds aside, parenting those two has made my life. I loved holding their little bodies, every freckle and mole as familiar as my own. I loved witnessing their interests and talents develop – jazz and Spanish and comic book art and lifting weights.
I've especially loved their teen years, watching my son perform on big stages, gossiping with my daughter about the Duggars and The Bachelorette. I light up like a girl with a crush when they text me funny memes or earnestly explain why Kanye, for all his crazy, is a certifiable genius.
Realizing that I'd never flown a kite with my kids made me feel awful. What had I been doing when they were that boy's age? My guesses: emptying the dishwasher, writing an article for a trade publication that no one likely read, answering unimportant emails.
My kids tell me all the things I did right, things we did as a family and it was so gratifying.
In the days that followed, I had moments of panic. What else had I failed to do with my children? They were born in 2002 and 2003, before Facebook, before Pinterest. So I never snapped cute photos of them next to precious farmhouse signs that read "3 months old!" Last Child in the Woods: Saving Our Children from Nature-Deficit Disorder wouldn't be published for another five years so I hadn't known how important it was to incorporate hikes into our regular routine.
I should have invited them into the kitchen to cook with me more. I should have initiated more family movie nights. They haven't seen WarGames, Titanic, Pretty Woman, When Harry Met Sally, Grease. For God's sake, they haven't seen Grease. We should have gone on more camping trips. The list grew, along with my remorse.
But then I thought of the therapist who'd been insisting I eliminate "should" language from my self-talk or at least examine "should" situations from different angles. So I decided to investigate further. True, I hadn't flown a kite with my son and daughter. But I had done other things, hadn't I? What, I wondered, would they remember about growing up with me as their mom? I decided to go right to the source.
"Whenever Dad went out of town, you took us to iHop for breakfast," was the first thing out of my daughter's mouth.
"You took us to all the museums," my son said.
Disneyland. Walks around Stow Lake in Golden Gate Park. Driving on every class field trip. Bringing snacks to school pick-up every day from preschool through eighth grade. "And you never went to the carpool lane," my daughter noted. "You parked your car and met us at the door."
"We spent a lot of time together eating out and we had every kind of food: Ethiopian, pasta, Thai, Afghan, Chinese."
"You knit and quilted us things, like sweaters for our first days of kindergarten, hats in our high school colors, even clothes for my American Girl doll."
It struck me that what we assume about the moments that comprise a childhood may be quite different from the child's actual experience. I've long lamented the fact that our family wasn't much into playing board games together. Yet Bananagrams and Blokus were both somehow among my kids' memories.
Their time left at home with us is now measured in months. Hearing their most vivid childhood memories made me feel better – a lot better. But we still hadn't flown a kite. So I bought a large rainbow kite with yellow streamers and last weekend we walked together to a nearby grassy field. (We first tried the park but, no surprise, there was a Little League game going on.)
The multi-colored kite flew into a cloudless bright blue sky, the San Francisco skyline in the distance. By taking time away from homework, college applications, and Snapchats to engage in a ritual meant for much younger kids, my teenagers were clearly indulging me. But after a few minutes, I heard my 17-year-old boy say, "Can I have a turn?"
You'll Also Love Reading:
I Will Not Take the Good Moments With My Teen for Granted
Erin Gordon is a mom and journalist in San Francisco. The author of three women's fiction novels, she's at work on a fourth. Learn more at ErinGordonAuthor.com.