When our kids go to their prom or homecoming dance we snap endless pictures of them and truly delight in seeing them all cleaned up and posing sweetly with their friends and their dates. But, let's be honest, we figure that those pictures, like those relationships, will one day be relegated to sweet memories.
We really don't anticipate that these couples will stay together. The parents in our Grown and Flown Parents Group have shown us that sometimes these relationships do go the the full mile. And who among us doesn't adore an enduring love story?
Love Stories of Prom Dates Who Later Married
This is us…
We met Jan 1, 1986, started dating a month of so later.
This photo is my prom, 1988
We actually ended up going separate ways after a nearly 3 years, married other people, and 25 years later when we were both single again, found one another once more.
We've been back together 9 years now, our children love one another and life is so flipping good.
My daughter: High school sweethearts at first homecoming (2014), last homecoming (2016) and engagement May 2019! Love these two!
My daughter and her fiancé…also high school sweethearts. First picture is from 2013 at homecoming freshman year. The second picture is a couple weeks ago when they got engaged.

Okay here is my high school bandwagon … I met him when I was 17, married him at 18 right after I graduated. We will be married 30 years in March have 3 beautiful children, praying that my children can stay married for life. We figured out at my son's wedding that between me and my husband, 2 grandparents and our siblings, we all have been married for more than 200 years. No one on either side has been divorced, you don't find that very often
Chiming in on the couples-Senior prom, started dating summer after junior year in high school, graduated college in May, wedding 2 months ago.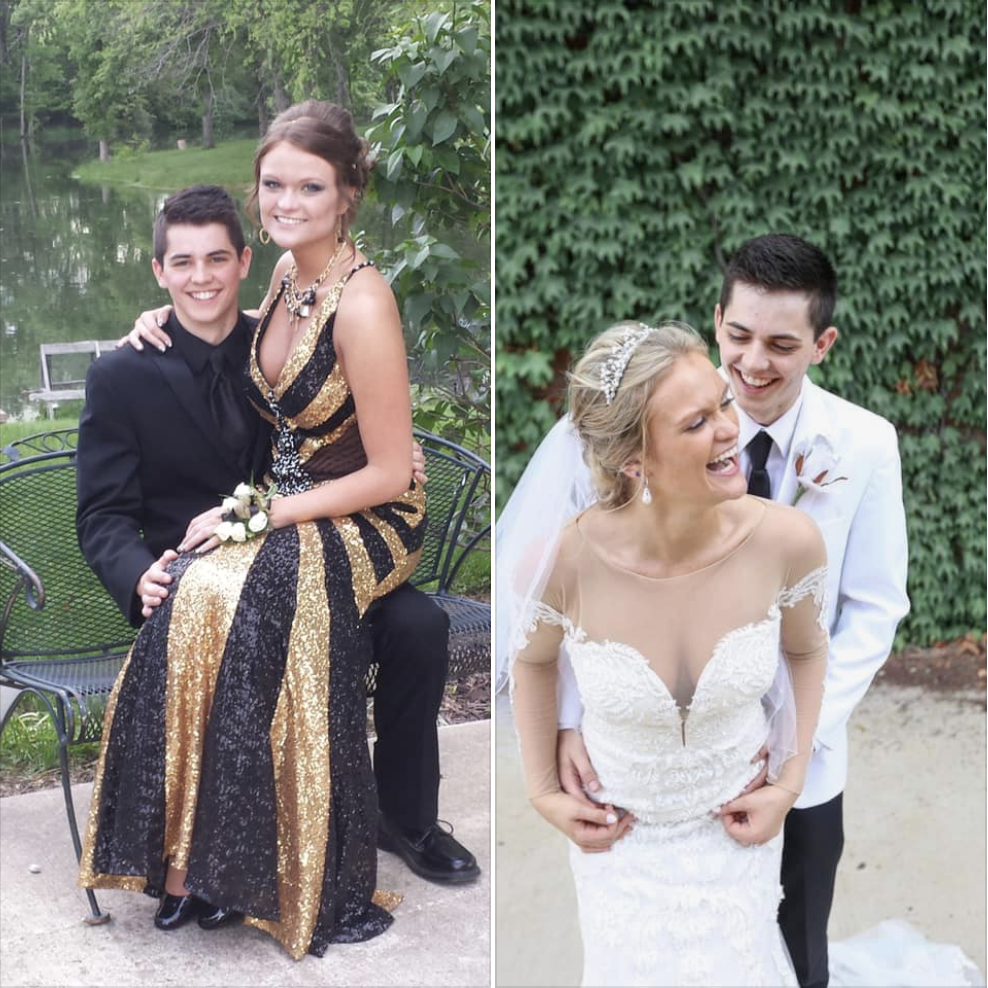 Everyone is posting their kid's high school sweetheart/getting married pictures-so I'll jump on the bandwagon and add mine too.
28 years together 
20 years married this coming December 
3 awesome kids 
Grateful, Thankful, & Blessed
My turn…my oldest son with his then girlfriend in high school in 2002. Married in 2008, and now have 3 beautiful children with a 4th on the way (due next month). I am a blessed mama/nana. 
Here is our daughter and her husband's story! They liked each other in preschool and all through elementary school. They dated all but one year in high school, all of college and are now married and have a beautiful baby girl. Not very often can one say that you have literally liked your husband or wife since you were 4.
32 years together ~HS sweethearts 1987
25 years married this past June
2 awesome boys
Grateful
Thankful 
Blessed
Another High School Sweetheart Success Story. My son & his then girlfriend at Homecoming 8 yrs ago & yesterday on their Wedding Day
Here's my son and his Junior Prom date from 8 years ago and a picture of their wedding last week! While many parents would think the girl their son is dating at 16 years-old isn't important, we knew from the beginning there was something special there. They grew into adults together, experienced each other's milestones, and have long ago become a part of each other's families. Just remember when your kids are dating- high school sweethearts can last!!
Congratulations to all of these beautiful couples!!! Long may they love.