If you are reading this, then you (like me) have a kid about to graduate. And I'm guessing you (like me) are probably a bit overwhelmed and in shock (or denial — I'm enjoying denial these days, please feel free to join me.).
But while I can't begin to think about the Fall, I do know that I'd better think about June, and get the lead out if I want to pull together a party that will make my kid feel celebrated, be fun for all who attend, and not result in my running around like a crazy person (correction: like more of a crazy person) in the days surrounding the actual graduation.
The solution: a well-planned graduation open house party.
A good open house party is a leisurely stretch of time with people coming and going as they please, with a serve-yourself bar, an array of (mostly) room temperature food, and a relaxed atmosphere.
Here's how to do it.
Graduation 0pen house party
Time and Date and Invite:
A 4-hour time frame — whether afternoon or evening — allows for a nice flow of people coming and going, and hopefully means that you will be able to spend some real-time with each guest.
Send an invite — either paper or online — with all of the details.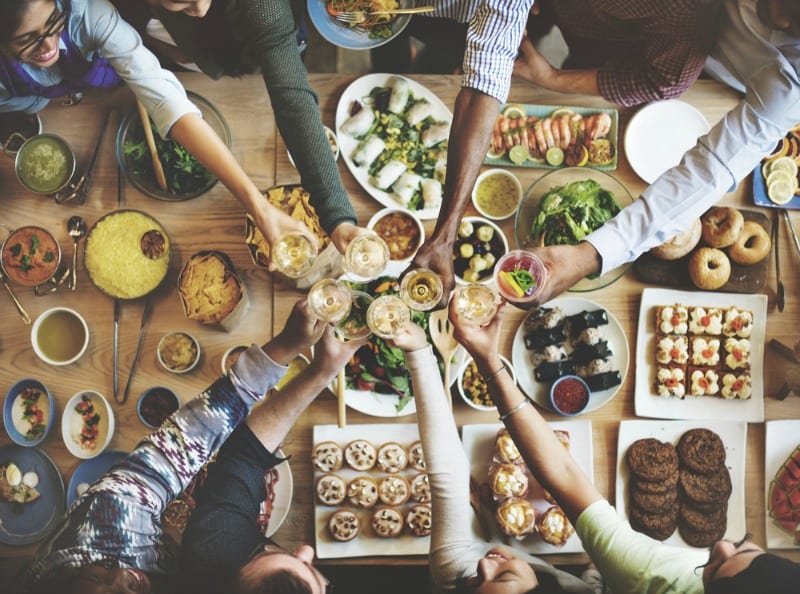 The Menu:
Start by thinking about a buffet and food that can be served at room temperature, or if served warm can then cool to room temperature and still be appealing. Don't feel the need to have an enormous menu, but consider making more than one platter of each dish so you can swap out the picked-over plates for fresh plates as the party goes on.
And of course, everything needs to be made ahead. You do not want a house full of people while you dash about the kitchen sautéing salmon or whipping cream.
Think about color, and flavors that make sense together on a buffet, and make sure you have something from all of the food groups.
Unless you have ample seating, stick with finger foods and foods that can be eaten with just a fork.
Don't forget to take into account guests who are vegetarian, gluten-free, or have allergies.
For the appetizers:
While the following dishes are traditionally appetizers, you should probably just think of these as bite-sized options, since it's possible the food will be all served at once.
When in doubt, a Make Your Own Nachos Bar is always a crowd-pleaser, though it does require you to periodically bring a tray of hot cheese nachos out.  Place the nachos next to bowls of toppings, and let folks top their nachos as they wish.
You can also put out an assorted platter of crostini or bruschetta or create a Make Your Own Crostini Bar — put out a basket of toasted crostini toast with various toppings nearby, for people to assemble as they wish.  
For toppings try:
Roasted Pepper Crostini with Basil Oil
Creamy Mushrooms with Marsala Crostini
Avocado and Cannellini Bean Crostini with Gremolata
Dips are always a good idea!  Try pairing them with crackers and tortilla chips and an all-green crudites platter to celebrate the beginning of summer.
Some ideas:
Hot, Creamy Spinach and Goat Cheese Dip
And a plate of deviled eggs is always well received!
For the Main Course:
Grilling:
For the more substantial food, you could certainly grill up burgers (like Grilled Cheeseburgers with Herb Sauce or Chipotle Barbecue Turkey Burgers), or hot dogs and sausages. Or maybe go for chicken (like this Grilled Chicken Breasts with Lime, Roasted Garlic and Fresh Herb Marinade) or steak (like this Grilled and Marinated London Broil).
If you go the grilling route, think about what can be made ahead and served at room temperature (chicken and steak).
For burgers (and any hot dogs) you should make a schedule of who is on grill duty — create a schedule of 30-minute time blocks, so no one gets stuck grilling for too long.  Don't forget the condiments and the buns!
Or create A Make Your Own BBQ Slider Bar:
Put out trays of pulled pork (made ahead in the slow cooker!), barbacoa beef (also made ahead in the slow cooker!), and other types of fall-apart barbecue — and if you have a great barbecue in your part of the world, don't even hesitate — order that in, stat!
If the meats can be kept warm over Sterno flames, all the better.
Then put out a bunch of coleslaws and toppings, such as tomatoes, onions, lettuce, pickles, hot sauce, barbecue sauces (a variety of hot sauces and barbecue sauces is a nice touch — again, these can be purchased instead of homemade). Add a big basket of small buns, and let people assemble their own.
Other buffet entrée ideas:
Poached Salmon with Cilantro Sauce
Fall-Apart Roasted Pork Shoulder with Rosemary, Mustard and Garlic
Chili Rubbed Flank Steak with Corn, Tomato and Avocado Salad
For the Sides:
Your buffet will be anchored well with a few salads, some more greens-based, some with grains and vegetables to make them heartier (if meatless, great for any vegetarians!)
A slew of choices:
Classic Potato Salad with Celery and Fresh Thyme
Summer Corn, Tomato and Bacon Salad
Vegetable Brown Rice Salad with Honey Lemon Dressing
Southwestern Black bean and Corn Salad
Sesame Honey Quinoa and Carrot Salad
For the Dessert:
You can have a dessert area as part of your open house, or you might consider making your open house a dessert party, either afternoon (starting at 2ish) or late night (8 to 11, for instance). This is easier to manage in terms of make-ahead-ability (yes, that's a word).
Some easy and make-ahead and no-plate-needed recipes to consider:
Big Fat Chocolate Chunk Cookies
One-Pot Mexican Hot Chocolate Brownies
My New Favorite Oatmeal Cookies
Peanut Butter Chocolate Chip Oatmeal Cookies
Make lists to get It all done smoothly:
1) Lists of what to buy, organized by category (and when to buy — shop for non-perishables, including all drinks, as far in advance as you can)
2) Lists of tasks that need accomplishing, everything from buying and arranging flowers, to setting up the bar, to purchasing and putting out candles.
3) Plan out what foods can be made ahead, and especially what can be frozen (burger patties! Cookies!)
4) Create a timeline for the day of, what needs to happen, what gets served when.
If you're not so clear about how much food to buy and serve, check out this helpful article.
Get the buffet ready:
1) If your buffet is outside, make sure it is set up out of direct sunlight (take into account how the sun moves!) and plan to put out the food at the very last minute.  A tent is a very smart investment — necessary for rain, super — appreciated if very warm, and it can protect the buffet from the sun.
2) Set out all of the platters and serving utensils at least the night before. Use Post-Its or scraps of paper to label each platter with what it will hold, and put the serving utensils on top of each dish. Don't forget bowls for things like chips, nuts, and discarded skewers. Take a mental walk through your whole menu.
Plates, silverware, and glasses:
First, for a party like this you may well want to consider using plastic and paper, whatever makes sense for the number of people you will be having, and the number of dishes you are willing to face the next day. There are lots of pretty and/or graduation-themed party paper goods available.
Put out the glasses, plates, forks, knives (if necessary; if you can, at least stick to fork food only), napkins, etc.
Don't have enough of any one kind? That's ok! There is a great deal of charm in mixing and matching the various items you own. If you don't have enough, you can also rent all of these items.
The bar:
Set up the bar area ahead of time. You'll want to put out glasses, a bucket for ice, small bowls that will hold things like citrus wedges and olives. You might consider making one large batch cocktail, which always feels very festive, and storing it in big jugs in the fridge, refilling a pitcher on the bar as needed. This Mango-Peach Cocktail and Mocktail would be great — make sure pitchers are labeled so guests know which version has alcohol.
Make sure to have plenty of beverages, both alcoholic and not. Consider filling a large container or bucket with drinks and ice, so that everything stays cold and people can help themselves.
Feeling a little better? One foot in front of the other, streamline (more is sometimes just more), ask for help, and do as much as humanly possible ahead of time.
You can do this!
You Might Also Want to Read: 
Graduation Party Ideas: How To Celebrate Your Senior's Big Day