We asked our community of parents for some of their best ideas for graduation party decorations and they gave us this treasure trove of tips. From deciding on a color scheme to what refreshments to serve, these super-creative ideas can be scaled for small gatherings or enormous, multi-family open house parties with large guest lists.
We are a reader-supported site and receive compensation from purchases made through some of these links.
Graduation party decorations
What colors to use?
Should the party colors be from high school or college? There is no right or wrong answer and your teen may have a strong feeling about using one, both, or "none of the above." If your teen wants to include colors from both schools, here are some very clever ways to do that.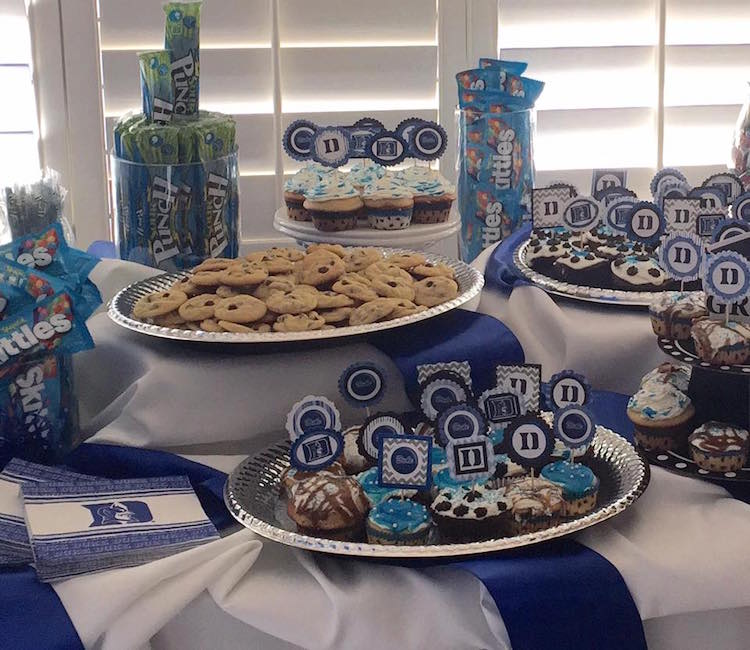 Graduation invitations and announcements in high school colors, party decorations in college colors.
Indoor decorations college, outdoor decorations high school
Graduation party high school colors, college colors for going away party in August
Use high school colors for plates/napkins for the main course and use college colors for dessert
High school colors for the party in backyard and plant annual flowers in colors of the college
High school colors for party and hang college t-shirts behind the serving table
Set up a candy buffet with high school colors on one side, college on other
Your teen may also choose "neither" and might prefer to decorate with a favorite color or a totally different palate. Their choice — any color scheme that appeals to their eye is completely fine.
Tabletop and decorations
Create a special photo op space for the Snapchat and Instagram crowd with a festive background.
Decorate white chinese take-out boxes with the school logo and fill with your grad's favorite candy on each table.
Create messages in a bottle for your guests to write on. Leave pens, and strips of paper on each table. Fashion a retrieval tool and send these bottles to your grad along with care packages in the fall.
Ask guests to sign Jenga blocks that your teen can take and play at college. This clever idea doubles as an ice-breaker at the dorm.
Order a poster from your grad's new college or football stadium and ask guests to sign it. This could be an instant way to dress up a drab dorm wall so roll it up afterwards or have it mounted on foam board to take with you in the fall.
If your senior is a sports fan, college flags and banners are an easy way to decorate. For the serious fan, this will handily double as instant dorm decor.
Create a display area with photos, albums, mementos of your teen's life. Include a few pictures from the early years of the now grown-up graduate. Family and neighbors will remember when the 6-year old in the picture trolled the neighborhood sidewalks with a flashy Big Wheel every Saturday morning.
Borrow or order a tailgating canopy with your grad's college logo and set-up a backyard tailgate. A tent like this will be very handy at football games over the next four years.
Life-size Custom Standees or Big Head Cutouts are a very personal way to celebrate your grad.
Choose a photo from each year of the graduate's academic life. Place them on your front lawn in ascending order (from birth to graduation) and use to create a Photo Walkway or a Photo Wall for the party.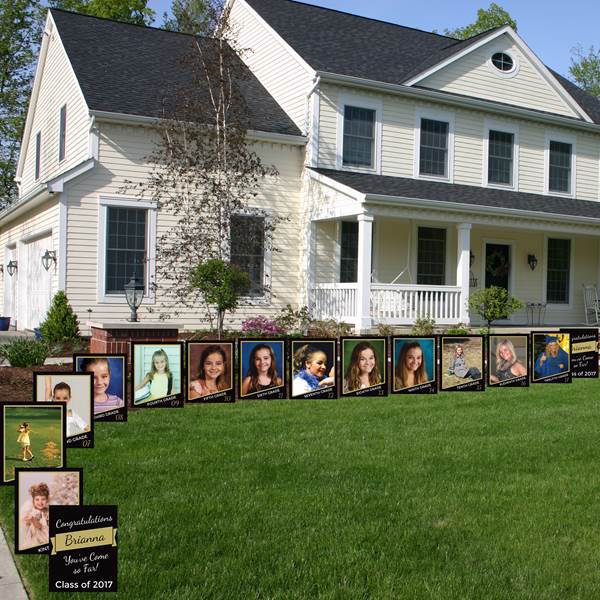 Food and refreshments
From super-simple to over-the-top elaborate, refreshments will vary depending on the time of day, number of attendees, and your party budget. One mom reminded us that accurate quantity calculations are impossible and said "you will always be a little wrong on quantity, so pick things that can be frozen and just do your best!"
Food bars have replaced buffets as a popular way to serve teens and we have heard of families preparing tacos and fajita bars for dinner and made-to-order pancakes or omelets for brunch.
Consider hiring food trucks for the party. They bring all the ingredients, prepare and serve dinner and drive the mess away afterward. Kids love this very trendy approach to eating.
If you want to avoid serving a meal at your party, plan one for the middle of the day and just have snacks.
Cookies, cakes and cupcakes are a big part of any graduation party. Decorate with the colors of your grad's high school, college or both. Baking these yourself is a labor of love, but if you have a favorite bakery, take a look at Pinterest and collect ideas.
Booking an ice cream truck to come to the party is usually a huge hit for the grads. What's a sweeter sound than that jingle announcing the arrival of ice cream?
If you plan to prepare a big meal, go with regional favorites — barbecue or chile in the southwest, clam bakes in the northeast, crawfish boil in the southeast.
Think about a brunch with breakfast casseroles, lots of crispy bacon, pastries, biscuits with varied jams, mini Quiche, juices, and lots of coffee.
Have lots of water iced down and readily accessible, especially for very hot daytime events.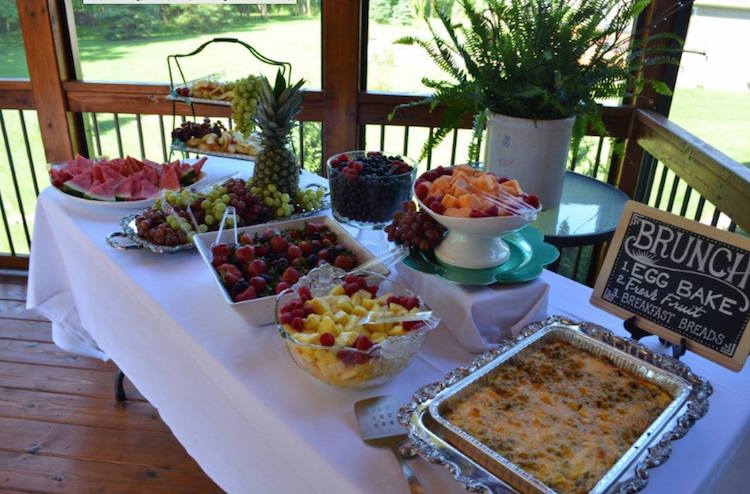 You May Also Enjoy Reading:
Party Ideas: How to Celebrate Your Senior's Big Day
Photo credits: Marybeth Bock, Kelly Radi

SaveSave
SaveSave
SaveSave
SaveSave
SaveSave
SaveSave
SaveSave
SaveSave
SaveSave
SaveSave
SaveSave
SaveSave
SaveSave
SaveSaveSaveSave
SaveSave
SaveSave
SaveSave
SaveSave
SaveSave