Some unknowns are fun, like riding a roller coaster or going to watch your favorite team play. But the unknowns during the college discovery process can be more stressful than exciting. Take it from me. I've been there with our daughter who is applying to schools right now.
One the biggest mysteries during this time is the cost of applying to college. Preparing for these expenses by considering the fixed and variable costs can help you set priorities during a time of too many voices and choices.
Based on our experience and talking with other families, I think it is safe to say that you could pay a minimum of $3,000-$6,000 over junior and senior years when applying to 10 colleges.*
That total is based on the applications fees, testing and test reporting, traveling to see schools, requesting transcripts, paying for the College Board "CSS Profile," (an application which may be required by certain private colleges when seeking financial aid, especially in the case of divorced parents), registering for AP tests, and using test prep.
Here is a very basic, imperfect spreadsheet I made that shows what we spent: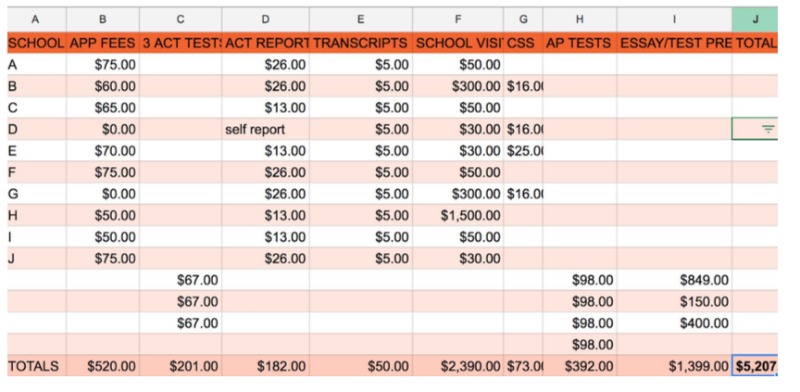 Seven Hidden Costs of Applying to College: 
1. APPLICATION FEES (B: $520)
Some schools don't have them, but most do. Unless you can get a fee waiver (earning less than $55,000 a year if a family of five), it is hard to find a way around paying to apply.
2. ACT TESTS (C: $201) and ACT REPORTING (D: $182)*
(*for the purposes of this article, I am only using the ACT test instead of the SAT since that is what our daughter took.)
Speaking of taking the tests….
Yes, test-optional schools are becoming more popular, but most students make the decision to apply to them after taking at least a test or two. I would consider this a fixed cost.
Tips for success:
JUST SAY "NO"!
While most students take the test more than once, taking the test more than 3 times does not usually result in higher test scores and is therefore not recommended.
If you are 100% certain of your college list, and those schools don't require the writing portions, you can save money by taking the tests without writing. For example, the ACT without writing is $50.00 as opposed to $67.00 with it.
3. TRANSCRIPTS (E: $50)
The High School transcript is an official record of your child's grades and Grade Point Average (GPA) that colleges and universities rely upon to see a student's academic progress grades 9-12.
4. VISITING SCHOOLS (F: $2,390)
This is by far the most expensive cost of applying to schools.
Let's zoom in on "School H" to represent what happens if are going out-of-state to see schools. I took our daughter to see 3 colleges and universities out-of-state during Spring break in March. Since I live in Texas, where nothing is close, we had to fly.
I spent around $1,500.00 for 3 nights.
Airfare Round Trip (Frontier) $750.00
Car Rental (Advantage) $135.62
Food $400.00 (includes nightly glass of wine for me and breakfast for teen who couldn't seem to get up for the free breakfast)
Hotels $500.00
Unanticipated Costs included:
College merchandise
Gift to our friend for taking care of the dog
Overpriced Advil & Tums I had to buy at the hotel to cure the altitude headache I got from not
Drinking enough water and taking in so much confusing information.
$7.00 for air to fill flat rental car tires since the first pressure gauge was broken.
 $40.00 parking ticket from "University H" (I got this appealed)
Tips for success:
Check to see whether colleges allow you to self report grades.
Check to see if your school charges to send transcripts. Our daughter's school requested a fee each time we sent official transcripts to schools.
Don't visit too many schools. What is "too many?" Too many is when your child's eyes start to glaze over or they fall asleep during the info session before they even get to the tour, or when they start to notice that almost every school seems to have the "most year-abroad opportunities than any other school" and offers a Quidditch club.
Think about the "when, where, how and why's" of these visits:
WHEN:
So much happens developmentally between a student's junior and senior years. If you have to prioritize, and your student isn't already set on a school list, start with local visits in junior year in the event they are admitted to a school a plane ride away senior year and have to revisit it to decide whether they want to go there. You are then only paying for one plane ride rather than two.
If you are on a visit out-of-state for a vacation or on a business trip that's already paid for, take your young adult and take some time out together to see a local college.
WHERE:
Virtually! You can see a school through virtual visits on the website pages or by watching bloggers on YouTube. Check out "You Visit": https://www.youvisit.com/collegesearch
HOW:
Attend info sessions when the college reps come to your town. In addition to high school college fairs, some colleges websites will advertise places and times they are visiting and showcasing their schools.
If possible, go to an Open House where professors give talks on their subjects, rather than a basic tour, or sign up for a specific college tour within a larger university to get more specific information about a possible major.
See if you can have an interview so the visit gives you a chance to show your interest and make an impression.
WHY:
It is important to stop and think about your reasons for visiting a school if time and money are an issue. When deciding between schools, see if you can find out if that school is influenced by their applicants' "demonstrated interest" when making admissions decisions.
If a school is a definite on a list and there's a question on the application about "Why this school," your young adult might be advised to see the school to gather more relevant details in answering this question.
5. The CSS PROFILE (G: $73)
This may be required by private colleges when seeking financial aid. It costs $25.00 for the first report and $16.00 for each additional. Make sure to check to see if your school requires it.
6. AP TESTS (H: $392)
Admissions counselors look for "rigor," meaning they want to see that your child has taken challenging courses in high school. Many students show this by taking AP classes.
If your child is taking an AP class, they are taking it so they can complete a test at the end of the year with the hope they will score a "4" or a "5" (and sometimes a 3) to obtain credit waivers in college.
Tips for success:
You have to weigh costs now and costs later when deciding to take the test. At almost $100.00 each, AP tests are expensive but worth it if you feel your child will score at least a "4" (and maybe a "3" to apply be excused from certain core requirements in college.
If your student has earned a "C" or below in a AP class, it may be worth a discussion as to whether to spend the $98 on the test since AP tests are not required by US colleges and universities unless you are requesting to be excused from required college classes.
7. ACT/SAT TESTING & ESSAY PREP (I: $1399)
TIPS:
Commit by January of junior year to taking one test, the ACT OR the SAT. In addition to financial concerns, your student's time will be quite limited junior and senior years as their work in high school classes should be their most important time commitment.
Take free practice tests offered at testing prep centers marketing their services
Based on the results of the free tests, you may be better off spending money on 1:1 tutoring on certain areas of the test which are particularly challenging for your child. For example, if your child's reading and writing scores are above average, but their math and science scores way below the average, you may get more value for your dollars paying a tutor to help them with just the math or science portion.
To Send or Not To Send?
When your child takes the ACT or SAT test, they will be given the chance to have their scores sent to up to 5 colleges for free. However, most students won't be 100 percent certain at that point about their college list. Also, sending the scores before seeing the results, the student has no control over what schools view. Hence, many people wait to send the scores until after they have received their results.
The cost is $13.00 per school to send the reports after tests have been taken. If a school "Superscores," (taking the highest subscores average from more than one test), you may be sending more than one test.
If you are trying to decide which scores to send, you can
Send only the highest composite score if the school does not superscore.
Self-report: Some schools allow you to upload the score report or to attach your own score report. For a list of those schools visit this site.
What I learned:
The topic of college during junior and senior years can bring up many emotions and put pressure on us as parents. Driven by the voices around us, many of us visit too many schools and allow our children to take too many tests because we want to feel we have done all we can.
But less really is more when you have a strategy that considers all of the costs of college, including those before college even begins!
Related: