When our kiddos go away and start living in the dorms, it's easy for their diet to go downhill really fast. Remember the late nights or ordering pizza, Ramen Noodles, and that stash of candy bars you used to delve into while studying or coming home after a fun, wild night out? Yeah, me too.
My mom sent me a few care packages that saved me from grabbing the phone and ordering bread sticks or hitting the campus store for some unhealthy alternative. In fact, it was refreshing to have something with nutritional value in my dorm room.
As moms, we want our kids eating somewhat healthy while they are away, and sending them some food in a package every once in a while it an fun way to show them our love. Here are Grown And Flown's top picks for care packages that won't make you (or your college kids) cringe.
10 Healthy Dorm Snacks
No one can deny how good these are. They've felt like a treat to my kids (and me), their whole lives. They are easy to throw in a pocket or backpack where they need a snack on the go. My son eats one with an apple dipped in peanut butter every morning and says it keeps him full until lunch time.
2. No-Oil Homemade Granola
I've been making this made-up recipe for a healthier version of granola for my kids since they were small, and they love it:
In a bowl, combine 6 cups old-fashioned oats, 1 cup of nuts, 1 cup of raw coconut, 1 cup of fried fruit, 2 tsp cinnamon, 1 tsp ginger, 1 cup of honey or maple syrup and combine. Line a baking sheet with parchment paper and bake at 200 degrees for an hour.
This recipe may not be quite as good as store-bought granola, but it has a lot less sugar and is tasty over fruit and yogurt.
3. EnergyBalls
I started making these energy bites from Beaming Baker when I decided to make some changes in my life and eat healthier– as a sugar addict I realized I could cut out the processed sugar, but still get it the all natural way. To my surprise, my kids loved these, too. They are a bit sticky, but filling, healthy, and delicious.
Even our growing kids crave something healthy every now and again, and these Bare Fruit Chips are the way to give them that crunchy sweetness. My son loves adding these to his cereal or oatmeal, and we sometimes get them in lieu of candy and sneak them into the movies.
My kids and I love fig bars and they've eaten them since they could chew; it was one of their first treats. Now that my son can eat a whole sleeve in under 2 minutes, I feel a bit better about giving him a healthier version for him to polish off.
6. Homemade Trail Mix
Mixing equal parts raw nuts, raisins, and carob chips, is super easy. Simply throw the ingredients in a large plastic container, and your child has an easy snack at their finger tip to munch on while studying or watching TV.
7. Homemade Fruit Rollups
You can't go wrong with fruit, but it can be tricky to send in the mail as it might get bruised and arrive as mush. I love this easy, 3-ingredient recipe from Live Eat Learn.
This is a great protein-based snack to have on hand for your hungry college student. The KRAVE Variety Pack  is so good. But if you are feeling extra domestic this recipe from Chef Jon via Allrecipes.com is fantastic.
9. Sandwich Fixings
It would be nice if we could send meats, cheese, and bread in a big package to our kids, but since that's out of the question, what about sending along some whole-grain wraps, all natural peanut butter, and fruit spread? That way, they have all the stuff to make a filling sandwich (or two), if they weren't able to make it to the cafeteria for lunch.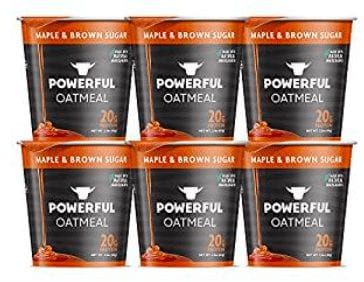 Powerful Oatmeal has more protein than leading brands, is all natural, comes in a variety of flavors, and all your student has to do is add hot water for a filling breakfast. And when they throw in some of the fruit chips, or the homemade trail mix you made them, it might be one of their favorite breakfasts.
With a mix of these healthy snacks, and maybe some Ramen for good measure, we can feel good about knowing our college students and teens are making healthy choices at least some of the time.
Related Links
College Care Packages from Home: 50 Great Ideas 
This Is Why I'm Not Tracking My Teens
Let's Stop Calling Our Teens Lazy
SaveSave
SaveSave
SaveSave
SaveSave