What do you call your family group chat? If you don't have one, it's a fabulous way to stay connected, without a lot of pressure. My family has a chat that includes me, my husband and our three adult kids along with my 89-year-old mom. Mom's not terribly adept at iPhones so her texts often make us laugh especially when she uses emojis correctly.
We call our thread Nuclear Family which, judging by some of the names below, is neither terribly unique nor terribly creative.
Sometimes it's challenging to come up with a name that everyone can agree on. We wanted to give you some ideas for your own thread. So, we asked in our Grown and Flown Parents group of over 260 thousand and found out that so many of you are really, really clever.
You have all kinds of super ideas for what to name your family conversations. Most said their kids named their threads.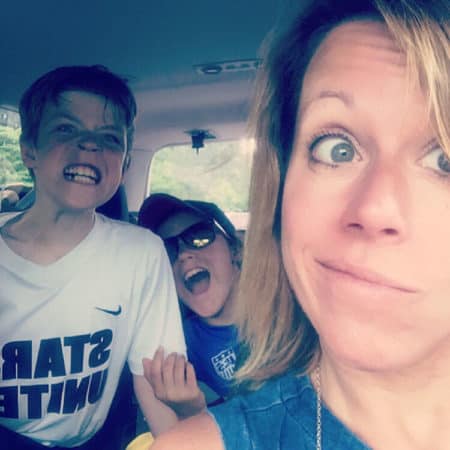 Names with the word "family" in it
The Fam
My Insane Family
Gucci Fam
Familton
The Fam Bam (the most popular answer by far)
Best Best Best Best Fam
Wham Bam Fam
Fam Jam
We are Family
Family Matters
Family Ties
La Familia
Fam Squad
Coolest Fam Ever
Family Meeting
Family Chat, Family Chatter or Fam Chat
Primary Family Membership
Trouble Makers
Family Chatter
Litty Fam
Fam-boys
Famalamadingdong
Litt Fam Bam
Royal Family
All In The Family
Family Goals
The Family Table
Forced Family Fun
Fart Family
Famshizzle
Fam Bam Glam Clan
Whole Fam Damily
Only the Family
Da Fam
Family Dysfunctions
The Fam Chat
Happy Family
The Whole Dam Fam
Fabulous Family
Fam Spam or Spam the Fam
Fam Faves
The Literal Fam
Family Council
Family Chat Room
Y'all look FAMiliar
Love My Family
FOE (Family Over Everything)
Family We Be
Family Connection
The Family Bee
The Family Without the Patriarch (when dad's not in it)
Family Feud
Family Board Members
Family Funny Business
Fam is 4ever
Fam Gang
COOL FAMILY
Lit Lit Fam
Family Frat House
Swag Fam
Dream Family
Big Baller Fam
Dysfunction De Familia
Nuclear Family
Best. Family. Chat. EVER!
McFamily
Famalama Powwow
A Nice Loving Fam
The Family Chat-Ok Boomer
We are Family
Funny, clever or descriptive names for your family chat
Dung Beetles
My Three Sons
Degenerates
No Boomers Allowed
Respected Overlords
Dysfunction Junction
Gene Pool
Just Us
Crisis Center
Braintrust
Heirs to the Throne
9 Month Hotel
The Kardashians of LI
Y'all Look Familiar
Children of the Corn
The Lollipop Guild
Get off the WiFi
5 Ring Circus
The Annoying Chat
Read This and Respond or Else
Boomers and Zoomers
A Whole Group of Weirdos
The Real GOATS
Dream Team
Please Text Back
The Son's of Richard (including our daughters)
Salsa Verde
Band of Idiots
Luck of the Irish
Birth Givers and Offspring
Momma Told Ya So
Those People I Live With
The Gene Pool
Spawns of Happiness
Spawn of (mom or dads name)
The Inner Circle
Full House
Brew Crew
Old People Who Raised Me
Mom's Lost Her Mind
Mama Bear Cubs
The Craziness or Crazy people
Dumpster Fire
This Is Why We Can't Have Nice Things
Wanna Taco Bout It (with taco emoji)
We're All Winners
Table For Four
Foolios
The Nerdy Bunch
Wolfpack
Fab Five
Me and My Gang
My Beautiful People
Mama's Gremlins
Mad House
Blood Gang
Disney Freaks
Russian Prison Gang
Homefront, Home Room, Homeplanet, Home Squad or The Home Peeps
Those People I'm Related To
4 kidsandme
5 Queens
My Offspring
Quaranteenagers
Love Bugs
My Little Darlings
Love Shack
Group therapy
The Inmates
We're All Winners
Pure Entertainment
Mom's Million Questions
We Like to Move It
The Griswald's 2.0
Cool Kids Club
Single Kilt Clan
All The Peoples
OG Crew
The Loony Bin
Five Amazing Chicks
The Nuthouse
Core Four
Members of the Shitshow
Who's the Favorite Today?
Married With Children
Bloodline
Avengers Assemble!
Hogwarts Rejects
Some other goofy, random ideas
Dumb and Dumber
Party People
Mostly Cat Photos
Louie's People (Louie is our dog)
Ninos
Black Sheep Squadron
Inside Our Chamber
Testerone Alley (mom of boys)
Nerd Herd
Silly Geese
Perfect Chaos
Circus of Trust
I would block mom but I can't
DON'T IGNORE ME!
For the love of everything holy, use the correct thread!!
You can't tell me you haven't sent to the wrong thread from time to time so, who can't relate to this one?
"MOM USE THIS ONE"
Our threads keep us connected and certainly in the last year, they have been a lifeline for most of us. Some talk fashion, some food, some politics but no matter what the discussion, it's the connection we crave and love.
More to Read: