My ex-husband just left my front porch after what felt like the most exhausting photo session of our lives. He arrived at our house at 6:45am to get a picture with his three teenagers who are entering the 7th, 9th, and 11th grade, before their first day of school. After that he took a few of the four of us for me.
We've been doing this first-day-of-school family photo business since our oldest started school twelve years ago. In those days, my two younger kids were elated to be in the picture with their big brother, and couldn't wait until they entered school for real.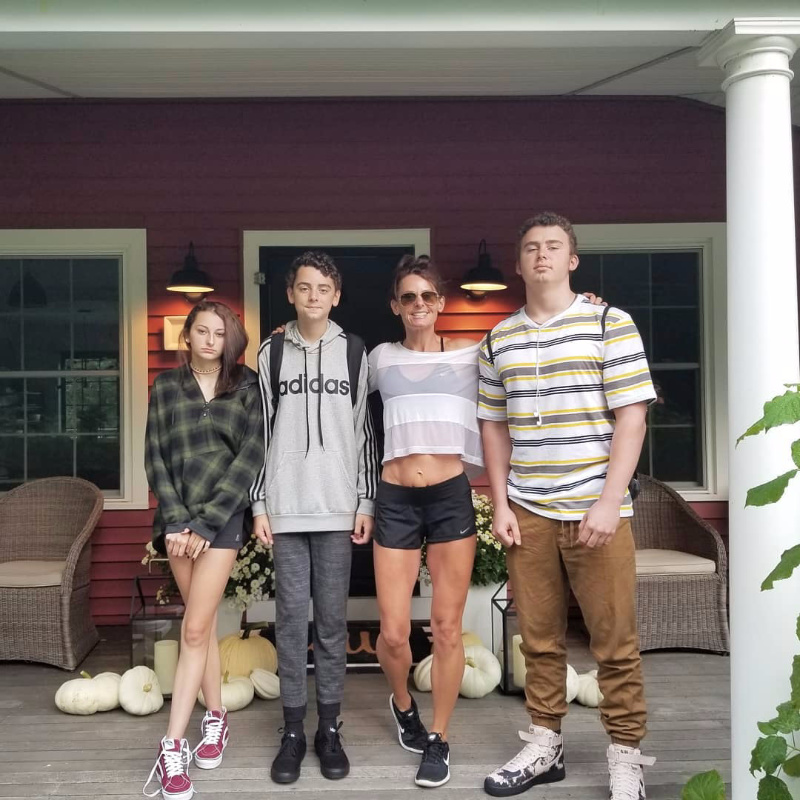 First Day of School Photos with Teens
Back then, they all smiled. There were no retakes–usually one photo was all we needed to capture their excitement, fresh sneakers, and new outfits even though they kept posing and wanted me to get them at every angle. I never had to ask them to look at the camera. I never had to ask them to act like they didn't hate their life. They just did it and we got some stunning pictures of my sweet kiddos.
But this morning, my ex and I looked at each other with weary eyes while our youngest was upstairs doing God-knows-what, our daughter was complaining that she hated doing the "stupid picture thing" while refusing to tie her shoes, and our oldest was trying not to fall asleep.
"Why is this such a project just to get them to stand together to take a picture?" he asked me.
"I don't know, but it was easier when they were younger, right? Or was I just imagining things?" I asked him.
He agreed they were so much more willing to do this when they were younger.
After dropping them off at school today, I was literally exhausted and a little torn up that it took so much out of them to have a picture taken on the first day of school with their mother and father.
They fought the good fight and I got wrapped up in their drama and attitudes, and pulled out multiple threats. In the end, they took the damn picture but you would have thought I was asking them to scrub the bathroom floor with a toothbrush.
I'm sure they were very proud of their performance and kept their fingers crossed, hoping this meant they never had to do this again, but deep down they know their mother and how stubborn I can be.
There's no way I'm giving up this tradition, I don't care if they start hiding in a closet before the first day of school and I have to jump in there with them to document the day, this tradition is going to keep on keeping on until my youngest graduates.
I don't ask my kids for much, and I would pretty much die for them so, I'll never feel bad about getting them to wake up fifteen minutes early to pose with me on the first day of school, even if they feel like I am killing them softly.
I am proud of my kids and I want the world to see me with them even if they have unhappy faces and tired eyes.
I know there will come a day when they will thank their lucky stars their mother was so determined and wanted to document each and every first day of school. I know they think that feeling is impossible right now, and they can't imagine themselves longing to dig through their first day of school photos, but I know more than they do and those days are coming for sure–I can feel it.
Until then, I'll keep forcing them to take a picture on the first day whether they like it or not, no matter what expression they choose to share in the moment. I'm not willing to give it up and while I have the energy (just barely) to get the picture, I don't have the energy to force them to straighten up and act halfway happy for a mere two minutes out of their life.
I really don't want to create a fake moment at all; I just want the damn picture.
You Might Also Enjoy:
I Thought Having Three Toddlers Was Hard, Then I Had Three Teens