When he was a junior in high school, Tracy Hargen's son came to her and told her he'd been suffering with depression since he was about ten years old. Hargen says she had no idea and truly didn't see it coming. So, when he said, "Mom, can we talk?" she stopped what she was doing and immediately listened to her son. She wrote about her journey in a gut wrenching viral post for Grown and Flown.
Her son, William, is now openly talking about depression and Hargen's goal is to spark similar conversations between parents and their teens. She wants them to know it's okay to talk about depression and anxiety and that there are people who care and resources to help. Hargen's passion is working to remove the shame and stigma that surrounds mental health.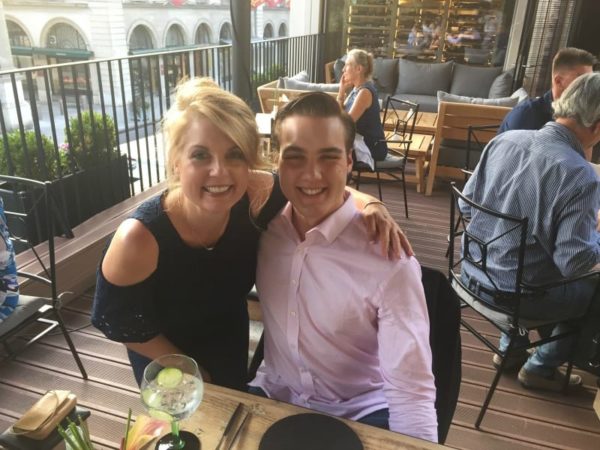 Recently, Hargen entered a submission to CBS This Morning's "Note To Self" contest. Though her entry wasn't the final one chosen, two producers reached out to her about her submission and those conversations led to CBS asking Hargen and her son if they would be willing to do an interview and talk about their journey with depression. They agreed.
Dealing with depression and anxiety is a real and prevalent issue. Many people, especially teens and young adults, suffer alone and in silence because of the shame and stigma that surround these issues. According to the CDC, it is estimated that 13-20 percent of children living in the US experience a mental disorder in a given year. That's roughly about 1 in 5 children.
In their video piece that aired recently on CBS This Morning, Hargen says, "So I said to him, 'Thank you so much for telling me. Thank you for trusting me. I can tell this is really hard for you. I just want you to know we're going to be here for you. From here on out, you're not on your own.'"
What we can all take away from Hargen's open and honest discussion of her son's depression is that words matter. Whether it means stopping to really listen to what your teen is telling you when they ask to talk or finding the words to admit that you, too, are struggling with depression, we should all be more attuned to the struggles around us.
Hargen says she's proud of her son for having the courage to speak his truth and sharing his road to finding joy in his life. In the CBS interview, William, now a rising college sophomore, reveals that joy wasn't always a part of his life. "Joy really wasn't there much. It wasn't that I started to become sad more often, I just started to become apathetic," Will explained. "I simply told her, 'Look, for as long as I can remember, I've been very depressed. It was a lot of unknown to me, so trying to describe it to her was difficult. But I knew that this wasn't normal, and I knew that I was miserable."
With help from a therapist, William was able to find joy and declared as much by writing a simple phrase on his arm for a college photography project.
He wrote "I can feel the daylight again" in black sharpie on his left arm.
Words matter, indeed.
Special thanks to Tracy and her family for sharing their very personal journey with us on Grown and Flown!
Related: 
When Your College Student Suffers from Depression and Anxiety
Depression, Stress and Anxiety In College: What Parents Need To Know
SaveSave
SaveSave
SaveSave
SaveSave